Chicago Cubs: Searching for a Bullpen Addition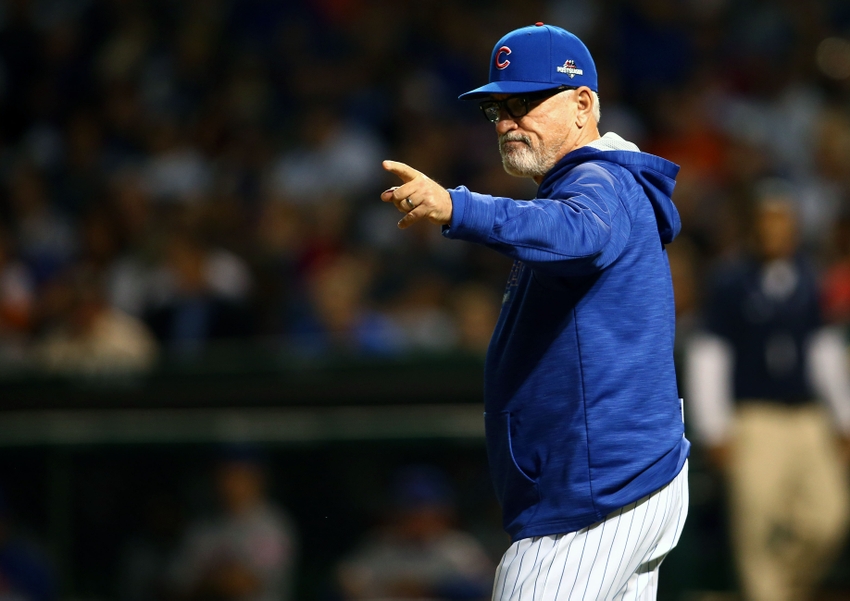 Just a couple weeks ago, the Chicago Cubs won their first World Series in 108 years. They are well-built for the future with young stars like Kris Bryant and Anthony Rizzo. And yet, they are left needing just a little more.
The Chicago Cubs entered the 2016 season as heavy favorites. In the early part of the season, they lived up to the hype and were clearly the best team in baseball. Despite being the best team in baseball with a comfortable lead in their division, the Cubs had a desire to add at the deadline.
They did so by adding Aroldis Chapman in a trade with the Yankees. The Cubs were forced to give up their top prospect Gleyber Torres for just half a season of the closer with high heat. Factor in the off-the-field issue of Chapman being suspended at the beginning of the season, and it appeared like a risky trade for the Cubs. However, their clear need for bullpen help became apparent in the latter part of the season. When Hector Rondon and Pedro Strop both went down with injuries, the bullpen relied heavily on Chapman to keep them going.
In the postseason, Mike Montgomery and Chapman saw the majority of the bullpen innings. They performed well and helped lead the Cubs to their World Series victory, but both will likely be gone from the bullpen in 2016. Chapman is a free agent who will likely sign a large contract with a team like the Giants or Dodgers. Montgomery appears to be headed to the Chicago Cubs' rotation with the departure of Jason Hammel to free agency. This leaves the Cubs with a big hole in an otherwise impressive team full of depth.
Rondon and Strop certainly were holding their own in the early parts of 2016, with Rondon being one of the best closers in the game. In the first half of the season, he pitched 31.1 innings while posting a 1.72 ERA and 36.5 percent strikeout rate. Needless to say, he was very good. Him and Strop were incredibly reliable in the late innings of games, leading to the Cubs winning a ton.
Whether there was a hint of injury coming or simply Theo Epstein's need for depth, the Cubs decided to add Chapman at the deadline. When Strop and Rondon both went down with injuries, the Chapman move seemed brilliant. When Strop and Rondon failed to pitch like themselves after their returns from injury, the Chapman move seemed entirely necessary.
Going into the 2017 season, it's entirely possible that the Cubs stick with Rondon and Strop during high leverage situations. After all, it worked for a good portion of the 2016 season. However, that would leave a lot to chance and luck, a horrible thing to mess with when it comes to baseball and pitching. The Cubs have no other discernible holes on their roster, so they have the freedom to spend a good amount of money on upgrading their bullpen. This offseason, they have quite a few different options to do so.
Option #1
This option is the least likely to happen, so we'll get it out of the way first. As mentioned above, relying on Rondon and Strop heading into the 2017 season could be very bad news for the Cubs. By no means are Rondon and Strop bad or unreliable relievers, but there is absolutely room for concern following their disappointing return from injuries.
With that said, the Cubs could choose to remain reliant on Rondon and Strop in the later innings. To shore up their bullpen they could add a lower level free agent or two. If they want to go with a righty, they can look into either of former Giants Santiago Casilla or Sergio Romo. The Giants bullpen caught a lot of grief, thanks to those two guys especially, but they both have impressive enough stuff to handle lower leverage situations. They could also take a chance on a veteran like Jonathan Papelbon.
As for a southpaw to replace the lefty they'll be losing in Chapman, the market is a little more bare. Marc Rzepczynski had a pretty good 2016 season (2.64 ERA, 21.4 percent K%, 1.57 WHIP), but he's rising in age and was horrendous in 2015. With a little help from pitching coach Chris Bosio he could continue to pitch well, but he would be quite a gamble. Other left-handed options include Boone Logan and Brett Cecil.
It's pretty clear that this plan is neither something the Cubs would do nor a great path to a successful bullpen in 2017. It is, however, worth mentioning. If the Cubs lose out on a big free agent and are unable to make a trade, this could become a contingency plan. After all, some help is better than none. If Rob Zastryzny and Carl Edwards Jr. make strides in the offseason and early 2017 season, the bullpen could turn out to be just fine without any key additions outside of the ones mentioned above.
Option #2
This option seems like the most likely path for the Chicago Cubs to take this offseason. This option involves signing a big name closer free agent. If we assume that the Cubs have no interest in retaining Aroldis Chapman, that leaves Kenley Jansen and Mark Melancon. Both will likely have a high price tag given the increased market for high leverage or closing pitchers.
Jansen is coming off an impressive season with the Dodgers, where he posted a 1.83 ERA with a 41.4 percent strikeout rate and 0.67 WHIP. He was one of the game's best closers, and he did it all with a single pitch. His mid-90s cutter is absolutely nasty, one of the best isolated pitches in the game. In terms of fWAR, Jansen ranked best among all qualified relievers. Behind him was the mighty Andrew Miller, followed by the two other parts of the trio that began in New York this season.
More from Call to the Pen
While Chapman has the flash of his triple-digit fastball and Melancon appeals to teams looking for someone a little bit cheaper and just as effective, Jansen is probably the best reliever on the free agent market this season. If the Cubs were able to add him, they would be well on their way to another impressive season.
As mentioned, Melancon provides a viable backup plan if the Cubs fail to sign the big name of Jansen. Melancon started the season with the Pirates before a slick trade by the Nationals, which provided them with a much-needed closer. Melancon posted a 1.64 ERA and 0.90 WHIP. He doesn't strike out nearly as many batters as his counterparts (just 24.1 percent this season), but he has been consistently good in the closer position.
Either one of these pitchers would be a great addition for the Cubs. They have showed in the past two offseasons that they have the ability to draw free agents to them. Does some of that interest fade now that the supposed curse is broken? Perhaps. But in general, players are still drawn to a young Cubs core and the ability to compete for a championship right away. Not to mention that Theo Epstein and Jed Hoyer are well-known for treating their players well and notably convinced both Jason Heyward and John Lackey to leave the Central division rivals just a year ago.
Option #3
If the Chicago Cubs fail to make waves in free agency, the offseason and winter meetings also lend toward upgrading the team via trade. They weren't afraid to send away talent during the season to improve their bullpen, so they certainly won't shy away from doing it during the offseason if it becomes necessary.
There is a huge market for closers in the game right now, so it will certainly be a struggle to find a good trading partner for such a valuable position. If the White Sox truly go into rebuild mode, David Robertson could be a top trade target. His 2016 wasn't sharp, but he recently had surgery to repair a knee injury and has a history of bouncing back well after his unimpressive seasons.
No other trade targets jump out, but it could become clearer who is willing to trade away assets as the offseason goes on. This option doesn't make a whole lot of sense for the Cubs, but they certainly have the minor league talent to do it if necessary. If the right trade partner arises, the Cubs will look at a trade as a cheaper way to improve their bullpen.
Regardless of the path the Chicago Cubs plan to take or actually end up taking, it is pretty clear that they will be looking to improve the bullpen. No other hole appears in the roster, other than perhaps a long-term starter via trade. Adding a closer or high leverage reliever will likely be the focus of the Cubs front office during the offseason. If they do so, they will once again be a force that is tough to stop.
This article originally appeared on