Chicago Cubs Rumors: Should the Cubs make a trade for Sonny Gray?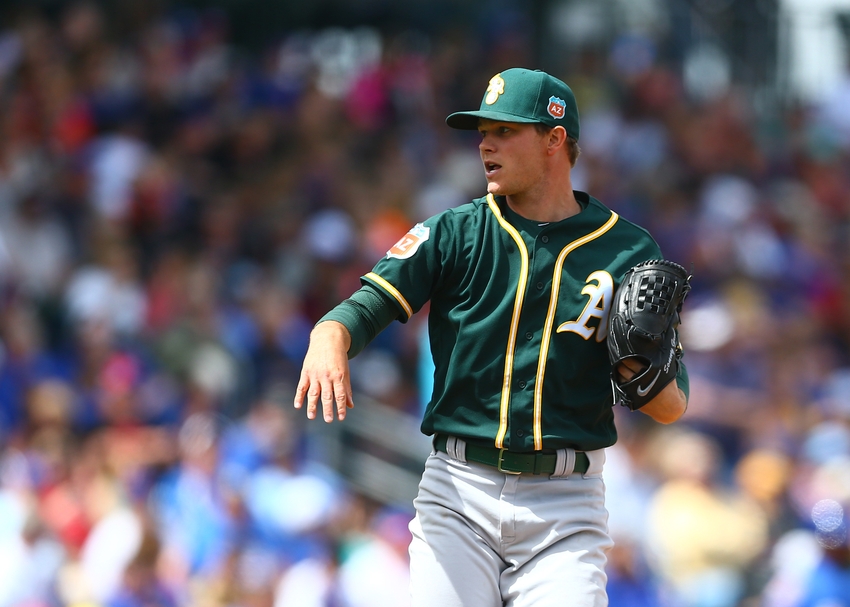 With Jason Hammel now testing the waters of free agency, the Chicago Cubs will have a vacancy in their starting rotation. Could they make a trade for a young starter like Sonny Gray?
Sonny Gray was a popular trade candidate in 2015 as well, but a deal never came to be. The Oakland Athletics want him to be part of their future. But that sentiment is starting to get a little hazy. This could be a chance for the Chicago Cubs to try to make a deal with the A's.
Gray has expressed interest in receiving a long-term deal from Oakland. He spoke with the San Francisco Chronicles's Susan Slusser, saying, "The way this year went, you never know what would come out of that. On my side, obviously, I'd love for it to be brought up or whatnot. But that's never been the case.  And if it's not here sometime, I don't know that it's worth doing." 
In 2016, Gray went 5-11 with a 5.69 ERA in 117 innings pitched. With Gray coming off the worst season of his career, and his future with the A's in question, Oakland may want to make a move soon.
The initial thought process here is that it wouldn't make sense to try to trade Gray after coming off such a disappointing season. But after suffering a strained trapezius and a strained right forearm in 2016, the A's risk him struggling even more, and further reducing his trade stock.
As of right now, there are likely more than a handful of teams willing to bank on a bounce-back year from Gray. In his three seasons prior to 2016, Gray went 33-20 with a 2.88 ERA. If Oakland holds on to him and sees a repeat of his 2016 season, his trade value would take a massive blow.
Does Gray make sense for the Cubs?
The top candidate to take Hammel's rotation spot right now seems to be reliever, Mike Montgomery. He has had experience as a starter in the past, but there are reasons to keep him in the pen. Before being traded to the Cubs, Montgomery's average fastball velocity was 90.9 mph as a starter. That velocity rose to 93.4 mph when he moved to the bullpen. With the success that he had in the Cubs' pen in the second half of 2016, it would make sense to keep him there.
Even last season, the Cubs made it apparent that they would like to have a young, cost-controlled pitcher in their rotation. Gray, along with Tampa Bay Rays' pitcher Chris Archer, fits this description. But even with a horrible 2016 campaign, the price-tag would still be quite high.
It's fair to assume that guys like Javier Baez and Kyle Schwarber are off the table. To get a pitcher like Gray, the Cubs would likely have to part with prospects like Ian Happ, Eloy Jimenez or Jeimer Candelario. Guys already playing up with the club could be in play as well. Albert Almora Jr. and Jorge Soler come to mind. While many fans would be opposed to seeing them go, the Cubs are young enough at every position that a lot of prospects are blocked for the foreseeable future.
We're still early in the offseason and the hot stove is only lukewarm right now. The Cubs still have to figure out who will lead off and take over center field duties in 2017. Cubbies Crib will have more as Winter Meetings start taking place next week.
This article originally appeared on