Chicago Cubs Rumors: Is there a case to make to trade for Chris Archer?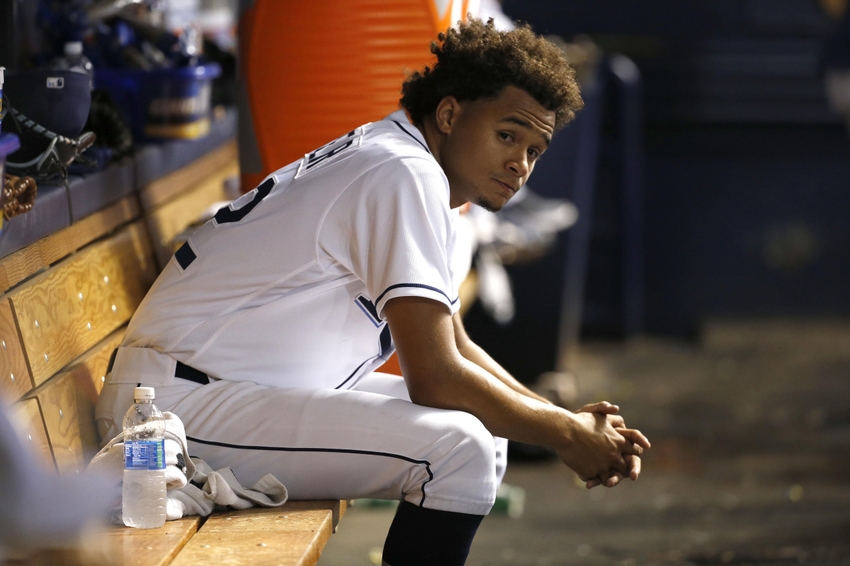 The Chicago Cubs are never far from the excitement of the hot stove. Could they look to make a blockbuster deal for the Tampa Bay Rays Chris Archer? There's plenty to digest for the yay or nay of this deal.
If I simply say to you, "the Chicago Cubs could add Chris Archer as their No. 4 starter". Would you take that deal without asking what they'd have to give up? Chances are it would likely be a 50/50 split among Cubs' fans. Adding a controllable starter for the next five years is EXACTLY what the Cubs have talked about trying to do. Outside of that, replacing (or resigning Dexter Fowler) and adding a closer–it's not a big wish list for the Cubs.
The Cubs showed this year that they understand the logic of having to "give up something to get something". The parted ways with Dan Vogelbach and Gleyber Torres, both top prospects but somewhat blocked by Anthony Rizzo in the case of Vogelbach–and everyone else in the Cubs infield for Torres. Torres was the key piece that brought Aroldis Chapman and Vogelbach helped land Mike Montgomery. Both of those guys were critical parts of the Cubs bullpen in the playoffs.
So what will it take to land Archer? Before you even look at his stats, you must first understand he will be under team control for the next five years. On top of that, it's a very friendly deal that will see him make over $10 million just once–the final year of his deal in 2021 ($11 million). That in itself will command a solid package in return.
Archer's numbers in 2016 were less than stellar, but those can be deceiving. He lost 19 games for the Tampa Bay Rays, but the Rays just weren't a very good team. In the same way that the Cubs had four pitchers win 15 games for a 103-win team, that sort of stat lends itself to good pitchers losing games on a 94-loss team. For his career, he's 41-51 in a tough AL East on a sub-par Rays squad. And he's pitched 200+ innings over the last two years while leading the league in games started in 2015 (34). He's a horse that makes his starts and gets his innings.
The former All-Star's biggest struggles came with walks and home runs. But after struggling to find the strike zone in the first half of the season, he improved over the final half. After walking 48 in the first half, he dropped that to just 19 in the second half. He was also second in the American League with 233 strikeouts. With a career 3.51 ERA, some of the numbers for Archer simply don't match up to his talent.
Another factor is the relationship between Archer and Cubs' skipper Joe Maddon. While Archer laid out some praise for Maddon after he left, that wasn't before he took a shot at him on Twitter. But look, any player would be upset about losing a manager like Maddon, so we'll give him a pass. And Maddon seems to like having his former players around–or at least giving them a shot. And let's be honest, if Archer's options are Tampa or Chicago? Pretty sure he won't have anything to say.
So then we get to the all-important aspect of this hypothetical trade. What would the Cubs have to give up? Some names that have been tossed about are Ian Happ, Eloy Jimenez, Albert Almora and Jorge Soler. There's also been talk of Carl Edwards, Jr., Dylan Cease and Duane Underwood. Now, the Cubs wouldn't be sending all these players for just Archer. The Cubs could look to get Kevin Kiermaier and Alex Colome to go along with Archer. That could solve the outfield issue and possibly the closer situation.
But for now, it's all speculation. And if the two sides don't come together before Dec. 1 on the CBA we'll be waiting even longer for anything to come of these conversations. With no progress, teams won't be able to discuss anything until the two sides come to an agreement on the CBA.
This article originally appeared on