Chicago Cubs Punch Their Ticket to the World Series!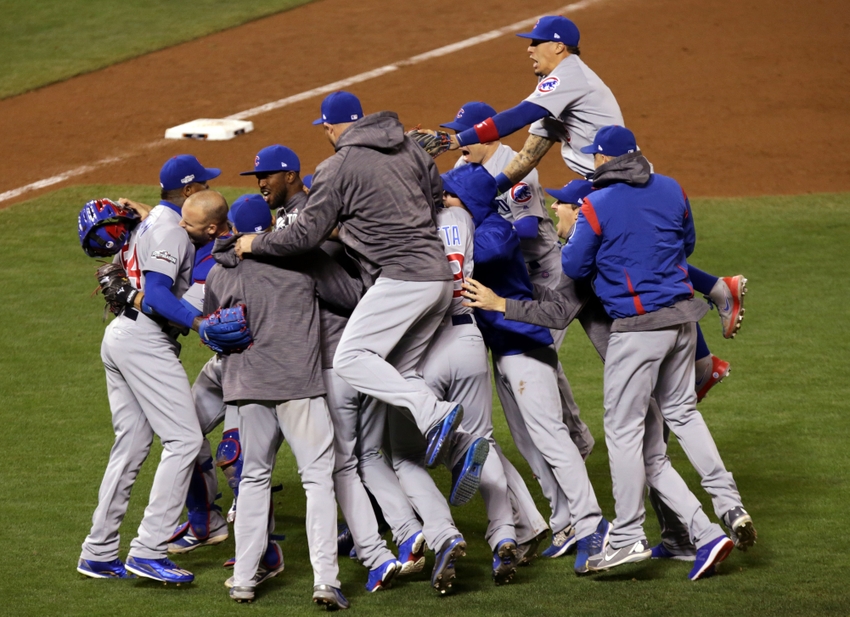 The Chicago Cubs clinched their spot in the 2016 World Series on Saturday evening. How did they get there?
With a 5-0 victory over the Los Angeles Dodgers, the Chicago Cubs headed to the World Series for the first time since 1945 with the hope to win for the first time since 1908.
The Cubs certainly had to earn their way there. Along the way, they faced an excellent Dodgers team that pitched back-to-back shutouts in the first time in its organization's playoff history (and the Dodgers have played the third-most playoff games behind only the Yankees and Cardinals). They faced the best pitcher in the league in Clayton Kershaw in the final game.
In fact, so far in the 2016 playoffs, the Dodgers had been 4-0 in games pitched by Clayton Kershaw. Instead, the Cubs pitched only the second game in the history of the playoffs to face just the minimum amount of batters – the other obviously being Don Larsen's perfect game in the World Series.
More from Call to the Pen
Kyle Hendrick, not 2015 NL Cy Young Award winner Jake Arrieta or big-money signing Jon Lester, was the guy who shut down the Dodgers in the final game to earn the win in the clinching game.
Lester and Javy Baez shared NLCS MVP honors, and the world has been introduced to the talent of Baez this postseason in much the same way that the game was introduced to Daniel Murphy last postseason!
Now, the Cubs will look forward to a series against the Cleveland Indians, who hold the second-longest World Series drought behind the Cubs, so one of those long championship droughts will be ended this season!
A personal anecdote:
I am a baseball fan because of a tremendous woman, my great-grandmother, who was a huge Chicago Cubs fan. She will be cheering alongside Harry Carey from an eternal viewing point, but it's hard not to cheer for the team after hearing her talk about losing seven times in the World Series since their last win, hearing her talk about the heart break about 1969, and being able to develop a passion for the history of the game as I talked 1960s Cubs with her as Alzheimer's took her memory from her, forcing me to learn as much as I could about guys like Ernie Banks and Ron Santo. I hope you're loving every minute of this Grandma Steurwald!
This article originally appeared on