Chicago Cubs News: Zobrist's final at-bat; Framework for the future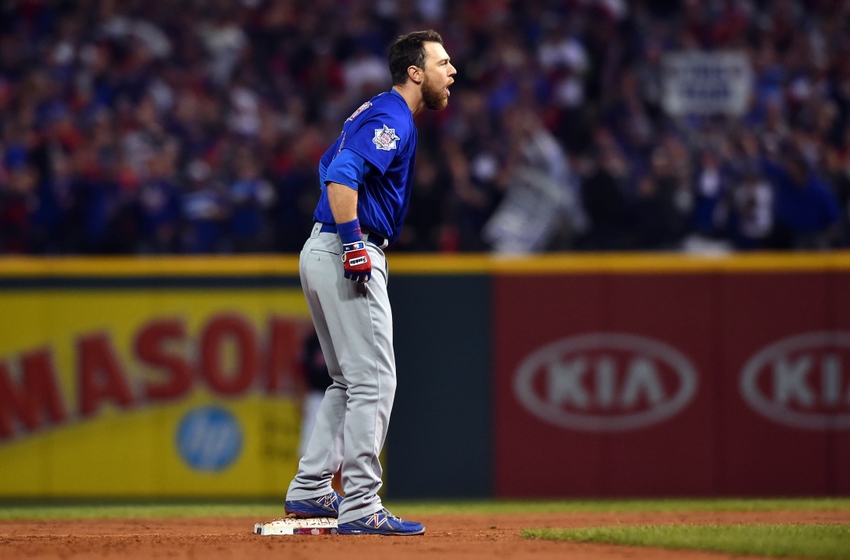 The Chicago Cubs have had a whirlwind week since winning the World Series. TV appearances, talk shows, etc. Ben Zobrist was recently on Conan O'Brien to talk about his experiences, including the 10th inning double that gave the Cubs the lead.
Not sure if you had noticed, but the Chicago Cubs have been everywhere. Now, I'm sure White Sox and Cardinals fans are getting tired of seeing it–but we aren't. And after all the 1908, billy goat jokes and more? We don't much care. They can take it all in. Ben Zobrist was recently on the Conan O'Brien Show and admitted that he–like every Cubs' fan in the world–was nervous.
After he slapped the ball past Jose Ramirez at third base, you may remember more than Zobrist does. He admitted from the time he hit the ball to his jumping in celebration at second base, he lost "consciousness". I think we all can understand that. While sitting with friends watching the game, I about lost it as well.
With the offseason underway while Cubs fans continue to celebrate, the work that needs to be done this winter is less intensive than in the past. The front office decided to be proactive after the Cubs got to the NLCS in what was perceived to be a year early. With most of the roster staying intact, the team will need to address pitching and depth. Making a splash at this year's winter meetings won't be necessary.
Anthony Rizzo and Jake Arrieta each collected their first Silver Slugger Awards. The award voted on by players and coaches of their opponents is given to the best hitter at each position. Rizzo had a great season, but it could be argued that the Reds Joey Votto was deserving of the award as well. But this was given to him by his peers, not a biased media. And Arrieta clearly wanted an extra piece of hardware to put next to his Cy Young award from last season.
These and other stories you might have missed:
'Zobrist 'lost consciousness' in 10th inning at-bat' – Cubbies Crib
'Cubs won't need to make a splash this winter' – Cubbies Crib
'First female Gold Glove winner breaks barrier' – MLB.com
'Rizzo wins first Silver Slugger Award' – Cubbies Crib
'Arrieta matches Rizzo with first Silver Slugger Award' – Cubbies Crib
#Cubs on Twitter
The season might be over, but Cubs coverage never stops. Be sure to check back for continuing coverage of Hot Stove news, rumors and more this offseason. Also, like us on Facebook and follow us on Twitter @CubbiesCrib!
This article originally appeared on