Chicago Cubs need to add another southpaw to their rotation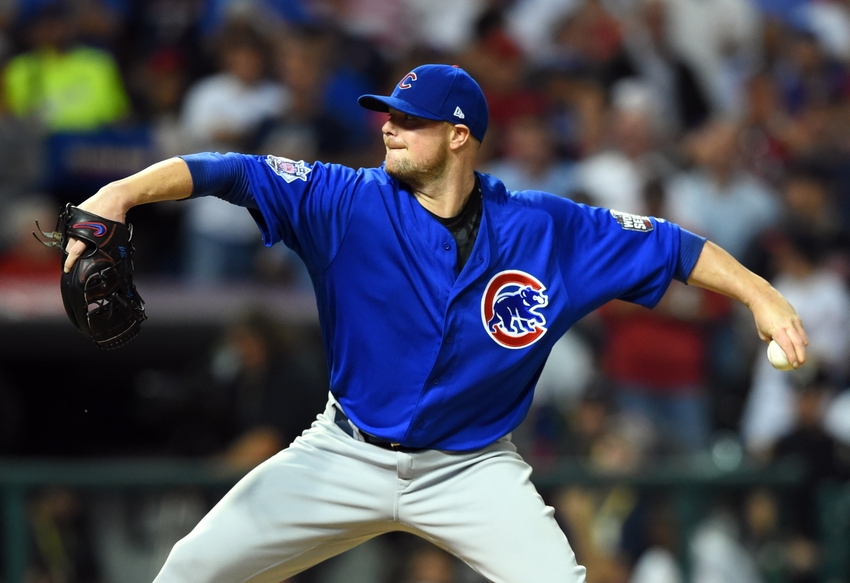 The Chicago Cubs enter another offseason with an opportunity to add to their roster. This time as World Series champions, making them an obvious destination for free agents. However, they should focus more on pitching.
Last year, Theo Epstein added veteran's to this Chicago Cubs roster by signing Ben Zobrist, John Lackey, and Jason Heyward. Providing Joe Maddon with more weapons that he put to good use, resulting in a World Series title.
Now, the defending champs still have some work to do. The bullpen remains the biggest question mark as Aroldis Chapman is expected to leave the North Side. Also, Travis Wood may very well be on his way out as well.
Finding replacements for that bullpen shouldn't be too hard. Which is why the Chicago Cubs need to focus on their starting rotation.
No need for offense. Now, Mike Montgomery was great working from the bullpen throughout the postseason. Keeping him in the pen could be the best option, having him available to make spot starts when necessary.
They need another southpaw, other than Jon Lester, in the starting rotation. Especially, one who doesn't hesitate to the bases with runners on or even field.
When looking at the list of free agent pitchers, you can't help but notice the lack of southpaws that will be available. Chicago is good when it comes to right-handers as they currently have Jake Arrieta, Kyle Hendricks, and Lackey.
Reunion?
Two names that stand out are both Rich Hill and Derek Holland. Hill, the former Chicago Cub, had himself a great first half with the Oakland Athletics. He was later traded to the N.L. West division champs the Los Angeles Dodgers.
In his first 14 starts of the season, Hill carried a 9-3 record, 2.25 ERA, and 90/28 K/BB ratio into Los Angeles. Despite picking up only six starts with the Dodgers, Hill managed to post even better numbers.
Prior to heading to the postseason, Rich's ERA stood at 1.83 behind a 3-2 record and 39/5 K/BB ratio. He struggled in his first two postseason appearances against the Nationals, yielding five earned runs on nine hits.
But that didn't stop him from pitching a gem against his former team. On October 18th, Dave Roberts had him follow Clayton Kershaw and he did not disappoint. Hill held Chicago's heavy lineup to only two hits in six innings of work.
He's getting up there in age, in fact, he'll turn 37-years-old in March. Bringing him on board for a smaller deal than Lackey's could be a possibility. Lackey signed a two-year, $32 million deal. Rich could bring in a one-year deal.
If this will be his final year as a big league pitcher, why not return to the organization that drafted you? I'm sure he misses Wrigley Field.
Worth The Gamble?
Now, the next name on the list will involve a little bit of a risk. Holland, 30, has had a few injuries over the course of his career. From left shoulder inflammation (twice) to shoulder strains, tightness, torn cartilage in his right knee, just to name a few.
Although he's hoping to re-sign with the Texas Rangers, the Cubs may end up showing interest in the 30-year-old veteran. This team is all about second chances, especially when it comes to players who have had to battle with injuries.
While adding Hill could push Lackey to the No. 5 starter, Holland (7-9, 4.95 ERA) wouldn't make that bad of a fifth to round out the rotation. Yes, his numbers are far from impressive but there is plenty of potential there that pitching coach Chris Bosio could work with.
A great coach that turned Jake Arrieta into a Cy Young winner and could very well have another Cy Young in Hendricks, under his wing.
Either way, Chicago needs to bring in another southpaw to help balance things out. Let Bosio worry about the rest.
This article originally appeared on