Chicago Cubs MVP Kris Bryant Has A $eriou$ Beef Against Baseball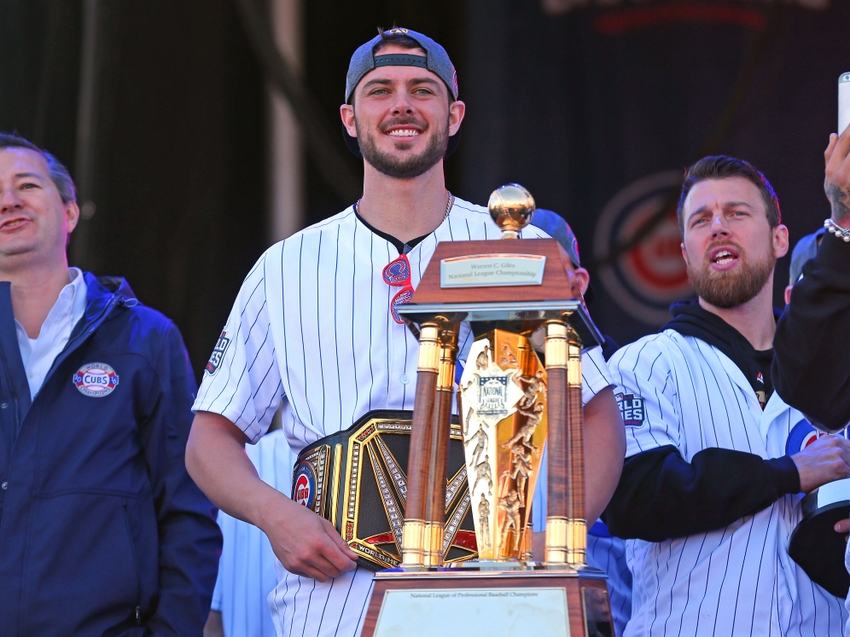 Chicago Cubs MVP Kris Bryant has an upcoming grievance against baseball about how he was kept in the minors to delay his service time. With the financial implications, he has millions of reasons for his beef.
You'll never hear Yankees GM Brian Cashman say it , but the biggest reason he hedges when talking about Gleyber Torres and when he'll be seen wearing a Yankee uniform for the first time, is because he could be saving the Yankees millions of dollars by NOT promoting Torres to the team sometime this coming season. Former catcher CJ Nitkowski, writing for Fox Sports explains it this way using Red Sox pitcher and Cy Young Award winner Rick Porcello as an example:
"In an average year there are 183 service days in a major-league season, 162 games and 21 off days. If you accrue 172 days in any season, it is considered a full year. Six full years gets you to free agency. Five years and 170 days — like Rick Porcello currently has — does not."
To be fair in that case, the Tigers did not manipulate anything. They just got lucky. But in the case of Kris Bryant , the Cubs could not have been more sinister and obvious as to their intentions when they left Bryant off their opening day roster in 2015.
Kris Bryant: "I'm supporting the players who come after me"
More from Call to the Pen
And even though the Cubs were operating in their own best interest as a business, for many it's still like learning that President-Elect Donald Trump did not pay taxes for five consecutive years, and even though he was within the law in doing so, it still can leave a bad taste in your mouth.
So Kris Bryant is moving to protect his interest as well. He told the Chicago Sun Times , "I'm just in it for supporting the players and the guys after me. I'm just going to bat for them". And he's not alone. The players union took on the grievance on his and one other players behalf. Following that, super agent Scott Boras (right) announced he would join the fight as well (Boras is Bryant's agent).
A local CBS affiliate obtained this quote from Cubs GM Jed Homer. See if you can figure out what he's saying.
"We have known about this since May," Hoyer said. "We have a great relationship Kris. We have a great relationship with Scott. They decided to file this grievance in May. Nothing has really changed since then. Obviously, we feel we are in the right. I am not going to comment on the case or open this back up. For us, this is seven months we have known about this. We are thrilled for Kris, who had a great year. This is something that will be handled with due process."
This Could Be Headed To The Courts
For Kris Bryant, what's done is done and he went on with his life and career earning a MVP award and a World Series title. But for the Gleyber Torres's of the baseball world, their future is now. And the grievance that hangs in the balance of determining what direction their career will take represents not only money, but the mental toll of staying in the minors for an additional amount of time when you and the rest of the baseball world knows you should already be in a Yankee uniform.
However, the complexity of the matter is signaled by the fact that no action has been taken on the grievance. Most likely, the arbiter is waiting and hoping for the two sides to come together on an agreement. But this one is probably headed to the courts and the only remaining question is which side will take it there first.
This article originally appeared on