Chicago Cubs: Moves that make sense for the Cubs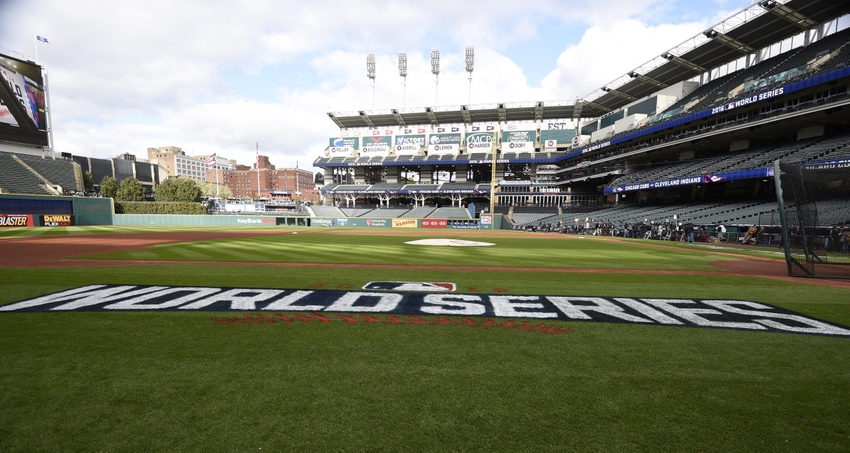 The off-season is here and moves are being made already. For the Chicago Cubs, there are five players that signing or trading only make sense.
Wait a minute? Did the World Series end just last week? And we are already talking about next year? That does not make sense.
However, there is little time to celebrate once players and teams start declining options, leading to more free agents. Add to this the questions leftover from the 2016 roster performances, and there are several questions that remain.
Here is a recap of the important notes from the Chicago Cubs this week:
Dexter Fowler declined his option for 2017, but the team made him a qualifying offer. Players rarely accept these offers.
The Cubs declined the team option for Jason Hammel in 2017, making the pitcher a free agent this off-season. With an average starting pitching market, Jason could use his 2016 performance to cash in.
Other Cubs headed into free agency: Trevor Cahill, Aroldis Chapman, Chris Coghlan, Joe Smith, Travis Wood.
So, what should the Cubs do now? Here are five moves that make sense.
#5 Resign Travis Wood
Is there any player more deserving to be a Chicago Cub in 2017? The one-time starter now solid bullpen option has seen the worst and, now, best the team has to offer. After signing with the Cubs in 2012, the team lost 101 games. He and Anthony Rizzo are the only two current Cubs that now that feeling.
But, it is not just his tenure with the team that deserves consideration. It is his performance. In 77 games in 2016, Wood posted a 2.35 ERA. He is not an overpowering pitcher, but one that can perform in any situation. Whether it is a simple match-up or needed for long relief, Wood is a great option. Plus, he can swing the bat well enough to pinch hit when needed.
Cubs need to work on the bullpen, and keeping Wood would go a long way.
#4 Let Almora play center
The youth moment is Chicago needs to continue, and Albert Almora Jr. needs to play. In his 47 games this year, he showed moments of hitting well and playing defense. His contract is very team friendly, making the risk very small.
It hurts me to say these things. I love Dexter Fowler as a Chicago Cub. He gets on base and starts the offensive engine. However, he was paid $8 million this year and declined his option for 2017. He will get paid by a team somewhere, and deserves it.
Paying Fowler, the $13+ million contract he desires means fewer funds to address the bullpen and offering players, like Kris Bryant, to long-term contracts.
#3 Trade Jorge Soler
The Cubs are loaded with talent, and it is a problem. Miguel Montero complained about the lack of communication regarding his role in the World Series just days after the team won it all. The outfield is loaded. Jason Heyward won another Gold Glove for his defense in right field. Kyle Schwarber is back and his bat is needed. Add to this Almora or Fowler, and you have the starting outfield.
But wait, there is more.
If Manager Joe Maddon wants to start Javier Baez at second base, Ben Zobrist starts in the outfield. That would make Schwarber, Heyward, and Zobrist the 2017 starting outfield. Defensively, not ideal, but the offense dangerous.
And, there are more players in the minors that will make the move to the Majors soon.
Soler and his $3.3 million per year deal for the next four years do not have room on the team moving forward. At least, not the room he needs to produce.
#2 Extend Arrieta's contract
If there was ever a time to talk to Jake Arrieta about his contract, it is now. While he performed well this year, he was a shadow of his 2015 self. He even admitted to not being able to repeat his delivery and lost the feel for his pitches. His road number were fantastic, but he was the third best pitcher on the staff.
That should be enough for him to lower his asking price. A bit. That could help the team sign better players and help solidify the pitching staff. Arrieta is eligible for arbitration.
However, the Cubs also need to address the contract for Kyle Hendricks soon. Currently, the Cy Young Finalist makes $541,000 per season. If they can get Arrieta to drop his price, they can address other needs in 2018.
#1 Get a closer
If the Chicago Cubs want to repeat as World Series Champions, they will need to sign one of the top-level closers on the market. Sure, Pedro Strop and Hector Rondon are still on the roster, but they lack the consistency of true closers. With money to spend and a winning team, landing one should not be a problem. But whom?
Aroldis Chapman: lefty, 36 saves, 1.55 ERA
Kenley Jansen: right handed, 47 saves, 1.83 ERA
Mark Melancon: right handed, 47, 1.64 ERA
It is a toss-up. Any of the three would be fantastic. I lean toward Chapman because he is a left-handed pitcher and was crucial to the Cubs 2016 run.
What else?
Are there other moves out there? Yes. The Chicago Cubs will sign pitchers to fill out the bullpen. If Mike Montgomery moves to the starting rotation, Travis Wood, and Joe Smith will be important to the team.
And, there is always a surprise. Do the Cubs move Miguel Montero and sign Wilson Ramos?
What about going after Ian Desmond, or Yoenis Cespedes? Unlikely, but you never know.
What we do know is that Cubs President of Baseball Operations Theo Epstein and General Manager Jed Hoyer will make a move. And, so far, they have done well.
This article originally appeared on