Chicago Cubs: Montero expresses frustration, which is understandable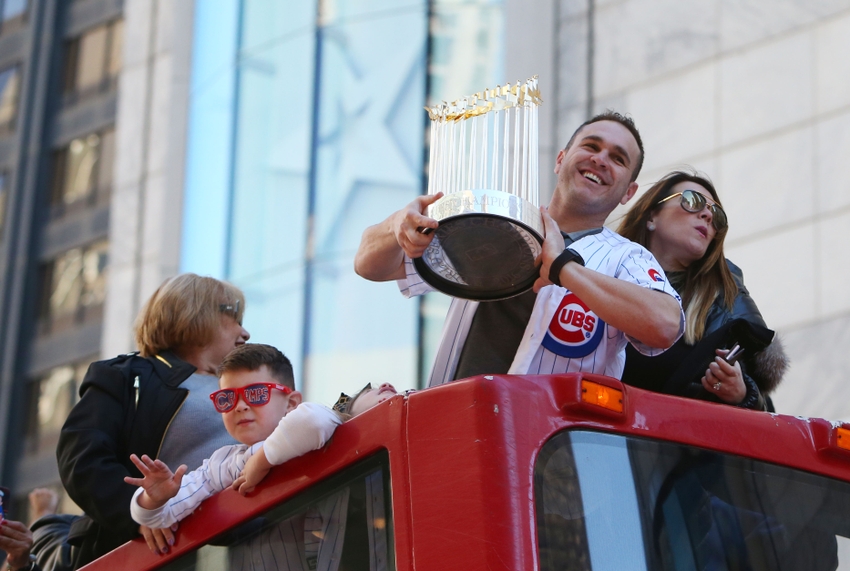 The victory parade for the Chicago Cubs was a successful one. Five million fans crowded the Windy City, showing love to their beloved ballclub that ended a 108-year drought. However, one individual had something on his mind.
Before we dig in on this article, let's reflect on the Chicago Cubs' amazing campaign. At one point, the Cubs found themselves in a mid-July slump. They dropped most of the month to opposing teams but finally gained momentum later on.
Ever since Jon Lester laid down a bunt that scored Jason Heyward in extras, the Chicago Cubs were destined for a title. Despite having the best record in Major League Baseball, the playoffs were not easy for the North Siders.
Having them battle it out against the San Francisco Giants and Los Angeles Dodgers — two West Coast teams, was a difficult task. Coming together and rallying behind their slogan, "We Never Quit!", placed them in their first World Series since 1945.
In 2015, Miguel Montero invented the slogan, "We Never Quit!" — which stuck and was heavily used on Twitter. Not only by fans but players on this team who had verified accounts. It appeared after every game, even a loss.
When Montero first entered the scene, it was obvious that former catcher, Wellington Castillo, was on borrowed time. Sure enough, Castillo was traded to the Seattle Mariners then found a new home with the Arizona Diamondbacks.
Three's Company
Montero's former team where he made a name for himself and became an All-Star. Adding another seasoned veteran, and leader, to this young roster, was a plus. But things got a little crowded when the Cubs added David Ross.
Another veteran who later emerged as the leader of the clubhouse. Later on, Kyle Schwarber was called up and has practically been with the big league roster ever since. Putting three catchers in Joe Maddon's possession.
Montero's bat was great in his first year with the Cubs. In 347 at-bats, Montero drilled 15 home runs, 53 RBI, and 11 doubles while slashing .248/.345/.409/.754. However, his offensive production dropped and a brief stint on the disabled list, due to back stiffness, didn't help.
His numbers dropped to eight homers, 33 RBI, eight doubles, and one triple behind a weak .216/.327/.357/.684. Still, a valued member of this organization, no doubt. But what really rubbed him the wrong way was how he was handled throughout the playoffs.
Frustration
First off, skipper Joe Maddon had some tough decisions to make. One of them involving Jason Hammel who was left off the playoff roster as he opted to use only three starters. The rest was left up to the bullpen.
Second, Matt Szczur and Tommy La Stella, like Hammel, found themselves cheering on from the dugout, unable to participate. Both Szczur and La Stella have had clutch moments on both sides of the diamond. It was a shame that neither one of them had the opportunity to even get an at-bat.
Just the other day, Montero expressed his frustrations in an article that was published by Yahoo Sports. Montero stated:
"I think the toughest part for me is they never communicated with me. I'm a veteran guy. They talk about veteran leadership. I have 11 years in the game and two All-Star [appearances]. I expected to be treated a little better. I was expected to get some communication."
Which is completely understandable. He then went on to discuss that he never understood his role throughout the postseason. However, he had two key hits in important games. Game 1 of the LCS when he launched the go-ahead Grand Slam and the game running hit in Game 7.
Feels Bad, Man
He later followed up his first thoughts with:
"Catching the last two [innings] of the World Series made it sweet. Otherwise, it would have been nice because I'm part of it but I didn't help as much as I wanted to help. To be more involved. I would have felt bad to go home with the trophy and not even catch one inning in the World Series. That would be the toughest part."
Good thing he did. It was clear that Maddon was going to use everyone on the bench in Game 7 since it was the final game of the year. But if he thought that was bad, just wait until 2017 rolls around the corner.
Now that David Ross is out of the picture, the Chicago Cubs are back to having just two catchers on their roster. Aside from Montero, Willson Contreras will remain a big league catcher and will likely start whenever Jon Lester's on the mound.
Two Is All Joe Needs
There is no way or reason why Kyle Schwarber will be placed behind the dish. He seems to be settling in the outfield just fine. Just needs to avoid his teammates while attempting to make a routine play.
So for now, Montero and Contreras will begin 2017 as the only two catchers. Pending any major decision regarding the position itself which is highly unlikely. Still, Montero will be looking to improve at the dish in 2017.
And it's not like he's going to be riding the bench, anyway. Maddon loves mixing it up, sending out different catchers to work with specific pitchers. It all comes down to who your guy on the mound is most comfortable with.
Either way, Montero is still a leader in this clubhouse. It's understandable that he felt that way, but hey, we still love you, Miggy. And if it wasn't for your hit, the Indians would have tied it in their half of the 10th inning.
Montero Is Good.
This article originally appeared on