Chicago Cubs Minors Report: Top prospects under the radar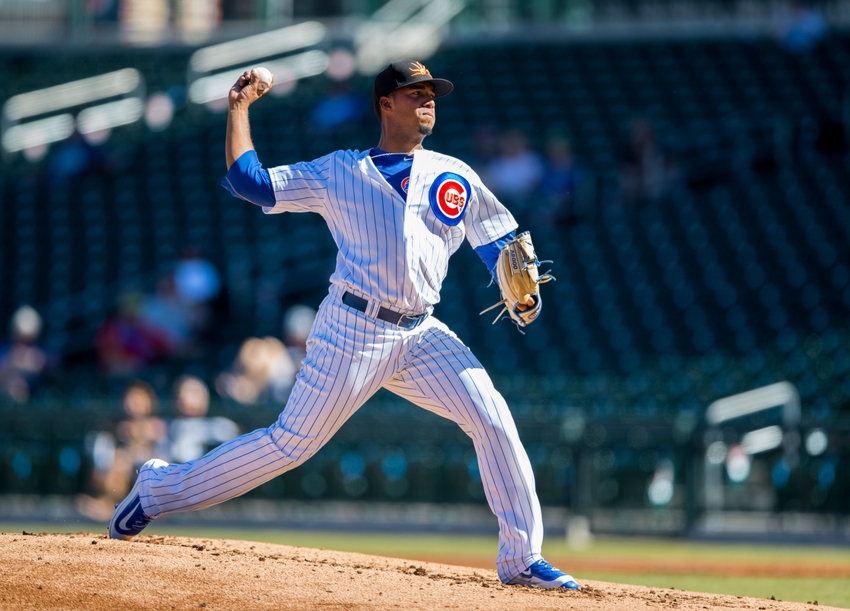 A lot has been made about the strength of the Chicago Cubs farm system. Below the surface, the 2016 World Series champions possess a few names that may make a splash very soon.
If the normal progression of development continues, the Chicago Cubs will have plenty of depth to go around.
A simple web search can return a wealth of knowledge regarding the top prospects in the Cubs system. A few names have already become household names because of their impressive minor league performances.
Number one overall prospect Ian Happ jumped to the front of the line rather quickly into his professional career. Drafted ninth overall in 2015, the former Cincinnati Bearcat seems destined down the same promotional track that gave us Kyle Schwarber.
Eloy Jimenez, the second overall prospect made major waves this past season with a performance for the ages at the Futures Game in San Diego. There is no doubt that these two future stars are ready. Both face an uphill climb at their respective positions, but the talent is major league ready.
Duane Underwood and Bryan Hudson could be bullpen options down the line
Number six prospect Duane Underwood was added to the 40-man roster recently. An important step in his journey to the big leagues, Underwood could ultimately peak as a front line starter some day.
In the short term, Underwood carries a mid-90's fastball that can always be difficult for hitters to square up. Most scouting reports note that Underwood struggles with command, but he does have two secondary pitches that could develop into an effective out pitch.
Bryan Hudson presents a tremendous opportunity for the Cubs. At age 19, Hudson is already 6′ 8″ 220 lbs. He performs on a skinny frame, but scouts are confident he can build strength over time. The Illinois-native lefty could give teams trouble out the pen if he can utilize his length and pitch speed.
Hudson has a fastball that can reach the mid-90's, but he compliments it with a breaking ball that could be his signature. Given his height and pitch selection, I can't help but envision Randy Johnson when trying to visualize Bryan Hudson on the mound. Please don't confuse that statement as a comparison of the two. I'm speaking strictly from how they are built physically. Hudson has a long way to go before the two can be mentioned in any other context.
Donnie Dewees could just be scrappy enough to make it
Outfielder Donnie Dewees has done everything asked of him so far as a professional. Despite not being drafted out of high school, Dewees impressed in the Cape Cod league. After leading the NCAA in a number of offensive categories, Dewees was signed by the Cubs.
The college stats scream on-base dream. Dewees is fast and creates a lot of chaos once he finds the basepaths. Dewees has a small frame and a quick, compact left-handed swing. His contact rate makes him a suitable comp to Tommy La Stella, who thrives on balls put into play.
As the development continues in the minors next year, Dewees could play his way onto the roster late in the year to provide more versatility off the bench.
This time of year, the Chicago Cubs have a lot to be thankful for. They brought a championship to a fanbase that needed one so badly. More importantly, the Cubs won by not completely depleting the resources they have in the minors. That level of competitiveness and baseball IQ will continue to be rewarded for years to come.
This article originally appeared on