Chicago Cubs: Maddon uses Schwarber, Chapman to force Game 7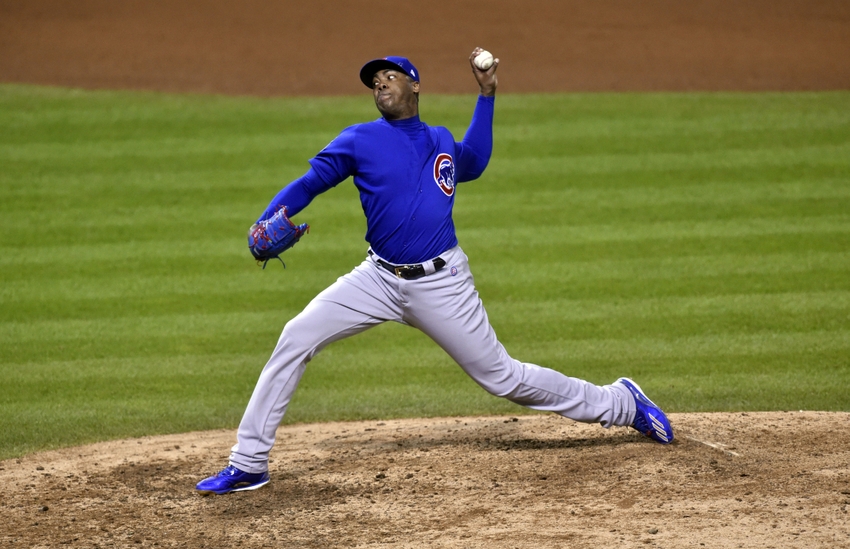 The Chicago Cubs are going to a Game 7 after all.
The Chicago Cubs' bats woke up in a big way and produced three home runs, including Addison Russell's explosive grand slam which broke open a 3-0 game. The Cubs then lead 7-0 and this fan was almost giddy, enjoying every moment.
This all happened on a night when manager Joe Maddon went to closer Aroldis Chapman in the seventh inning. Why bring him in so early?
I heard Maddon make a comment to the Chicago press before the game saying, "We want to win the next game." He said he was going to manage to win this game. That is what is front of him, only this game.
Okay, the Cubbies won the game, 9-3. The series is now tied 3-3. But can they use Chapman in some role in Game 7? Will he have anything left? He pitched over 60 pitches in the last two games.
I think he might have enough left to get two outs if needed.
Look for the Cubs to go all hands on deck on Wednesday. Maddon hopes Kyle Hendricks pitches deep, and then he may use one of his starters in John Lackey or Jon Lester.
Moving Forward
My question is why didn't he use Hector Rondon for one or two outs in Tuesday night's game? He was rested and available. Commentators speculated that Maddon may not want to go with Rondon. I saw him get some outs in the playoffs and he didn't look too bad.
However, his best move was placing Kyle Schwarber, designated hitter, in the No. 2 spot in the batting order. That extended the lineup and made Cleveland pitchers work harder. Josh Tomlin started on three days rest and he looked less impressive than in his first start.
Sure enough, the Cubs got to him and knocked him out of the game. This team does not quit. Now, they have more confidence. The younger players got some base hits, and the power hitters unloaded big time.
The Cubs have another game. Game 7. Maddon spoke of winning Game 5 was critical to get to the next game. He knows the history of the franchise. He knows the Cubs haven't been in a World Series in generations, the last being over 100 years ago.
The other night, the Fox-TV cameras caught former Supreme Court Justice John Paul Stevens in the stands. Announcer Joe Buck noted that Stevens had been to the game where Babe Ruth pointed to center field, and then belted a home run in Wrigley Field in 1932.
It was a historic event. But this Chicago Cubs team is making its own history. Winning two elimination games to force a Game 7.
There will be more baseball history made Wednesday night. We can only watch and hope.
This article originally appeared on