Chicago Cubs: Lester looks to shutdown Cardinals Wild Card hopes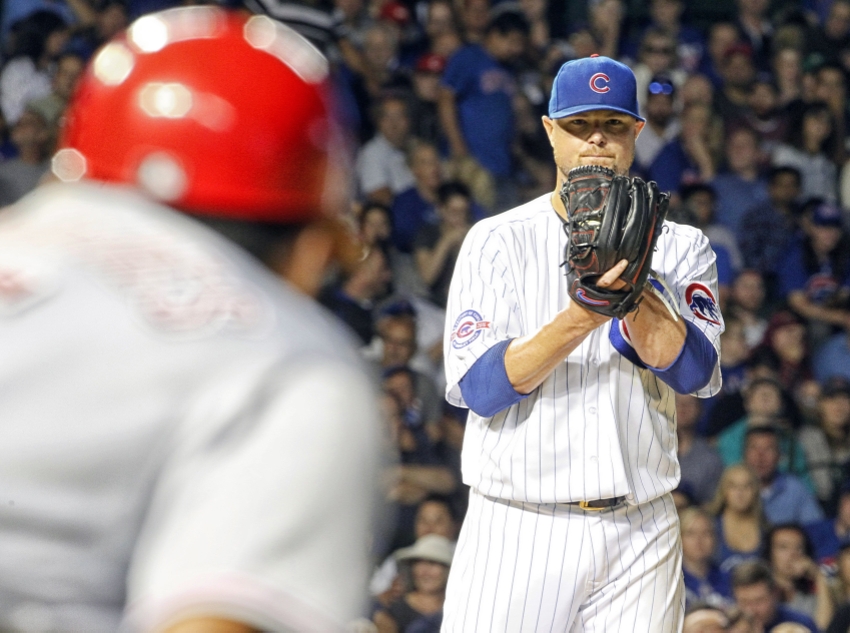 The Chicago Cubs and Jon Lester close out the regular season schedule at Wrigley Field with a chance to push the Cardinals further back in the Wild Card race.
This may be the most important game of the year for the St. Louis Cardinals (81-73). They trail both the New York Mets and San Francisco Giants by just a half-game in the Wild Card race, desperately needing to come out of Wrigley with a series win in order to keep their playoff hopes alive.
St. Louis is 9-9 against the NL Central Champion Chicago Cubs (98-56) this season, recording six of those wins at the Friendly Confines. They are one of just two teams to win a series in Chicago this year, the other being the Colorado Rockies.
The Cardinals have seven divisional games left against Cincinnati and Pittsburgh. They are a combined 15-16 against those teams this year, scoring just over five runs per game.
New York has the easiest remaining schedule, finishing out the year against the Phillies and Marlins. San Francisco could open the door for St. Louis if they can't beat the Dodgers and Rockies in their final six games.
Chicago, on the other hand, has their own goals in mind. After clinching home-field advantage in the NL playoffs, they're eyeing 100 wins to finish off the regular season.
"When you start the year, you think 90 wins; that should get you to the dance pretty much," said Cubs manager Joe Maddon, who won 97 last year with Chicago. "When you get a chance to do 100, that is special.
"First of all, you have to be good. Then second of all, you do have to really approach the day properly. Because we have rested our guys. Everybody has played. We've been fortunate with our starting pitching that they've been able to get their normal turn. That's probably the most important thing."
Lefty Jon Lester (18-4, 2.36 ERA), who gets the start Sunday, is one of the Cubs starters that greatly benefitted from extra rest this year. Lester is first in NL Cy Young points, though his ERA is second to teammate Kyle Hendricks' 2.06.
In his last outing, Lester held Cincinnati to one run over seven innings.
The Cubs are the first team since the 2004 Astros to have multiple 18 game winners. Lester and 2015 Cy Young winner Jake Arrieta are the first Chicago tandem since 1989 to reach this mark.
Lester owns a nine-game winning streak at Wrigley, improving to 9-2 with a 1.86 ERA this year.
The Cardinals will send out righty Carlos Martinez to oppose Lester on Sunday. Martinez is 3-2 with a 4.85 ERA against the Cubs in 18 career starts.
The lineups for tonight's game are as follows:
9/25 @Cubs lineup vs STL
Fowler CF
Bryant LF
Rizzo 1B
Zobrist 2B
Russell SS
Heyward RF
Baez 3B
Ross C
Lester P

— MLB Lineups (@mlblineups) September 25, 2016
9/25 @Cardinals lineup at CHC
Carpenter 2B
Piscotty RF
Peralta 3B
Moss 1B
Molina C
Gyorko SS
Grichuk CF
J. Martinez LF
C. Martinez P

— MLB Lineups (@mlblineups) September 25, 2016
Be sure to check back during the game for more Cubs coverage, as well as after the game for postgame coverage of the last regular season home game.
This article originally appeared on