Chicago Cubs: Javier Baez keeping it simple offensively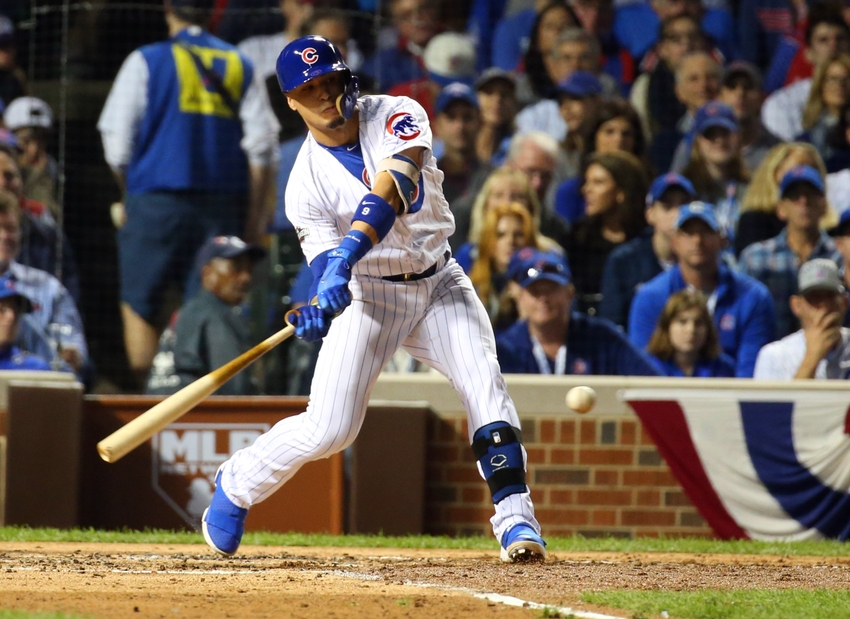 Chicago Cubs' infielder Javier Baez has been the stand out player so far this postseason, offensively, and defensively. The 23-year-old is absolutely raking.
He finished game one of the National league championship series with two doubles. In the second inning, he showcased another loud tool, his speed, by stealing home. He's the first Chicago Cubs player to steal home since 1907.
But why has Baez looked so good at the plate towards the end of the season, and now in the playoffs? Let's analyze.
When Javier Baez made his debut in the big leagues in 2014, he made a splash immediately hitting a game winning extra inning home run. He went deep nine times in his debut year, but only hit a dismal .169.
The problem with Baez in 2014 and 2015 was the strikeout rate. In 2015 he didn't play much at the big league level, but when he was up, there was still a lot of swing and misses.
Fast forward to 2016. Baez hit .273 with 14 bombs. but his strikeout rate was much lower. He only struck out 108 times in 421 at-bats, which is a 25% strikeout rate. Much better than the previous two seasons. You also have to take something into account- this is his first full season in the major leagues.
Getting base hits
The reason he's doing so well in the postseason? Okay, here it is. He's not trying to do too much. Baez has often tried to go yard every pitch, but right now he's being very selective and only swinging at pitches in his zone that he knows he can drive.
He's still experienced some power from this approach, most notably in game one of the NLDS when he went deep in the eighth inning off Johnny Cueto to give the Cubs the lead. But the majority of his hits have been singles and doubles.
Baez also isn't trying to pull everything like we have seen him do before. He's hitting the ball where it's pitched, and letting the ball get deep in the hitting zone. The Puerto Rico native has tremendous speed, and it's paid off. He's turned singles into doubles because of his quickness.
The one thing that scouts have boasted about him even back to when he was drafted, is the amazing bat speed he generates. He's got lightning quick hands.
In the minors, he was able to get away with swinging out of his shoes and still hitting for average, but at this level, against quality arms, it doesn't work. Javier is keeping it simple and getting on base, which has made him a hero so far in October to Cubs fans.
There's a reason Chicago took him ninth overall in the 2011 draft. The guy has all the tools you look for. He's sure showcasing them this postseason.
When you're hot, you find the holes
Baez has been almost impossible to get out in these playoffs. Let's look at game one last night for example. Kenta Maeda throws a 1-2 curveball that almost hits the ground, and Baez bloops it into shallow center field for a RBI double.
Everything he hits seems to find the green space right now. His approach is middle-away, which I really like. A lot of his hits this postseason have been opposite field, or right up to the middle. He's really letting the ball get deep in the zone.
Sparkplug
Baez is waiting for his pitch and driving it. He's a way more mature hitter than he was a year ago. The Cubs lineup has so much talent from one through nine, and their hottest hitter is hitting seventh.
Yes, I said seventh. Baseball is a game of superstition. Based on the hot streak Baez is on, there is no way Joe Maddon is moving him up in the batting order. Plus this way it balances the lineup out when you have guys all throughout that can produce.
The big stage hasn't phased the 23-year-old. He has shined this postseason, thanks to a simple approach at the plate. If other bats come alive like Anthony Rizzo, the sky is the limit for the Cubbies in the next couple weeks.
But at this point, Javier Baez is leading the Cubs offensively and will continue to do so thanks to a great approach at the plate.
As long as Baez sticks to the fundamentals of hitting, and keeps a straight forward approach and continues to be selective with the pitches he swings at, he will keep raking for the Cubs deep into October.
This article originally appeared on