Chicago Cubs: Jason Heyward Has Been Raking Since Return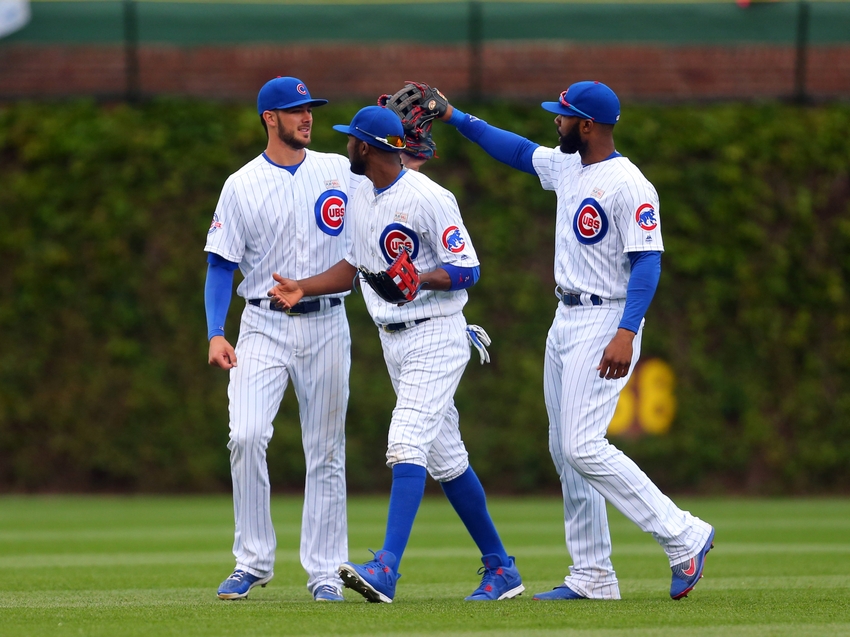 Since returning from four games off last month, Jason Heyward has been the player the Chicago Cubs expected when they signed him to a seven-year deal.
Chicago Cubs Manager Joe Maddon sat Jason Heyward for four games from August 18-21. Heyward has struggled in the first year of a seven-year, $184 million contract.
At the time of his benching, Heyward was hitting .225 with a slash line of .304/.313/.617. His 13.0 Defensive WAR among right fielders ranks second in baseball to the White Sox Adam Eaton.
Since returning from his benching on August 21, Heyward has been steady. He is hitting .283 with one home run and six RBIs with a .298/.413/.711 slash line. Heyward is by far the Cubs best defensive outfielder. One player thrown out trying to stretch a base can make or break a postseason run.
He had one hit in the game that preceded his benching. He followed that with hitting safely in his first seven games back for a season long eight-game hitting streak. Cubs manager Joe Maddon related that he thought Heyward's poor season was a timing issue in his swing.
"He's getting started soon enough and he's getting his foot down early enough," Maddon said. "That means the bat head is out front more consistently and he's on time…If your foot is not down and the ball is still in the air, you're in trouble…You can never be too early, but you can be too late as a hitter. If you're too late, playing catch-up is rarely going to (result in) a well-struck ball that's going to carry… You have to be on time to have the ball carry properly. He's on time right now."
Maddon, Cubs President Theo Epstein, and General Manager Jed Hoyer are going to have some tough decisions to make regarding the Cubs lineup when the playoffs begin. The plus for Maddon is that the Cubs have the best  depth in baseball. Two of out of the likely group of Heyward, Jorge Soler, Javier Baez and Ben Zobrist are not going to be in the lineup when the playoffs start.
If Heyward continues to hit throughout September, he will solidify a place in the lineup. Soler, Zobrist, and Baez are nowhere near the defensive outfielder that Heyward is.
Heyward is in the top five in multiple defensive categories this season. In addition to defensive WAR, he is also third in total zone data, third in fielding percentage as a right fielder, and second, in total zone runs among right fielders.
Soler is the most likely option if the Cubs decided to keep Heyward on the bench and use him as a late-game defensive replacement. Soler's -3.1 defensive WAR is the second worst on the Cubs to Anthony Rizzo's -6.2.
Get the FanSided App
Soler hit .444 in his first postseason last year. He was hot through the entire postseason against the Mets and the Cardinals. He hit .571 against St. Louis and .417 against New York. In four postseasons spanning four series, Heyward is a .208 career hitter with two home runs and six RBIs in 13 games.
They could decide to platoon Heyward and Soler. Heyward is hitting .238 this season against right-handed pitching and just .216 against lefties. Soler is hitting .274 against lefties and .231 against righties.
Chicago Tribune Cubs beat reporter Mark Gonzalez indicated that Maddon isn't entirely comfortable enough with Soler's defense to keep him in throughout the game. "Maddon acknowledged Soler has improved under the supervision of coach Dave Martinez, but Maddon doesn't want to lose a lead or a game with a better defender on the bench."
The power discrepancy is jarring. Heyward's six home runs have come in 438 at-bats, while Soler has ten in 187.
If Heyward continues to hit and maintain his consistency since returning from the four games off he might make the decision for the Cubs brass. His outfield defense is invaluable.
More from Call to the Pen
This article originally appeared on