Chicago Cubs: Idea of trading Kyle Schwarber is hilariously dumb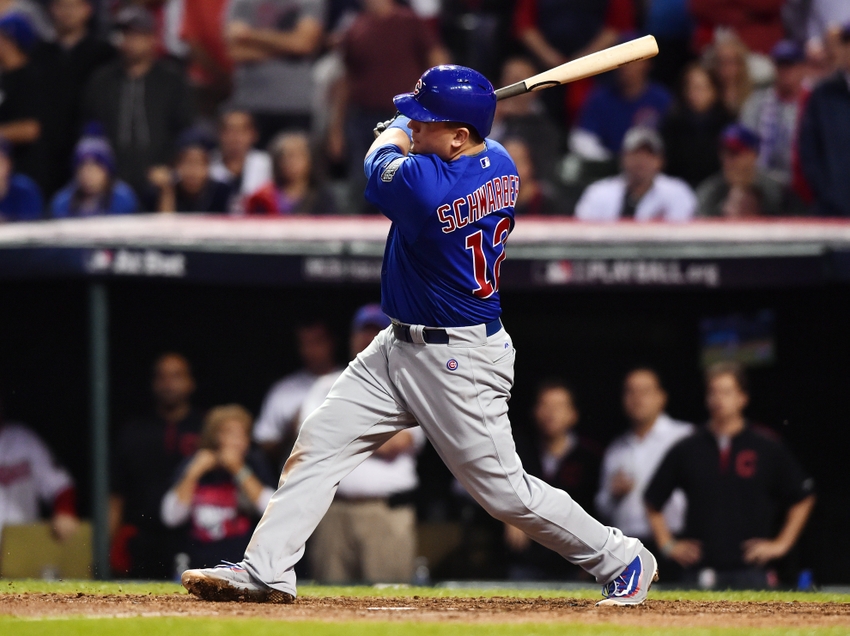 The idea of the Chicago Cubs trading Kyle Schwarber for a pitcher seems incredibly stupid, no matter the pitching returns…
Ah, it's fun to speculate.
I love speculating, especially when you're talking about the offseason of baseball. There are so many options, but one option I refuse to consider is the idea of the Chicago Cubs trading Kyle Schwarber.
I simply will not allow my mind to go there.
We all know that Theo Epstein is on record as saying he doesn't really believe in a true untouchable player. What we also all know is that Kyle Schwarber is a proven untouchable. At least as of the most recent MLB trade deadline.
There was no hesitation from the Cubs to turn down a rumored proposal including Andrew Miller and Kyle Schwarber as the centerpieces of a blockbuster deal. The Cubs eventually wound up trading a couple of their top prospects — Gleyber Torres, Dan Vogelbach, among others — for Aroldis Chapman and Mike Montgomery.
Both players played critical roles in a World Series run. Neither player was really ever likely to find an everyday role with the Cubs at the Major League level.
Risky Trade Paid Off
Those are trades that are beneficial for both sides. The Cubs get their first World Series in 108 years, and the Yankees/Mariners get a couple of good-looking young players.
Everyone wins.
In a trade involving Kyle Schwarber, the Cubs are losers, and I don't think it matters what kind of pitcher they'd get in return.
First of all, Schwarber is an everyday player. Pitchers come out once every five days. I don't want to diminish the importance of a good starting pitching staff, but the Cubs will return four of their starting five this season and have an opportunity to re-sign/add players next offseason.
You just can't trade an elite hitter who is in your lineup every single day for a pitcher that may or may not works out.
Second, the Cubs had the best starting staff in baseball last season, and it's not getting any worse in 2017. Jason Hammel was allowed to walk in free agency, but the Cubs saw enough from Mike Montgomery to give him a legit shot at being starter number five. Or perhaps making a more reasonable trade for a solid pitcher that doesn't involve Schwarber.
Needs
Why do the Cubs need to add some big time starting pitcher when they already have four extremely good ones? You can talk 2018 and beyond if you want, but I'm not ready to go there yet.
Third, a trade for Schwarber would be incredibly dumb to me because the Cubs are already facing the idea that Dexter Fowler could be on the move. What does Schwarber have to do with that? Well, do you want to lose both Fowler and Schwarber's bats in the same offseason?
Losing both guys would be setting yourself up to arguably lose two of the best on-base players on the team. There's a reason that even coming off of a torn ACL, Schwarber was moved up to second in the batting order right behind Fowler when the World Series was in Cleveland.
You can't dismantle the top two spots in the batting order that had the most success in the World Series against the pitching of the Cleveland Indians.
Fourth, and this is just my opinion, but I think Schwarber will ultimately become the best hitter on the team. In a relatively small sample size, we've seen Schwarber display incredible power to all areas of the field. He has a great eye and always puts solid contact on the ball. He's not afraid to take walks and has a patient approach.
He doesn't have the body of work of really anyone else among the Cubs' young stars, but I see Schwarber as the best of a group of elite hitters.
Do not trade Kyle Schwarber. If anyone calls in regards to making a trade, laugh loudly in their ear, and hang up the phone violently.
This article originally appeared on