Chicago Cubs: Filling Dexter Fowler's Void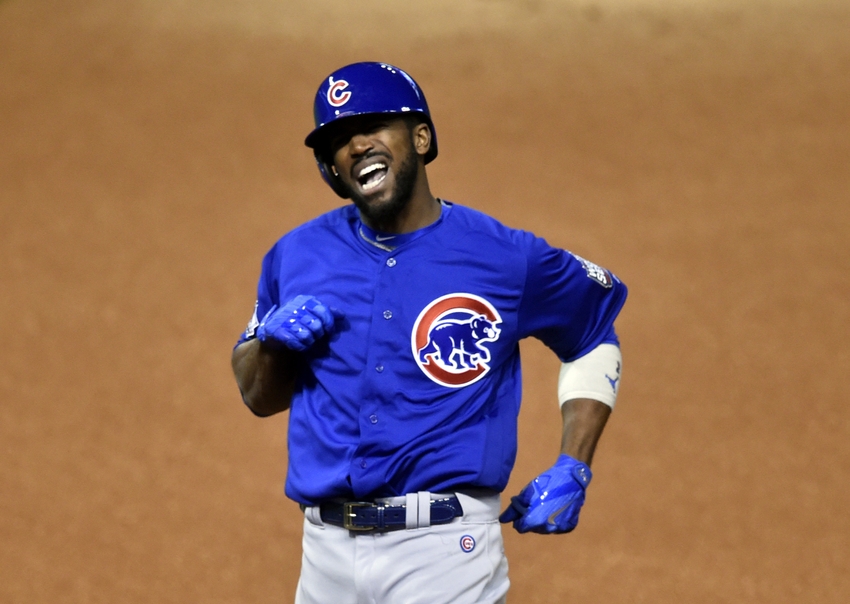 Dexter Fowler appears to be headed somewhere other than the Chicago Cubs. If he leaves, the Cubs must fill a large void in his wake.
When Dexter Fowler showed up at the Chicago Cubs Spring Training facility last season, it was a surprise enjoyed by both Fowler and his teammates. Fowler appeared to have signed with the Baltimore Orioles earlier that month before the deal fell through. That provided the Chicago Cubs with a perfect opportunity to swoop in and bring the outfielder back for another season.
For the first two months of the season, Dexter Fowler was smoking hot. And I don't just mean because of his devastating smile. In the months of March, April, and May he had 219 plate appearances. During that span he hit .317/.434/.533 while walking 14.6 percent of the time. He was everything and more a team could ask from their leadoff hitter. Thus earning him the phrase, "you go, we go" from his teammates and manager.
Fowler was a key part of everything the Cubs did this season. From starting the season 24-6, to winning 103 games, to winning the World Series, Dexter Fowler was vital to the Cubs' success every step of the way. Surely the Cubs would love to have Fowler back. However, he's bound to get paid well on the free agent market, and it will likely be a price the Cubs can't justify paying. Having depth is important, as the Cubs showed this past season, but the outfield is packed with talent even in the wake of Dexter Fowler's impending departure. For the right price, surely the Cubs would bring Fowler back solely for his ability in the leadoff role. As the free agent market stands, it isn't likely.
Because of this, the assumption is that the Cubs will have to adjust to life without Fowler. He was a catalyst to the offense and an important part of both the 2015 and 2015 Chicago Cubs teams. His presence on the team, in the lineup, and in center field will not be easily replaced. Luckily for the Cubs, they have a plethora of young talent ready to play in the outfield.
The corners will likely be manned by Jason Heyward and Kyle Schwarber for a good majority of the season. Heyward may move to center occasionally, depending on who the Cubs want in the lineup, but will largely spend his time in right field where he recently won a Gold Glove. The Cubs had high hopes for Schwarber as a catcher before his kind of season-ending knee injury in April of 2016. It seems unlikely that Schwarber, who already struggled to handle the load of catching, will be able to continue at that position anymore. The Cubs want his bat in the lineup every single day, so there's a good chance he's in that left field corner for 140 or more of the Cubs' games, health permitting.
What remains is a need for a center fielder, or a right fielder whose bat would justify moving Jason Heyward out of position. The Cubs have a candidate for each of the two options. They either put Albert Almora in center field or Jorge Soler in right field. Most likely, it will be a combination of both depending on how Joe Maddon wants to construct his lineup and defensive arrangements.
Albert Almora made his major league debut in 2016, showing off impressive defensive skills while remaining adequate at the plate. He had a mere 117 plate appearances in 2016, due to the crowded outfield and importance of Fowler. In that limited amount of exposure, he slashed .277/.308/.455. That slash line was good for a just slightly above average wRC+ of 101.
More from Call to the Pen
Those numbers are only somewhat reliable, because of the small amount of plate appearances, but they seem to be a good sign for the Cubs. Almora may be able to replicate his offensive ability from his rookie season, but it seems more likely that there will be a slight drop-off. Still, he will be at least close to average at the plate. For the Cubs, who are stacked with above average hitting, that won't really hurt their lineup. Almora, however, does not have the leadoff skills that Fowler displayed in Chicago. That is yet another void to fill that will be addressed later.
Jorge Soler has always had a large amount of promise. Despite a heavy swing-and-miss tendency, he puts a ton of force behind every ball he hits. In his 264 plate appearances in 2016, he hit 12 home runs and slashed .238/.333/.436. That put him just slightly above Almora with a wRC+ of 106.
Both Soler and Almora have their strengths and weaknesses. Soler's strength is with the bat. Although he has never reached full potential offensively, the Cubs believe his assets at the plate are incredibly good. Soler's weakness is playing in the field, where Almora excels. Soler is by no means a horrible outfielder. However, an outfield of Schwarber in left, Heyward in center, and Soler in right is a huge defensive downgrade from Zobrist in left, Fowler in center, and Heyward in right. For that reason, the Cubs may rely more heavily on Almora and his ability to play center field.
Finding a fix for Fowler's missing body in the field isn't all that difficult for the Cubs. Almora and Soler are their best two options, but even Zobrist could play right field with Heyward in center. The possibilities are seemingly endless for the incredibly deep Chicago Cubs roster. Finding a fix for the missing leadoff presence is, however, a separate and perhaps more difficult challenge.
The bottom line is that there isn't a really great fit on the roster. Almora fits the old-school thought of having a "speedy" player at the top, but his ability to get on base pales in comparison to many of his teammates. Ben Zobrist is most likely to take on this role. He doesn't fit the prototypical speedster at the top of the lineup, but his ability to get on base, take walks, and refusal to strikeout are all great assets at that position in the lineup.
In 2016 Zobrist had a .386 OBP, which was just a few points below Fowler's mark for the year. Zobrist also walked 15.2 percent of the time and only struck out at a rate of 13.0 percent. Those numbers are all heavily indicative that Zobrist will have success in the leadoff role. From there the Cubs can plug in Schwarber, Bryant, Rizzo, and Russell to fill in the top of the order. While it's not perfect, and certainly isn't quite as good as having Fowler kick things off, it's a solution that will likely allow the Cubs to continue to dominate.
Dexter Fowler played a key role in the successful seasons of 2015 and 2016 for the Chicago Cubs. In the field, he was a steady presence in center. At the plate, he provided great on-base ability as well as a little pop in his bat. As a leadoff hitter, he was a catalyst for one of the best offenses in baseball. The Cubs probably won't sign him back this offseason, which leaves a large void in their roster. Luckily for the Cubs, they have some impressive internal options to fill his void.
This article originally appeared on