Chicago Cubs fans sing 'Go Cubs Go' after clinching National League pennant (Video)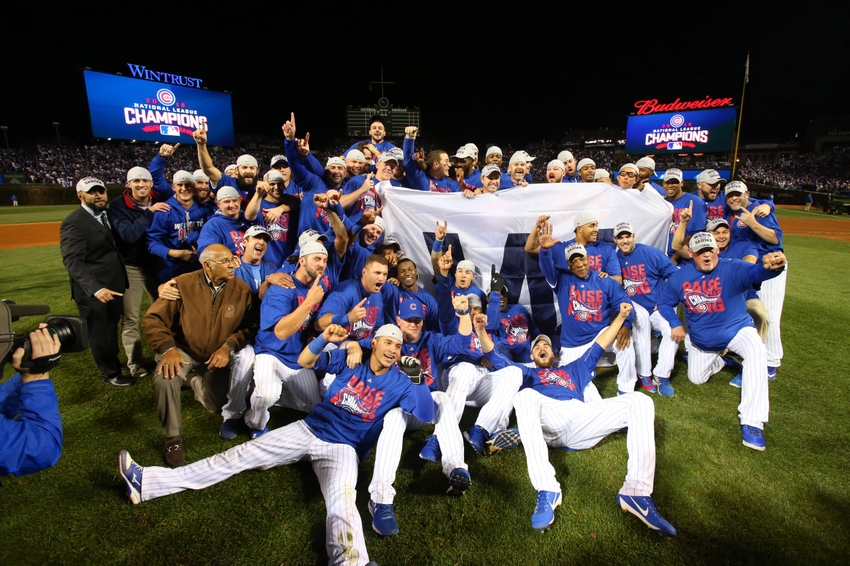 What curse? The Chicago Cubs are going to the World Series. No, seriously. Let the Cubs fans in the bleachers singing the team's famous song take it away.
Even as someone who grew up rooting for the likes of Frank Thomas and Paul Konerko on the South Side of Chicago, watching the Chicago Cubs clinch their first pennant since 1945 on Saturday night was pretty surreal.
The Cubs shut out the Los Angeles Dodgers in Game 6 of the National League Championship Series, 5-0, thanks to a tremendous pitching performance from Kyle Hendricks, and advanced to the World Series to play the Cleveland Indians.
After the Cubs turned a nice 6-4-3 double play to clinch the series for the home time, the 42-000+ in attendance for history wasted no time in singing the famous "Go Cubs Go" song Wrigley Field plays after every home win.
It was nothing short of a party as soon as the game concluded.
The 2016 World Series features the Cleveland Indians and the Chicago Cubs.
That just doesn't feel real to say.
Wrigleyville won't shut down any bars on Saturday night. Cubs fans probably aren't going to sleep either. You probably won't be able to walk 10 feet in Chicago without hearing some group of people singing "Go Cubs Go".
Cubs fans have waited a long time for this and it finally happened. It's one of those things in sports where you just sit back and say, "Holy crap, this is happening."
There's nothing like sports on the planet. Nothing. Grown men and women crying because of an incredible baseball team doing something that many thought they would never see.
The Cubs still have four more wins to go to complete their historic run, but for now, Chicago's going to be a huge party until Tuesday night in Cleveland when the action picks back up for Game 1 of the World Series.
This article originally appeared on