Chicago Cubs extend qualifying offer to Dexter Fowler who may reject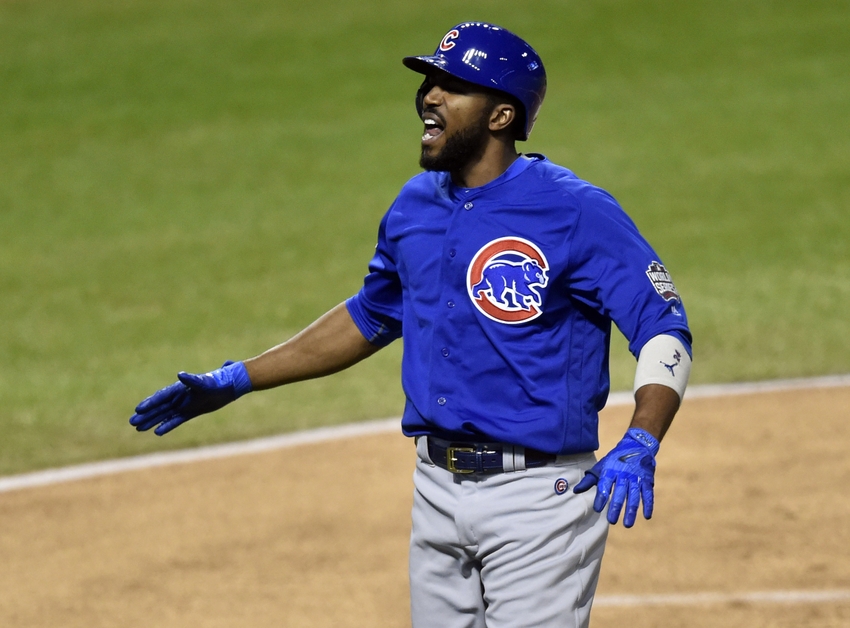 It has been a little under a week since the Chicago Cubs defeated the Cleveland Indians in Game 7. Their victory over the Tribe wiped their 108-year World Series drought. Now it's time to get to work, again.
For the second consecutive year, the Chicago Cubs find themselves in a familiar position. Extending a qualifying offer to center fielder, Dexter Fowler. According to Jon Heyman, via MLB Trade Rumors, the Cubs extended an offer of $17.2 million for 2017.
Now, if you don't remember, the Chicago Cubs offered Fowler a one-year contract last Winter — which he rejected. Theo Epstein and company placed $15.8 million on the table for 2016 following an appearance in the LCS.
He would later reject the qualifying offer and test free agency. At one point, it looked as if Fowler was heading to the American League East. Specifically, with Adam Jones and the Baltimore Orioles.
How fun would it have been had Fowler and Starlin Castro were to meet up a few times in 2016? Two former teammates having to battle it out in the AL East. But, as it later turned out, the original reports of him joining the Orioles were false.
Instead, Fowler was flown out to Mesa, Arizona where the Cubs hold their training camp. That is where he was surrounded by his brothers who welcomed him back.
Smiles all around, which was great to see. Now, the outcome may be different now that his unfinished business, is now finished.
What Now?
There is a very strong possibility that Fowler ends up somewhere else. However, you can't rule out the opportunity to return to the North Side with an even better deal. The fact that he turned down last year's offer only to re-sign with the Cubs has to give them high hopes.
In addition, the league does not have a salary cap so it shouldn't be an issue to give Fowler the deal that he deserves. He's getting up there in age and the average center fielder doesn't play that long.
Take a look at running backs in the National Football League. They usually fade from the game in their early 30's. And knowing that Albert Almora Jr. is close to joining the big league roster as a full-time player, why not bring him back?
Rather than going out and signing someone such as Yoenis Cespedes and losing a draft pick would be too pick. The ball is in your court, Theo. Make something happen, bud.
This article originally appeared on