Chicago Cubs: Dodgers take game three, 6-0 as Arrieta falters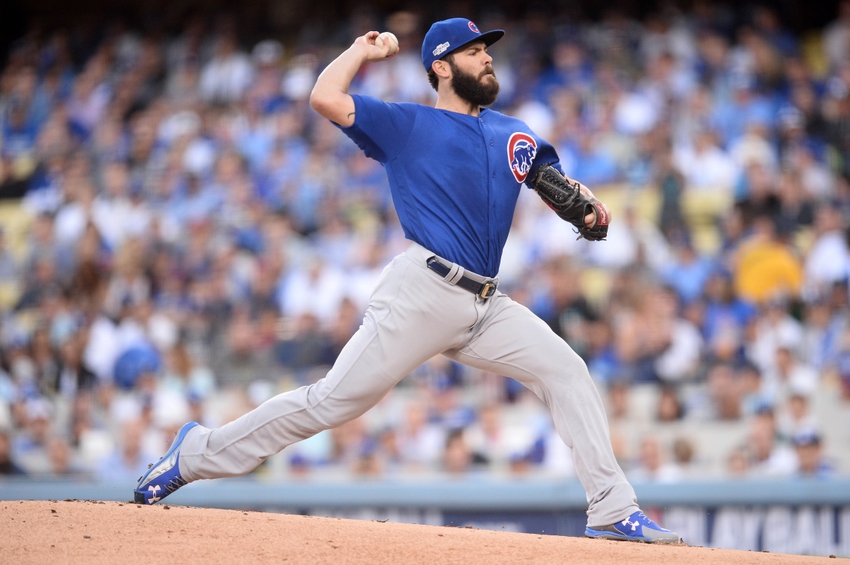 It's beginning to look a lot like last year. Christmas is another season away. But if the Chicago Cubs' bats don't wake up quickly, it could be a long winter for this team and their rabid fans.
The Chicago Cubs lost 6-0 in Game 3 in the NLCS and now trail Los Angeles 2-1 in the best of seven series. First team that wins four games advances and the Dodgers are half-way there. Their best pitcher, Clayton Kershaw is slated to start game five, the last game in Los Angeles, and the way the Cubs are playing, that game looms large.
Pitcher Jake Arrieta was Chicago's hope as the team rolled out the starter who was 18-8 with a 3.10 ERA for the regular season. However, Arrieta has looked very inconsistent lately and tonight was no different.
He gave up four runs in a five innings nondescript start. He was tagged for two home runs, one a two run homer by Yasmani Grandal on a low fast-ball that Grandal reached down and crushed
Justin Turner hit a home run in the sixth inning, and Arrieta exited the game. Jake didn't shut down the Dodger bats. They made their hits count and their four-run lead seemed like eight runs because the Cubs bats were almost silent.
It was the second straight game the team was shut-out. Suddenly, this team is in a major hitting slump. The middle of the lineup was punchless in terms of offensive production.
History Repeating?
Last year in the NLCS, the Cubs were beaten in four straight games by the NY Mets, primarily due to their excellent pitching.
This year's playoff team is encountering a strong pitching effort by LA. Now the Dodgers have all the momentum. The Chicago Cubs are the better team, but the Dodgers are playing better. They're pitching very well, and causing disruption when hitters get on base.
There was a runner on third base and he was causing all sorts of trouble for Arrieta who couldn't locate his pitches down and away for fear of throwing a wild pitch. As it was, Grandal went low and stroked the ball to deep right for a 3-0 lead.
The deficit wasn't that large, but lefty Rich Hill pitched great for six innings, allowing only just two hits. The LA bullpen shut down the Cubs the rest of the game.
It is troubling that Arrieta didn't have a better game. However, more disturbing is the silent bats.  If you can't hit, you can't win. The Cubs knew that from last October. When is the last time the Cubs had nine hits in a game? Seems ages ago — maybe that 13 inning affair in San Francisco?
Rizzo struck out with a runner on and looked to be tied up in knots. Addison Russell, mired in a slump, was taken out of the game. Kris Bryant had a couple of singles. Dexter Fowler doubled late in the game and was stranded. Suddenly, this offense has gone cold at the worst time.
There is still a chance for the Cubs to get back in it, but time is running out.
More from Cubbies Crib
This article originally appeared on