Chicago Cubs: Did Joe Maddon Over-Manage During the World Series?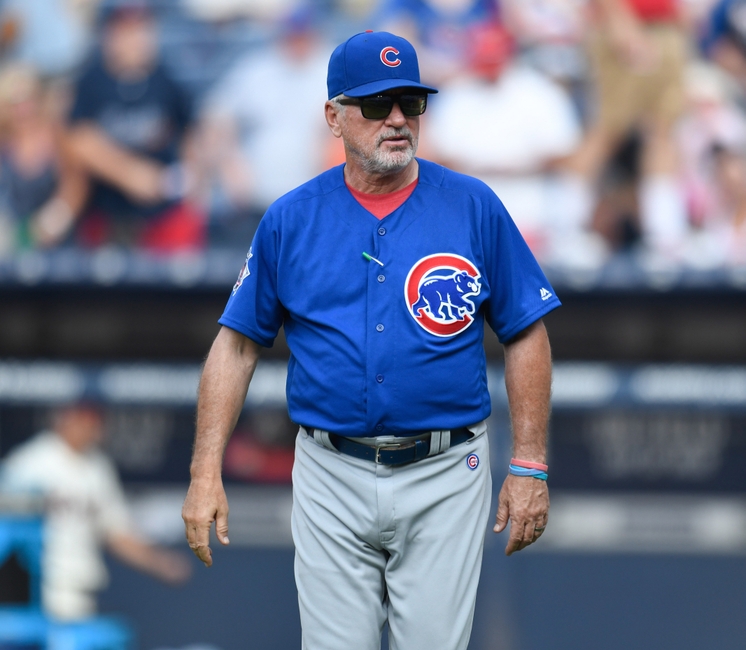 Some baseball people believe Chicago Cubs skipper Joe Maddon over-managed during the World Series with his bullpen usage and other in-game tactics.
The manager of a major league ball club has a number of responsibilities. The most obvious is in-game decision-making because the outcome is instant. Fans can see what happens when a manager makes a pitching change or calls for a steal or sends up a pinch-hitter. The results are instant. The reliever may or may not be successful. The runner is safe or out. The hitter gets a hit or pops out to second. That doesn't mean that in-game decision-making is the most important part of being a major league manager, though – it's just the most obvious. It's also the easiest thing to praise or criticize a manager for.
The behind-the-scenes responsibilities of a major league manager are more difficult to assess. Some managers are considered "players' managers", meaning they foster a looser, more relaxed atmosphere. Others are considered more hardline, running the team almost military style by demanding that the players adhere to strict rules. The Cincinnati Reds, for example, had a long history with an official "no facial hair" policy that lasted from 1967 to 1999. In 1999, owner Marge Schott lifted the ban after the team traded for Greg Vaughn, who had hit 50 home runs the previous year and sported a goatee.
Joe Maddon is definitely a players' manager. He allows his players freedom to be who they are and trusts their judgment. Rather than any sort of dress code policy on road trips, Maddon will organize themed road trips, including a "minimalist zany suit" road trip in May.
Maddon said of his management style, "The freedom component really works in our favor. I don't have any rules. But there's no reason to have any. The boys take care of business on a daily basis. And if anything is going awry, somebody out there will address it."
You can't argue with the success of the Cubs this season. After all, they just won the World Series. Talent is the most important component of a winning team, but it's possible Maddon's management style contributed to the successful season also.
San Francisco Giants announcer Mike Krukow had some words of praise for Maddon after the Cubs won the series. He said, "Hats off to a lot of things that this guy has done. I don't want to diminish what Joe Maddon has done. He's been brilliant keeping this team focused through all the success they've had—success can be just as much a distraction as failure—and he's been remarkable, and it's probably gonna put him in the Hall of Fame what he did here."
Along with the praise was some criticism. Krukow also said, "The Cubs won this thing despite over-managing from Joe Maddon. It was awful. It was awful. It was the arrogance that he was trying to put his signature on what was gonna happen." Krukow was specifically critical about Maddon's decision to remove Kyle Hendricks and Jon Lester too early from Game 7 of the World Series and putting in Aroldis Chapman when he was tired.
Hendricks was removed from the game with two outs in the bottom of the fifth inning. The Cubs were leading 5-1 at the time and Hendricks had just walked Carlos Santana, but had only thrown 63 pitches. Before the game, Maddon said he was unlikely to bring Jon Lester into the game mid-inning. It was preferable to bring Lester in at the beginning of an inning because Lester has trouble throwing to the bases.
This problem cropped up immediately when Jason Kipnis hit a dribbler down the third base line that catcher David Ross was forced to field due to Lester's inability to throw to first base. Ross fielded the ball, but threw it past the first baseman for an error that left runners on second and third. A wild pitch during the following at-bat scored both runs. Lester ended up pitching three innings and throwing 55 pitches in relief of Hendricks. Chapman was brought into the game in the bottom of the eighth and gave up a game-tying home run to Rajai Davis.
Another media member, MLB Network's Chris "Mad Dog" Russo, was critical of Maddon's usage of Aroldis Chapman in Game 6. In that game, the Cubs had a 7-2 lead in the bottom of the seventh inning. Reliever Mike Montgomery was in the game. After he allowed a single to Jason Kipnis to put runners on first and second with two outs, Maddon brought in Chapman. He got Francisco Lindor to ground out. Chapman got through the eighth without giving up a run. The Cubs scored two more runs in the top of the ninth to take a 9-2 lead. Despite the sizable lead, Maddon kept Chapman in the game. He was removed after he walked Brandon Guyer.
Russo had a field day with this. Of course, that's what he does. He's a very passionate person and will often go off on rants about managerial decisions. He didn't think Chapman should have been sent out there for the ninth inning after the Cubs upped their lead to 7-2. He thought Maddon had over-used Chapman, particularly because there was still a Game 7 to be played.
Mike Krukow also had some pointed criticism for the failed bunt attempt by Javier Baez on a 3-2 count in the ninth inning of Game 7. At the time of this bunt attempt, the game was tied with one out and Jason Heyward on third. Baez bunted the ball foul for the second out (foul bunt on a third strike) and Dexter Fowler grounded out to end the inning with the score still tied.
More from Call to the Pen
Krukow said, "And the bunt with 3-2? You're gonna be smarter than the game? I was so outraged at what I was watching . . . look, he's done a great job, granted. I mean come on. He's done a great job. He was the guy that kept them going down three games to one . . . but at some point in time, you cannot be arrogant enough to think that you have to put your signature on the game."
He continued, "And to me, that's what he was doing. It didn't make sense. He was not reading the room. He was not managing this game as it should have been managed. I just wanted to slap the guy. As it turned out, they won despite him, despite his over-managing. And it'll be forgotten by a lot of people, but it won't be forgotten by me and a lot of people."
Krukow wasn't the only one crucial of that decision to bunt. Twitter filled with shocked tweets when Baez fouled out on a bunt attempt with two strikes. Mitchel Lichtman is one of the co-authors, along with Tom Tango and Andrew Dolphin, of The Book: Playing the Percentages In Baseball. He often analyzes the moves of major league managers from the point of view of a baseball statistician. After the bunt attempt by Baez with a full-count, Lichtman tweeted this:
The commentators think the bunt might have been Baez idea. They are all sensible about it being terrible.

— Mitchel Lichtman (@mitchellichtman) November 3, 2016
He also tweeted, "There's a reason that no manager ever asks a position player to bunt with two strikes. It doesn't all of a sudden become the correct strategy." And, "I hope this series puts to rest the myth that Maddon is a great tactician. It probably won't. It definitely won't if they win the game."
At his website, Lichtman ran through a statistical analysis of Maddon's decision to bunt. After going through each scenario—bunting or swinging away on a 3-2 count—his final determination was, "Even though the runner on third scores around the same percentage of time whether swinging away or bunting on that 3-2 count, when the run does score, the batter who is swinging away reaches base safely (with some extra base hits, including home runs) more than twice as often as the batter who is bunting." He concluded that it wasn't a terrible play but was still the wrong strategy given that it was in the top of the inning.
Joe Maddon generally gets more praise than criticism for his managing. During a World Series that saw the Cubs fall behind three games to one only to come back and win Game 7 in extra innings, Maddon had plenty of both. While the media may criticize his in-game tactics, I would guess his players have nothing but praise for him now that they are world champions.
This article originally appeared on