Chicago Cubs: David Ross Retires a World Series Champion!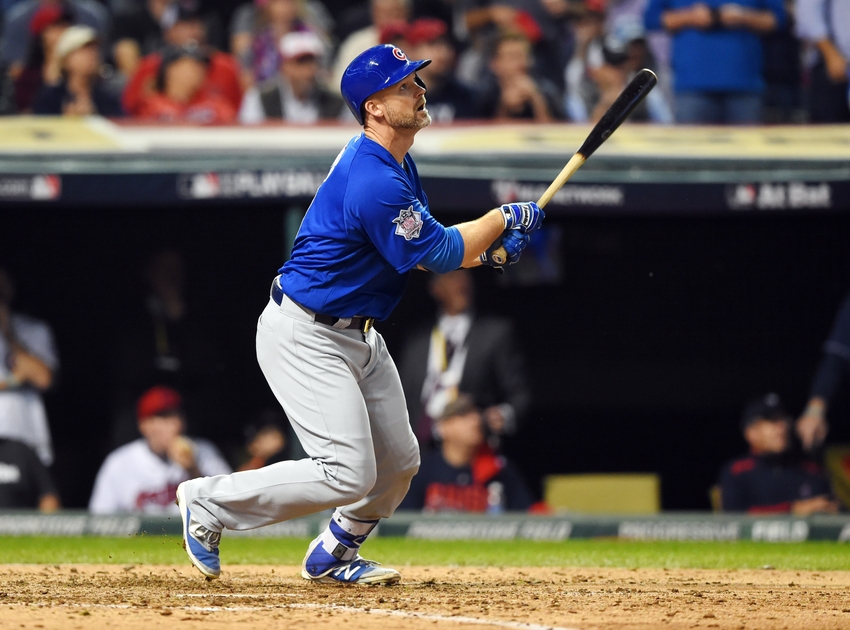 The Chicago Cubs and the Cleveland Indians squared off in perhaps the most incredible sudden death World Series Game Seven of a lifetime.
With history on the line, we had extra innings, blown saves, rain delays and a whole lot of drama, but when all was said and done it was the Chicago Cubs who hoisted the 2016 World Series Trophy and ended their 108-year World Series drought.
So many storylines will be created and so many careers will be defined by the events that happened at Progressive Field after history was made on Wednesday night, including Theo Epstein reversing another curse, Joe Maddon punching his ticket to Cooperstown in perhaps his most micro-managed ballgame of all time, the return of Kyle Schwarber and the Cubs finally 'Flying the W' for the first time since 1908.
However, the one story that might get overlooked the most is 39-year old veteran backstop David Ross retiring a World Series Champion!
The same David Ross who made his major league debut back in June of '02 with the Los Angeles Dodgers as a 25-year old rookie hoping to break into the big leagues for good.
14 years later, Ross' career finally came to a close on Wednesday night in dramatic fashion. He announced that he would retire after the season way before the playoffs, but who knew that his final game would be in a historic game seven of the World Series with his team seeking to reverse the curse and be 'America's Lovable Loser' no more!
At first, his final game went in a direction that wasn't so great. He entered in the fifth-inning as a defensive replacement when his good buddy Jon Lester took the hill in relief of Kyle Hendricks.
More from Call to the Pen
His first bit of action, an errant throw to first base off a botched single that sailed into the crowd and allowed the base runners to advance to second and third. Next, a wild pitch from Lester that bounced off the dirt and caromed off Ross' mask to the backstop, allowing both runners to score, closing the gap to 5-3.
Then, perhaps the most defining moment of David Ross' career.
Immediately after coughing up the two runs, Ross fired back with a solo home run of his own off dominant Indians reliever Andrew Miller in the top of the sixth, extending the Cubs lead to 6-3.
Why was it defining you ask?
Well, with the score 6-3, Maddon called upon his overworked reliever Aroldis Chapman in the bottom of the eighth, and in dramatic fashion, Chapman coughed up the lead on an RBI double and a two-run homer off the bat of Rajai Davis to tie the game at six.
Had Ross not regrouped and smashed that slider off Miller over the center field wall, the Cubs might have lost 6-5 in heart-breaking fashion, turning the 108-year drought into 109, and sending the Cubs home saying 'maybe next year' one more time.
Instead, following his lead-off walk in the ninth, Ross was lifted for a pinch-runner, and as he exited the diamond for the final time in his career, he eventually looked on as his solo home run tally was enough to hold the Cubs up until World Series MVP Ben Zobrist and Miguel Montero would eventually plate two runs in the top of the 10th to put the Cubs on top, and the rest was history. A new history.
When all was said and done, David Ross, one of the baseball's 'good guys' received the incredible honor of retiring a World Series Champion.
He was never an All-Star; he never started more than 112 games in a single season and he never made the tabloids. More importantly he was one of the best teammates of all time, which was exemplified when his post-game interview with Ken Rosenthal was cut short as his teammates hoisted him over their shoulder and carried him around the stadium Rudy Ruettiger style.
It's not a major headline, but it's just one of those stories that make us all realize why we love sports so much. One of those stories that remind us why we spend every summer night watching baseball and one of those moments that make you reminisce of stepping into the batter's box in Little League trying to imitate your favorite major league ball player at the plate.
Not even Derek Jeter or David Ortiz were lucky enough to retire a champion.
What an incredible feat!
Hats off to a brilliant career David Ross.
Congratulations to the Chicago Cubs and their incredible fan base.
Forever Fly the W!
This article originally appeared on