Chicago Cubs: Cubs must make postseason splash to win in 2017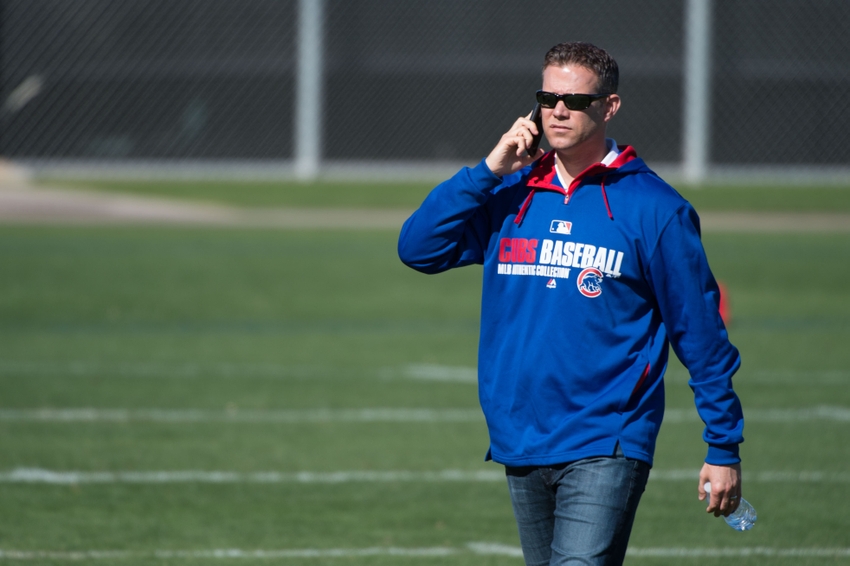 The plan is working. The Chicago Cubs are set to be World Series contenders each year. With the offseason started, the leadership needs to make a splash. At least a small one.
The Chicago Cubs are relevant. President of Baseball Operations Theo Epstein and his staff created a plan and trusted the process. It is working. And other teams are noticing and mimicking. While imitation is a form of flattery, the Cubs need to be concerned.
Cubs' way = New way
In an article composed by ESPN Staff Writer Mark Saxon, who covers the St. Louis Cardinals, the Cubs are now the standard bearing team for which others are judged. Cardinals' General Manager John Mozeliak goes on to say, "If they're (Cubs) the rabbit, we've got to find a way to catch it."
He is right. The Cubs are now the prey. Teams that hope to contend are looking at the Cubs' model. And, for a team like the Cardinals, it may not take much to close the 17-win chasm between them and the NL Central winners.
However, the Cubs are built to win for many years. With their great young, all-around talent in the Majors and more in the Minors, their depth sets them apart. The starting four of the Cubs rotation is confident after a brilliant season. The defensive chemistry leaves opponents in awe. And the offense can power past pitching in prominent procession.
That being said, teams such as the Los Angeles Dodgers,  San Francisco Giants, or Washington Nationals are a move or two away from putting more heat on the Cubs.
Splash size?
That being said, Epstein does not feel the need to make a "big splash" this offseason. Now, I don't know what he considers a big splash. Maybe it is equivalent to an elephant doing a cannonball off the high dive. Or, possibly it is significantly smaller. Whatever it is, he does not believe the Cubs need such a move.
Or does he?
Theo is a master when it comes to finding deals in addressing team needs. Sure, the contracts for Jon Lester and Jason Heyward look foolish after their first years with the team, but Lester proved his value in year two. Heyward will (hopefully) do the same. The statement by Epstein could simply be to camouflage their intent of signing a major player.
Tempering the thoughts of other teams in the market to fill similar holes is common, however, not always effective. The league knows what the Chicago Cubs need to address this off-season: Pitching. The problem is the lack of great pitching is obvious. Free agents Rich Hill and Jason Hammell may well be the best two starters on the market. That does not interest the Cubs, who could allow Mike Montgomery fill the fifth spot in the rotation.
If the Cubs are to hold the hunting contenders at bay, at least a medium size splash is a must.
Jump in
The options to create a medium size splash are plentiful because of the talent available to fill the team's needs. For example, left-handed outfielder Jon Jay is on the market. Though he was limited to 90 games in 2016, his career .352 on-base percentage could be a solid replacement for Dexter Fowler, and at a much lower price.
Another interesting name to consider is Colorado Rockies center fielder Charlie Blackmon, however, he is arbitration eligible and not a full free agent until 2019. Winning the Silver Slugger award makes Blackmon appealing to many clubs, but may drive up the asking price by the Rockies. The Cubs are one of a few teams that can separate with a player or two in a trade, and Blackmon is a worthy target. Also, Colorado's is stacked with arbitration players, including Nolan Arendado, adding a potential of $36 million to their payroll.
Then you have the bullpen, which is the area of largest concern for the defending World Series Champions. If Montgomery is elevated to the starting rotation, in addition to Travis Wood being a free agent, adding a lefty in the pen is crucial. The Cubs are in need of a closer with Aroldis Chapman unlikely to resign. This leads to signing Kenley Jansen, who will demand a large sum.
Thrift shopping
If we know anything about the Cubs' front office is that they like to find bargains and no afraid to trade. Enter Greg Holland. Before missing the entire 2016 season due to Tommy John surgery, Holland was one of the top closers in baseball. With a career ERA of 2.42 and 145 saves, the Cubs could sign him to a one-year, insensitive latent deal at a lower cost. He may not serve as a closer right away but would provide late inning assistance.
A player to also consider is left-handed reliever, Brett Cecil. Once a starter for the Toronto Blue Jays, Cecil moved to the bullpen in 2012, his strikeout rate has doubled. His fastball velocity averages 94 MPH, however, he is a curve-ball heavy pitcher which could prove useful.
While the Chicago Cubs are set up to win, a few important moves must be made this off-season. We know Theo Epstein and Manager Joe Maddon can obtain talent and use it correctly, but with teams following the team's lead, a medium splash is needed.
This article originally appeared on