Chicago Cubs: Considering 2017 lineup possibilities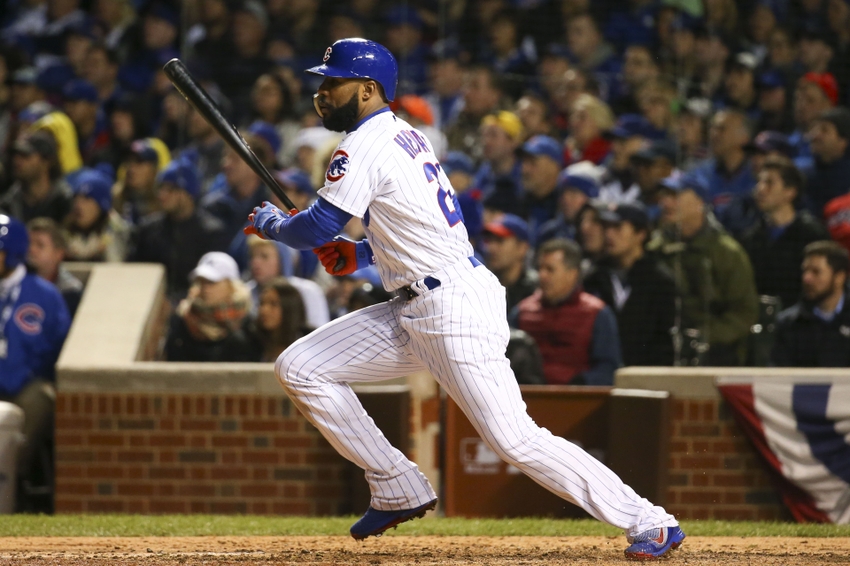 Time to start looking toward 2017. A different year means a slightly different roster. With some key players returning and leaving, what could the Chicago Cubs' lineup look like next season?
For those that didn't already know, Dexter Fowler has officially declined the Chicago Cubs' qualifying offer, making him a free agent. Now, I've stated before that Fowler declining his qualifying offer was inevitable. It's plausible that he could re-sign with the Cubs, but not probable.
Assuming he signs with a different team, the Cubs are going to need to find someone else to occupy the leadoff spot in 2017. They currently have an abundance of talent in the infield and outfield, so they aren't going to sign someone new to take over this role.
Leadoff options for 2017
The first person that comes to mind is Ben Zobrist. Comparably, Fowler and Zobrist's 2016 and career statistics are strikingly similar. In the regular season, Fowler slashed .276/.393/.447 with 13 home runs. Zobrist, by comparison, slashed .272./.386/.446 with 18 home runs.
The career numbers match up pretty well too. Fowler's career slash line is .268/.366/.422.  Zobrist's is .266/.358/.433. You can't get a whole lot closer than that. As far as what happens at the plate, Zobrist looks like a near-perfect candidate to hit in place of Fowler.
One thing to consider, however, is speed on the base paths. In Fowler's nine-year career, he's averaged 19 stolen bases per season. Zobrist has averaged 13 per season in his 11-year career. In 2016, Fowler stole 13 bases, while Zobrist stole just six. Zobrist is 35-years-old so that number is not likely to go up.
Another option to consider could be Jason Heyward. I know what you're thinking, just bear with me for a moment. Jason Heyward is not going to repeat what he did at the plate this year. I'm certain of that. Over the course of his career, Heyward has proven to be a fairly reliable hitter. I think he'll get back to being that type of player again.
His career slash line is .262/.346/.415. This looks even better if he were to play more center field next season, which could happen if Fowler does not return to the Cubs.
His base stealing numbers are pretty good, too. Over the course of his seven-year career, Heyward has averaged 16 stolen bases per season. In 2014 and 2015, Heyward stole 20 or more bases. If he hits anywhere close to his career numbers in 2017, you can easily expect to see stolen base numbers like this. In that category, he could actually be an improvement over Fowler.
He had a 1.5 WAR in 2016, which is quite impressive when you consider how badly he struggled at the plate. If he starts hitting again, that number will shoot way up.
It was hard not to imagine what the Cubs would have done in the regular season if they had Kyle Schwarber in their lineup. We saw what he did in the World Series after being injured for six months.
The trajectory of Schwarber's career is still unknown, but that's part of the excitement. Anything is possible. If his rookie year and World Series performance are any indication the Cubs were wise to hold on to him. He's not a player that I expect to hit for an impressive average. But he doesn't need to be. If he hits somewhere in the neighborhood of 35-40 home runs, which he's absolutely capable of doing, then he doesn't necessarily need to hit for average.
In his rookie year, Schwarber batted .246. That number doesn't jump off the page, but he had an OBP of .355, which is fantastic for someone that hits for a ton of power. Really that's a great OBP for anyone. The league OBP average in 2016 was .321.
There's a bunch of spots I can envision Schwarber hitting in next season. Any one of 2, 3, 4 and 5 would make sense. Figure out your leadoff man, and you can keep Kris Bryant and Anthony Rizzo batting second and third respectively. Bat Schwarber after those two and you've got yourself a great cleanup option.
Another intriguing option would be to move Bryant and Rizzo down a spot. Have those two batting third and fourth, and move Schwarber up to the two-hole. That's a potent top-half of the lineup.  Opposing pitchers would not be able to pitch around anyone to start things off.
A lot of things could happen. As far as position players are concerned, I think the Cubs are pretty well set for the time being. I'd be surprised if they made a big free agent signing for a position player. The concerns right now are finding a closer and adding a young pitcher to the rotation.
The closer role could be solved internally. Personally, I think Carl Edwards Jr. has the stuff to potentially be a closer. If that doesn't happen, I would really love to see the Cubs get Kenley Jansen. Aroldis Chapman will probably be out of Chicago's price range.
As for a young, cost-controlled starter, the Cubs will have a lot of trade possibilities to explore. My advice? Don't buy a Jorge Soler jersey right now.
This article originally appeared on