Chicago Cubs: Bold Predictions for the starting rotation
Corey Francis/FanSided via Cubbies Crib

Fansided
The Chicago Cubs' starting rotation was Major League Baseball's best in 2016. Bigger things could await them in 2017.
Numbers never lie. The Chicago Cubs pitching staff was baseball's best in 2016. They lead all teams in ERA (3.15), WHIP (1.11), opponent average (.212), and runs allowed (556). Add to that being third overall in strikeouts, and you have enough to win any debate.
The starting rotation was the anchor of the team. While there were no 20-game winners on the club in 2016, five starters won 11 or more. Additionally, each of the starting five pitched in 29 or more games, with 166+ innings pitched, and none had an ERA over 4.00. It was a rotation of historic proportions.
What does 2017 hold in terms of the starting rotation? Here are some rather bold predictions.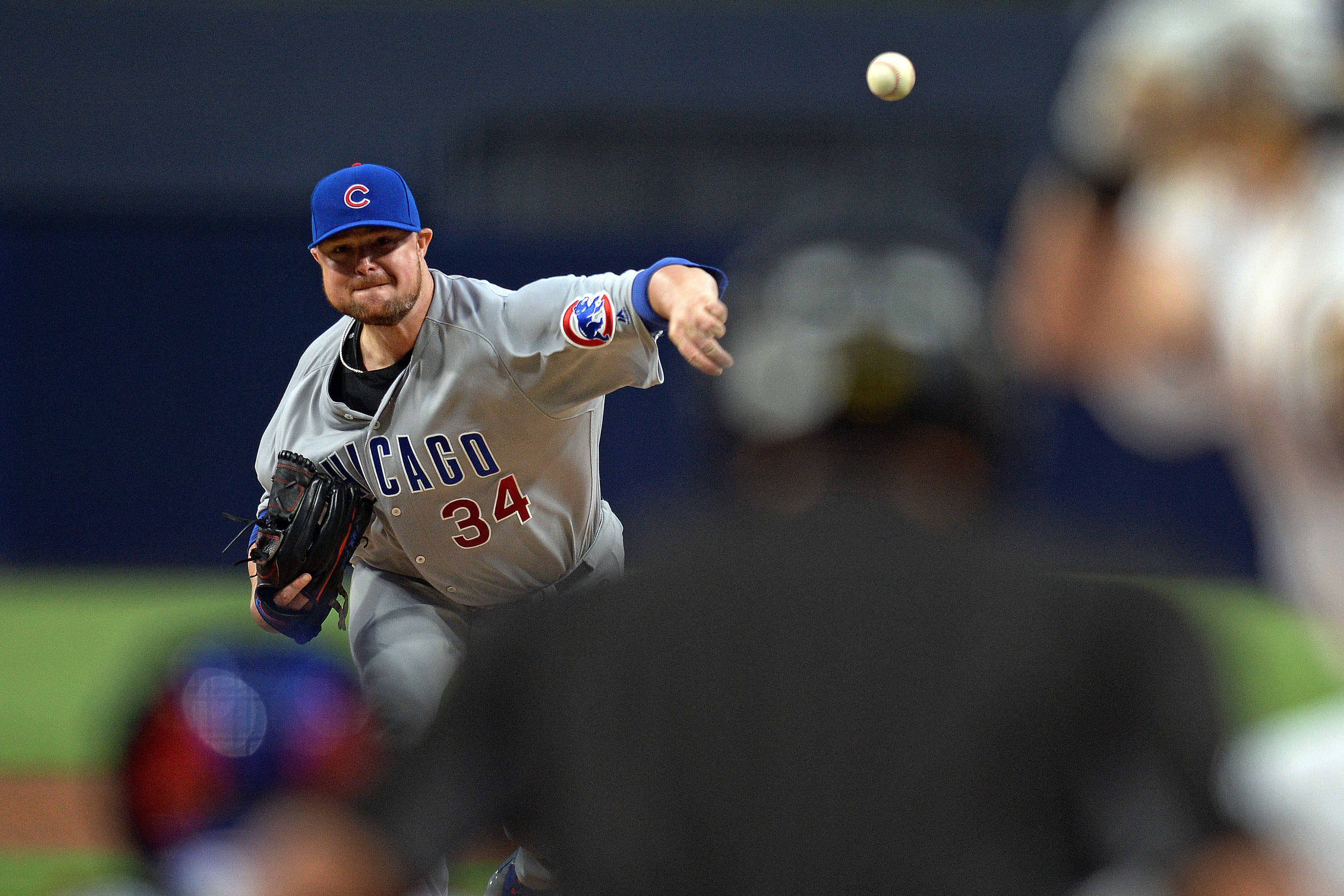 Win-Win-Win
It almost happened last year and will happen in 2017. That is as long as everyone remains healthy. And, it has not occurred since 1973. In 2017, the Chicago Cubs will have three 20-game winners on the starting rotation. Last year, Jake Arrieta ended up with 19 wins, Jon Lester with 18, and Kyle Hendricks with 16. This year, all will have 20 wins or more.
Lester took a major step forward after a down year in 2015. Hendricks proved to be a top-notch starter, and Arrieta was solid even if the season did not go as we anticipated for him. Arrieta is also in a contract year. Add to this a more powerful offense and less pressure to win, you have the formula for success.
To be extra bold, it is possible that the Cubs finish the season with four 20-game winners. That has only happened twice in baseball history. It may not happen again. If there were a year for the Cubs to do it, however, this is the year.
Scoreless Streak
Call me crazy, but the Cubs starting rotation will challenge personal and team scoreless inning streaks. Arrieta already proved it possible by going 52.2 innings at Wrigley Field without allowing a run. The all-time record for an individual scoreless inning streak in one season is 59 innings by Orel Hershiser in 1988.
However, I do not see this being an individual achievement in 2017. Someone will come close or set a personal record, but may not get to 59 innings. But, as a team, it could happen.
It will take the right pitchers against the right teams and that right moment of the season. But, with five quality pitchers, going at least 6 innings without allowing a run in each start is possible. Doing that two starts in a row? Why not? If they do that, it will equal 60 consecutive innings in which starters do not allow a run.
Three's company
They say things happen in three's. If that is true, then Jake Arrieta will through another no-hitter in 2017. The first was on August 30, 2015. Then again on April 21, 2016. This year, he will accomplish a third. Let's say on June 3 or 12.
Arrieta will not be the only Chicago Cub with a no-hitter in 2017. Kyle Hendricks has the ability to pitch one, while Lester already has one from his time with the Boston Red Sox. Either one will pitch a no-hitter. Maybe both.
But, do not be surprised if another starter goes seven innings with no hits, with the bullpen finishing. Mike Montgomery's ability to induce grounders with the defense behind him, it is possible for a team no-hitter.
Surprise performance
Last year, we witnessed a surprise performance from Jason Hammel. Winning 15 games and having an ERA under 3.00 for a good portion of the season was not expected. Over the years, he showed flashes of ability, but not consistently. There were always games that left us shaking our heads.
The Cubs may not know who the fifth starter will be for this year, but the candidates should perform well. Again, the offense and defense will help. However, I expect Manager Joe Maddon to rest starters toward the end of the season. This means using a sixth starter. While there are options on the team to fill that role, the surprise will come from the minors.
Who? Oscar de la Cruz or Caleb Smith. Both have great potential. However, de la Cruz already possesses three plus pitches: a fastball that reached 96 MPH, curveball, and a changeup that keeps hitters off balance. Should he stay healthy, he may well be the sixth starter at the end of the season.
These are merely predictions and are bold. Will they happen? Maybe. Or maybe not. A better offense and solid defense will help. That makes everything plausible.
This article originally appeared on