Chicago Cubs: Are Fans Getting Delusional About Their Fandom?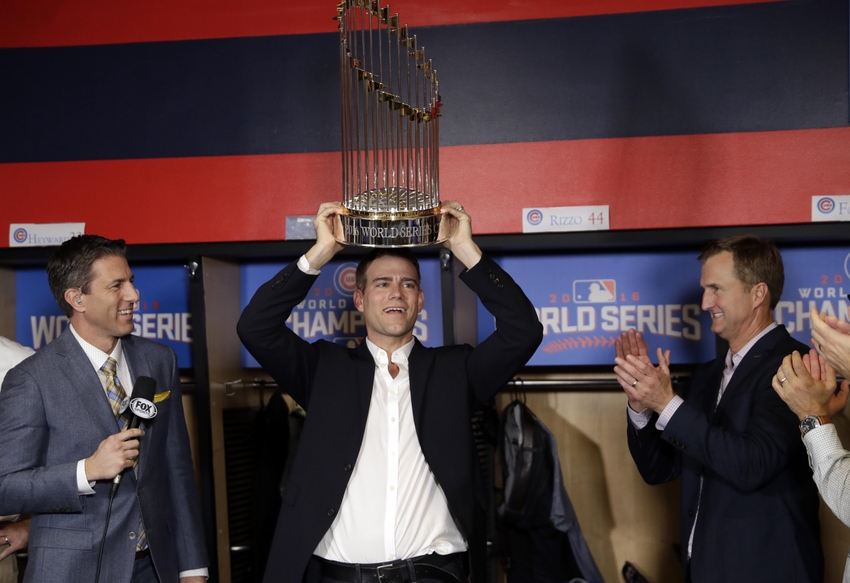 The Chicago Cubs winning the World Series has brought out some delusional, over-the-top bias and presumptuous opinions about winning, dedication, loyalty, expectations, and entitlement.
The comments from before, during and after the World Series have brought about some statements that seem to have been made by fans that don't generally watch sports or dedicated fans that have gotten over-the-top involved.
Even more troubling than fans' comments on social media are the sheer amount of stories about how the Chicago Cubs fan base deserved to win, how they were cursed (do we really believe curses are real?), how it relates to religion, and that their fan base had somehow suffered more because it had been 108 years.
That sports fandom is somehow connected to religion is one of the most troubling whether or not you are devout toward any religion. Most fans have prayed for something good to happen to their team at some point in their life. As I got older I had an epiphany as to how ridiculous this is. There is just as likely to be a fan of another team praying for their team to do well.
Who wins in that scenario? Does it give an edge to teams like the Yankees and Cubs because they have a bigger fan base? The Jewish site OY Chicago published a post "Seven Reasons Jews Make for Good Cubs Fans" on November 2, the day of Game Seven.
The Chicago Tribune had their own take – "For Cubs' faithful, baseball and religion often overlap" – published on October 10, the same day as Game Four of the NLDS.
Steven Chaitman who wrote the article for OY Chicago is their Managing Editor and the Director of Strategic Digital Communications for the Jewish United Fund of Chicago. It's incredulous that someone in that position could write an article comparing the Cubs to a religion. His "seven reasons Jews make good Cubs fans" are:
We pass our fandom on from generation to generation.
We know a lot about waiting, having faith and believing.
We are simultaneously the most pessimistic and optimistic people ever.
We have a thing for blue and white flags.
There are people who hate us just to hate us.
We have a holy space and we want to be there.
We are more superstitious and neurotic than most.
Chaitman seems to think that in Judaism and with Cubs fans, these tenants are more prevalent than in other religions or in fan bases. Patrick O'Connell wrote the Tribune article about baseball and religion overlapping. He quoted Sister Ann Terese Reznicek, a nun of the Congregation of St. Joseph and a Cubs fan, who said:
"Perseverance, loyalty, faithfulness, long-suffering — those are the things that we talk about in our lives, and those are the things that we need when we cheer for the Cubs."
All of these examples could be applied to any fan base. Some might have more of the above attributes than others, but that is merely a subjective opinion. John Sexton, who wrote the book  "Baseball as a Road to God: Seeing Beyond the Game" said, "In baseball as in religion, doubt and faith are intertwined."
Even Sexton has used religion in his rooting interests. O'Donnell relayed:
When the Dodgers finally broke through on Oct. 4, 1955, Sexton clasped a crucifix in his basement as he listened to the final outs against the Yankees. "For me and millions of others," Sexton wrote, "a sacred day."
Joseph Price, who is a Divinity Professor at the Whittier College in California and wrote about book about baseball and religion, said, "Curses are only effective as long as they are believed."
Sister Kathy Sherman of the Congregation of St. Joseph convent in La Grange Park, Illinois had one of the most logical views on interconnection of religion and baseball when she told O'Donnell:
"Being at a ballgame, or even following one on the radio, gives you a sense of mindfulness, and a sense of the present… You think about what's happening there," Sherman said, "but you're also present to the larger moments of life."
Chaitman's points are very short-sighted. They shun and almost ignore fan bases of other teams. Here was my response to him:
This article is incredibly presumptuous and biased. Nearly the entire article is rife with narrow-minded quotes and points. The Cardinals and Cubs only recently a rivalry? Cubs fans make better Jews? Baseball is the most religious of all sports? "There are rites, rituals, and customs." This applies to every sport.
The Cubs are far from the only team that has to be patient. Most Cubs are likely fans of the Bears, Blackhawks, and Bulls or some combination thereof. That means the majority have seen one of their teams win a championship in their lifetime.
Cleveland had to wait 52 years for any of their teams to win a title. When the Giants won the World Series in 2010, it was their first since 1954 and first ever in San Francisco. They moved there in 1957.
The White Sox went 88 years without a title, the Red Sox 86 and the Indians will now enter next season without winning a World Series for 69 years. Pirates and Royals fans had to suffer for over 20 and 30 years without a playoff appearance. In that same time frame, the Cubs had six and seven playoff appearances.
Comparing trying to obtain peace to winning a World Series? Peace among fan bases in sports is a far different issue than the centuries of war.
"You won't find a fan base anywhere in baseball that contains both the most blindly optimistic fans you've ever seen and also the most insufferably pessimistic." The Red Sox and Giants fan bases are just as emotionally diverse as the Cubs fan base is.
In the 67 seasons after the Red Sox won the 1918 World Series, they advanced to only three World Series. In the 18 seasons that preceded their 2004 World Series title, the Red Sox advanced to six postseasons without a title. Being competitive bred hope and optimism.
More from Call to the Pen
Giants announcer Duane Kuiper coined a term for his fan base before winning: "Giants baseball, torture." The Giants gave the fans hope for optimism by making 17 postseason appearances in their 52 seasons in San Francisco before winning the 2010 World Series.
"Cubs fans are more likely than most to believe that something they do influences the game, from items of clothing and going to the same spots to even not watching the game if the Cubs did well when they weren't watching. And some of us take it very seriously."
Do you really believe that Cubs fans are more likely to do this? There are fans of every team at every level of every sport that are superstitious that there is something they do to try and change the course of a game.
As far as curses, there are plenty beyond the two you mention and that even includes the Cubs. In 1969 when the Cubs were playing in New York against the Mets during a tight pennant race, a black cat ran across the on-deck circle while Ron Santo was waiting to hit next.
The Cubs' "curses" are abstract, while the White Sox 1919 "Black Sox" scandal and Red Sox "Curse of the Bambino" had actual direct impacts on the future of their franchises.
Chaitman asks at the end of his  article why other teams "hate" the Cubs fan base. He summed it up perfectly in his own article. The presumption that the Cubs fan base deserved a winner or is somehow better because of the wait to win is the ultimate example.
This article originally appeared on