Chicago Cubs announce 2017 Spring Training schedule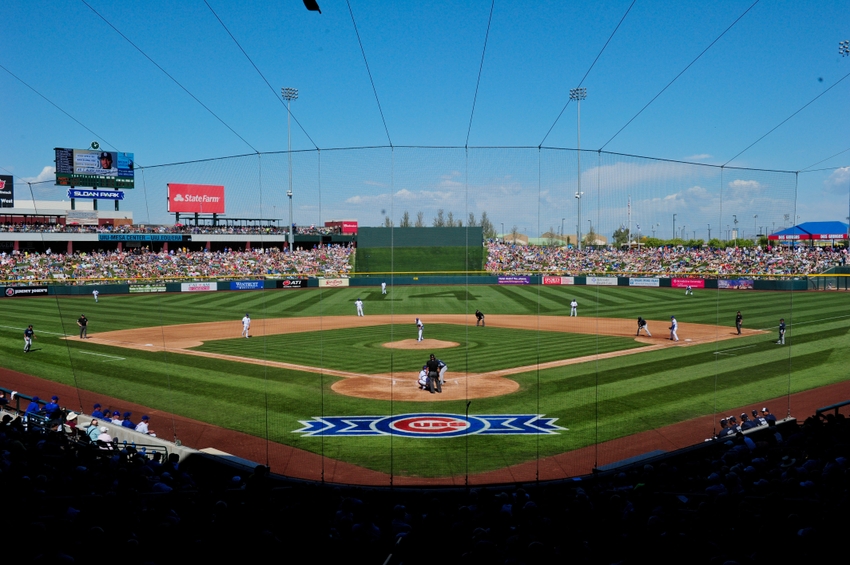 The Chicago Cubs are already hard at work following their World Series victory. Now, their next task–Spring Training–is on the books for February as they open up at Sloan Park on the 25th against the Oakland A's.
Chicago Cubs fans–and their hecklers–have become well known for the phrase "wait 'til next year". Now, that phrase has taken on another meaning as the Cubs will enter looking to be back-to-back champs–a difficult task indeed. Now it's more of "Wait till next year!!". Gosh, it's still nice to say World Series Champs. Now, onward to the schedule.
On February 25, the Oakland Athletics will come to Sloan Park to open up the spring training schedule. It will also be a split squad day as they'll also take on the San Francisco Giants. Other notable games include a World Series rematch against the Cleveland Indians on the 26th. The following day they will face off against the White Sox, as I would expect many Chicagoans will take notice of that game.
Taking on the World
The Cubs will also face two of the World Baseball Classic teams. And one is very likely to feature a familiar face. Team Italy will come to Sloan Park on March 7, and the Cubs Anthony Rizzo is likely to be a part of that team as he's played for them in the past.
The will also play a remaining Asian WBC team on March 18. The WBC will run from March 6, with the championship being held on March 20-22 at Dodger Stadium. Be sure to go to the WBC website for more information on the tournament.
The Cubs' pitchers and catchers will report sometime in mid-Feb (no official report dates released yet), with squad report dates a few days after that. There's still plenty of offseason left for the Cubs, but as it is there aren't likely to be many changes to this team–barring trades.
The winter meeting will take place at the Gaylord National Resort & Convention Center outside Washington, D.C.from December 5-8. This is where the rosters could see their biggest "facelifts". Trades, free agent signings, and our favorite hot stove rumors will come to fruition–or not. The Cubs aren't expected to be active, but I wouldn't count them out as a non-participant yet.
This article originally appeared on