Chicago Cubs and Scott Boras Will Talk Jake Arrieta Extension in January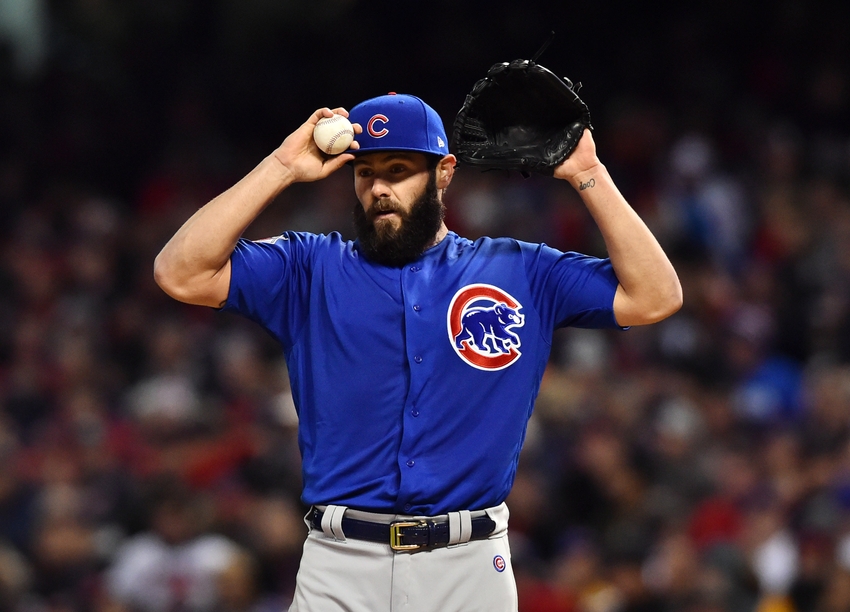 Jake Arrieta won the 2015 Cy Young Award after breaking out in a huge way. His contract expires after 2017, and he'll be looking for a big raise from the Chicago Cubs.
When the Chicago Cubs traded Scott Feldman and Steve Clevenger to the Baltimore Orioles for Jake Arrieta and Pedro Strop, they had no idea the value they would be getting. Arrieta had at one point been a top prospect for the Orioles, and among the top 50 in all of baseball. Struggles in Baltimore led the team to believe that his potential simply couldn't be tapped. The Cubs were taking a chance. In the midst of a rebuild, it was a smart move for the Cubs front office. Arrieta had nowhere to go but up.
And up he went. Jake Arrieta's success with the Cubs was far from immediate. He was sent to the minors initially to work on what the Cubs saw that needed to be fixed. In 2014 he rose to the big leagues for the final time and pitched 156.2 innings. In those 156 innings, he posted a 2.53 ERA, 6.7 percent walk rate, and 0.99 WHIP. It was an incredibly encouraging season from Arrieta that came while the Cubs were still on the cusp of being competitive.
Arrieta's 2015 season was more than the Cubs could have ever asked for. In a season where they weren't really supposed to compete for the division, they won 97 regular season games. The Cubs were successful because of the emergence of Kris Bryant and continued success from Anthony Rizzo on the offensive side. Newly signed Jon Lester was lined up to be the ace of the staff, but had a relatively down season. Jake Arrieta stepped in with not only his best season, but one of the best seasons from a pitcher we had seen in a long time. Down the stretch, Arrieta was practically untouchable.
Jake Arrieta pitched over 220 innings during the 2015 season while holding a 1.77 ERA, 5.5 percent walk rate, 27.1 percent strikeout rate, and 0.86 WHIP. It was a historic season that put him on the map as one of the league's aces. Then 2016 rolled around and ripped everything to shreds.
With the emergence of Arrieta as a Cy Young winner after a good season in 2014 as well, Cubs fans were clamoring for the Cubs to extend Arrieta. He would be vitally important to their future. Instead, the Cubs held off and waited to see what Arrieta would bring in 2016. What he brought was something frighteningly similar to his 2013 season with the Baltimore Orioles.
More from Call to the Pen
No, his 2016 was not bad enough to make him consider quitting baseball. But his 2016 season seemed to bring back mechanical issues that he had encountered in Baltimore. It led to more walks (9.6 percent) and harder contact (22.1 percent hard contact in 2015 compared to 25.2 percent in 2016). The increase in walks and hard-hit balls caused Arrieta's ERA to nearly double in 2016 to a robust 3.10. That mark was still in the top 15 for all big league pitchers, but it was a huge regression from his historic 2015 mark.
More concerning than the simple increase in runs allowed was the increase in walks due to mechanical issues. Arrieta believes that he will be able to fix those issues in the offseason and be himself in 2017. The Cubs would greatly benefit from Arrieta putting up numbers even close to those he did in 2015.
Scott Boras, Arrieta's agent, plans to meet with the Cubs this coming January to discuss a contract extension. Arrieta's contract is up after 2017, which would leave the Cubs with a gaping hole in a rotation already hurting for bodies following the season. Based on his 2015 performance, Arrieta is sure to expect a large raise. Boras' clients don't often sign extensions; he prefers that they hit free agency in order to get the best deal on the market.
Following the 2015 season, Jake Arrieta was one of the best pitchers in baseball on a team that hadn't won the World Series in 107 seasons. The pressure seemed almost certainly on the Cubs to extend Arrieta to ensure that they would win the World Series before his departure. Now Arrieta is coming off his worst season as a Cub on a team that just won the World Series. As a 30-year-old (soon to be 31), many factors are against Arrieta. Through no fault of his own, he was a late bloomer. The young Cubs may not be ready to give a big extension to a pitcher on the wrong side of 30 facing mechanical issues.
The best option for Arrieta may be to turn down any extension the Cubs offer him and hit free agency following the 2017 season. If he truly believes that he'll find his way mechanically during the next year, he'll be worth far more money at the end of it than the beginning. It doesn't mean he won't remain a Cub in 2018, but it does mean that he will be in a good position to get more money. For the Cubs, that's bad news. For Arrieta, the more money he can get the better, and Scott Boras agrees.
This article originally appeared on