Chicago Cubs: A Letter to the City of Chicago – Open Up Wrigley Field Tonight!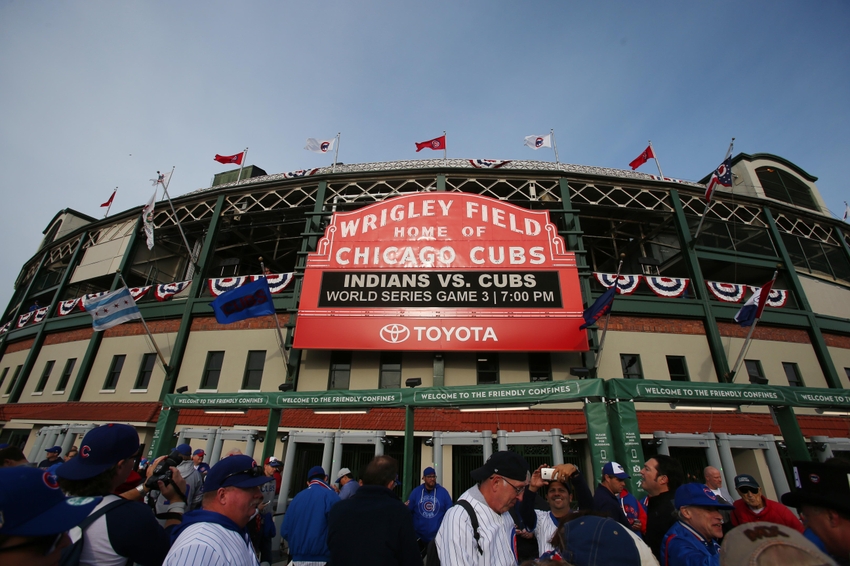 What better way for the Chicago Cubs and the city of Chicago to say thank you to the fans than to open up Wrigley Field so these diehard souls can gather together to watch the game on the giant scoreboard?
Dear Chicago,
In case you haven't heard, Chicago, your Cubs are playing the seventh and final game of the World Series tonight in Cleveland, Ohio. And if I was a fan of the Cubs, I'd be on Twitter, Facebook, and anywhere else you can think of clamoring for the opportunity to gather at Wrigley Field to watch the game with your brothers and sisters.
Why not? It's just sitting there idle and lonely. Open the damn thing up and let the fans pour in.
What? You're worried about the expense? Come on, you had $184 million in spare change for Jason Heyward. And besides, if you're that broke, charge one dollar and eight cents to get in. Even today, $40,000 goes a long way.
And what about you, Mayor Emanuel, what are you worried about? Paying your police force overtime to provide security? Come on, Rahm, the good Lord knows you've been generous with the taxpayers' money before. Why not now?
More from Call to the Pen
And just think. It'll be good for Wrigleyville and those surrounding businesses. And those scavenger bars and restaurants will have one more night to try to rip off customers with outlandish cover charges. Oh, by the way, I heard that didn't work out so well for many of them and justice was served as the main course in many of the restaurants.
So come on, Chicago. Do the right thing for your fans. And if FOX balks because they'll be losing 40,000 in their ratings, tell 'me to go fly a kite in the Windy City because they're already making a ton of money on this thing themselves.
Unfortunately, though, your fans can't afford to wait for the Cubs owners to come up with this idea themselves. You're gonna have to tie up their phone lines and take down the internet. So get going!
Oh, and one other thing. This should be an alcohol-free party. And I don't mean that the alcohol should be free. I mean that the party should be free of alcohol because we want this party to be safe and incident-free.
I wish I could be there with you. Enjoy!
Steve Contursi
Catskill, New York
This article originally appeared on