Chicago Cubs: 2016 in Review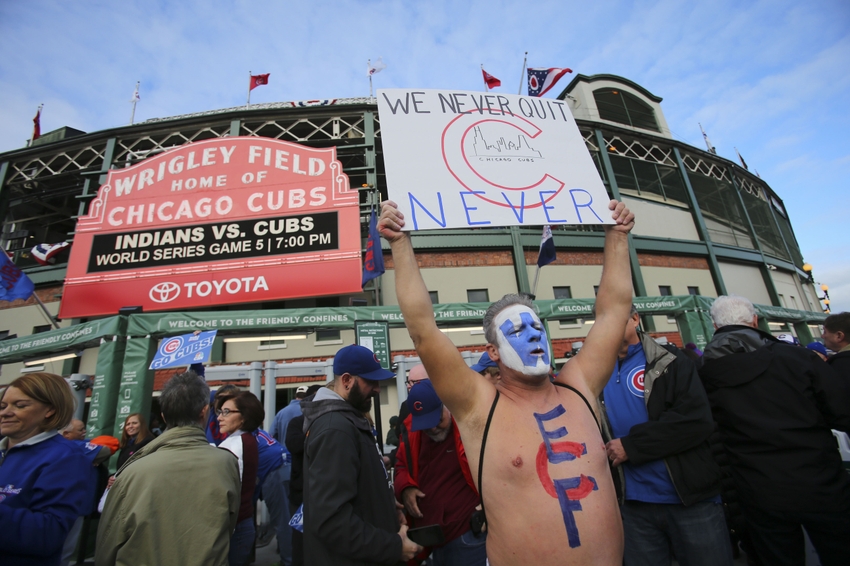 A look back at the 2016 Chicago Cubs. The best Cubs season ever?
The Chicago Cubs are World Champions. I'm sure reading it is just as weird as me typing it. But yes, the Cubs managed to break all the curses and win their first championship since 1908.  The Cubs won their first pennant since 1945. They broke up Even Year Magic. They went wire to wire with the NL Central and were the most dominant team in the NL all year long.
It may have taken a while for it all to come together, and after losing the NLCS to the Mets in 2015, they took the leap this year. They added Jason Heyward and Ben Zobrist to the offense and John Lackey to the rotation.
At the trade deadline, they used a top prospect in Gleyber Torres as a part of a package to land Aroldis Chapman to give them a dominant reliever at the end of the game.
With so many excellent young players like Kris Bryant, Anthony Rizzo and Addison Russell, the team is set up to have continued success; exactly what Theo Epstein and Jed Hoyer envisioned when they took over the Cubs a few years ago.
The pitching should remain the same with Jon Lester, Jake Arrieta and Kyle Hendricks forming an excellent top of the rotation.
Can 2017 be a repeat? Why not get greedy, right? Let's take a look back at the champs 2016 season.
Starting Pitching
When you think of the Cubs, you probably think of guys like Kris Bryant and Anthony Rizzo, but their starting rotation is one of the best in the league and a huge reason as to why they won the World Series in 2016.
The Cubs have four of the top 12 starting pitchers in WHIP in 2016. That's not in the National League. That's in all of baseball.
Jon Lester or Kyle Hendricks could be the NL Cy Young award winner this season. Hendricks and Lester finished 1-2 in ERA in all of baseball this year. Lester led the NL in wins this season (of course being on the Cubs helps with that).
Jake Arrieta may have had the quietest 18 win, All-Star season in quite a while. On many other teams he would be the ace, but on the Cubs, he was the number three starter this year.  He wasn't going to be as good as 2015 when he won the Cy Young Award, but 18 wins with a 3.10 ERA and almost 200 innings worth of work you will take and run for sure.
John Lackey missed some time this year, but in his age 37 season, he is a guy the Cubs can count on to keep you in the game. Jason Hammel was their fifth starter and should have his option picked up for next year after winning 15 games, however his high FIP of 4.48 is something to worry about moving forward.
Bullpen
The Cubs re-made their bullpen at the trade deadline to make it deeper and it certainly paid dividends.
The Cubs added Aroldis Chapman, Joe Smith and Mike Montgomery at the deadline. Montgomery is guy who could find himself as a starter, maybe even as soon as next year. He's started before, but the Cubs needed him as a lefty in the bullpen.
Chapman was his usual self closing games for the Cubs, posting a 1.01 ERA and a 15.9 K/9 ratio as a closer.  He replaced Hector Rondon as closer who regressed a bit this season after a sparkling 1.67 ERA and 30 save season in 2015. Rondon will find himself again in a late game role for the Cubs depending on what they do in free agency with Chapman or any of the other available closers.
Young right-hander Carl Edwards is going to be a big part of the bullpen moving forward, averaging 13 K/9 and giving Joe Maddon another power righty in the bullpen. They will have to figure out left-hander next year. Travis Wood is a free agent and Rob Zastryzny came up as a starter and may have that role moving forward.
Offense
The Cubs offense had another excellent season. As a team, they led the majors in WAR. They were 12th in homers, third in runs, first in walk percentage, second in on base, 10th in slugging and third in WRC+.
A big part of that was MVP candidate Kris Bryant. Bryant was second in all of baseball in WAR. He had a .939 OPS with 39 homers and drove in 102. Anthony Rizzo had a .928 OPS with 32 homers and 109 RBI. Addison Russell only hit .238 but had 21 homers and 92 RBI. His average should only improve with this being his first full year.
Dexter Fowler was big catalyst at the top of the lineup. He had an .840 OPS and made the All-Star team for the first time. The Cubs really missed him in June and July when he was injured.
Javier Baez emerged in the playoffs after serving more of a utility role in 2016. Willson Contreras came up as a catcher and outfielder and hit .282 with an .845 OPS in 76 games.
This was all without Kyle Schwarber who tore knee ligaments in the first week of the season and didn't come back until the World Series.
With a young and talented core, there's no reason why the Cubs can't be right back in 2017.
This article originally appeared on