Carlos Beltran Free Agent Market Heating Up: Fantasy Value in 2017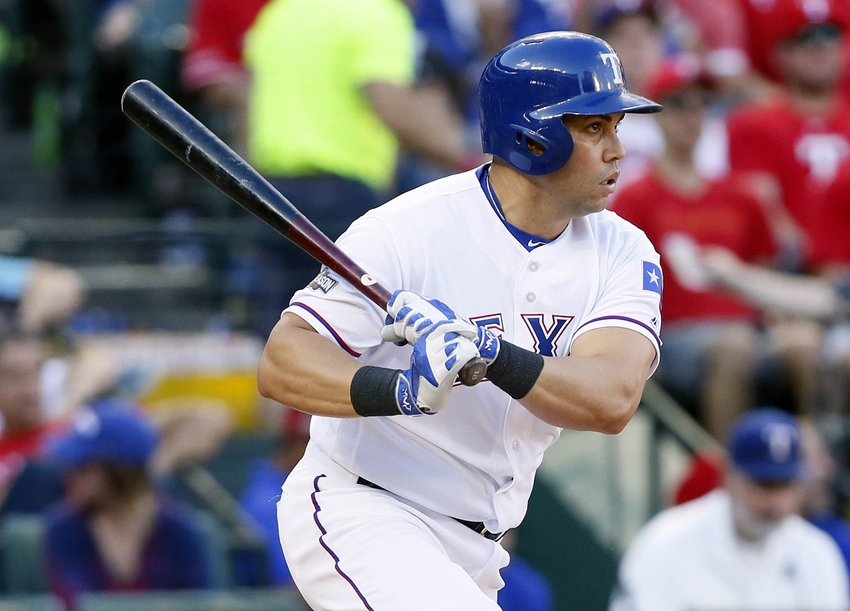 Carlos Beltran was able to turn in another solid fantasy campaign in 2016, and will hit free agency with plenty of suitors wanting his services. But, what is his fantasy value next season?
Carlos Beltran has amassed a Hall of Fame type of resume, and even though he will enter the season at the crisp age of 40, he is still posting great numbers. With the Yankees and Rangers this season, he was able to post a, .295/29 HR/93 RBI/.850 OPS/73 R line, while playing in 151 games. He was certainly a fantasy surprise, and a great value add. But, can he keep it going heading into 2017?
Looking past the seasons that he lost to an assortment of injuries, Beltran's consistency when healthy is remarkable. A lot of owners will see his fantasy line this season, and think that he must have seen a huge uptick somewhere in his batted ball data. Yet, that was not the case.
Beltran's career batted ball data reads as follows:  20% LD, 41% GB, 39% FB, 14% Soft contact, 52% Med contact, and 34% Hard contact.
In 2016 it was, 21% LD, 42% GB, 37% FB, 15% Soft contact, 49% Med contact, and 36% Hard contact.
He was simply his usual self last season, and more importantly, stayed healthy. A large part of him staying on the field, was that he finally started more games as a DH. He has been a liability in the OF for the last couple of seasons, and his knees surely thank him for his overdue to move. Most of his free agent suitors are AL teams, and they have their eyes set on slotting him in as the everyday DH.
Free agency is still in its infancy, yet Beltran's market is heating up. The Astros are very interested in a reunion, the Red Sox are looking at him as a possible David Ortiz replacement, the Yankees are lurking, and the Blue Jays may make a big push if they lose out on Edwin Encarnacion. Each of these landing spots would be great for his fantasy value.
Beltran is a tried and true fantasy stalwart, that seemingly never declines when on the field. His speed is gone, and the K are climbing, but he is still one of the better middle of the order lineup bats in the game.
Look for Beltran to be undervalued again next season as owners are just bored of him, and think that he is just another injury away from being a bust. Do not make that same mistake. This is as steady of a hitter you will find, will more than likely be a full-time DH for the first time in his career, and will surely be slotted in the middle of one of the better lineups in baseball. Look for Carlos Beltran to produce another, .280/20+ HR/80+ RBI season in 2017.
More from Fantasy Baseball Crackerjacks
This article originally appeared on