Can Kyle Hendricks really win the NL Cy Young award?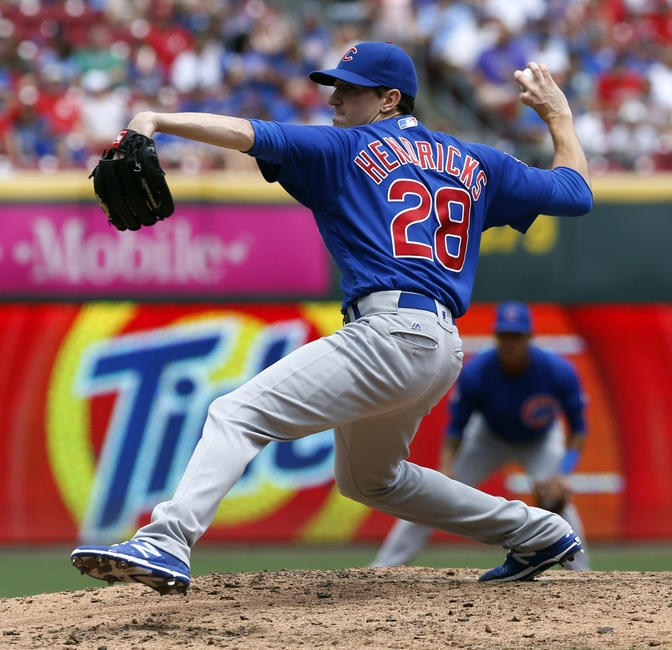 Kyle Hendricks throws yet another scoreless start Tuesday night against the Pirates as he continues to make his case for the National League Cy Young award.
When Kyle Hendricks was selected in the 39th round of the 2008 MLB draft by the then Anaheim Angels, it was clear teams were not completely sold on his ability to succeed as a starter. Hendricks decided not to sign with the Angels, opting instead to attend Darthmouth College to further hone his pitching skills. In hindsight, that may have been the best thing he could have done for himself.
In 2011, the Texas Rangers decided to select Hendricks in the 8th round of the MLB draft, hoping to see what types of improvements he'd made in his four years in college. Shortly after spending time in AAA for the Rangers, the team decided to pull the trigger on a trade with the Chicago Cubs, sending Hendricks to Chicago in exchange for starter Ryan Dempster at the 2012 trade deadline.
The Cubs were a rebuilding franchise hoping to collect assets for future use, whether that be with the team or as trade bait for other players. After starting his career with the Cubs in AA, Hendricks was brought up to the Cubs AAA affiliate and subsequently named their minor league pitcher of the year for 2013.
After another series of trades, Hendricks made his debut for the Cubs late in 2014 and was able to solidify his spot in the rotation going forward. In 13 starts that year, Hendricks posted a 7-2 record to go with a fabulous 2.46 ERA and finished 7th in Rookie of the Year voting. Cubs decision maker Theo Epstein and his new manager Joe Maddon took notice and gave Hendricks a spot in the rotation in 2015.
In what turned out to be a break out season for the Cubs, Hendricks saw less success in his sophomore season. In his first full season as a starter, Hendricks posted an 8-7 record with a mediocre 3.95 ERA for a team that won 97 games and made the playoffs as a Wild Card team. The team eventually lost in the NLCS, but still saw great potential in Hendricks going forward.
Which brings us to 2016, a career year for Hendricks on a team with the best record in baseball throughout the season. Through his first 8 starts, Hendricks looked to be on his way to yet another average season. Since then, Hendricks has taken his game to the next level. After throwing seven scoreless innings on Tuesday night against the Pirates, Hendricks has allowed two runs or fewer in six straight starts, three or fewer in 18 straight, and no more than four runs in a game all season.
That stretch has earned him a 12-7 record to go along with a league-low 2.19 ERA, giving him a fraction of a lead over Giants ace Madison Bumgarner in the NL. But can Hendricks do the unthinkable and actually steal the trophy from one of the many aces in the NL? Hendricks' competition is all around the NL, including Bumgarner, Nationals right hander Max Scherzer, and teammates Jake Arrieta and Jon Lester.
Though his statistics aren't exactly top in his league across the board, if Hendricks can continue at this pace on the bump, we would be looking at a tight race for the coveted Cy Young award. The Cubs are no strangers to unbelievable stretches for starting pitchers, as Arrieta pulled off his own at the end of last season and carried it over into this season.
Scherzer has impressed this year and has a 4.7 WAR, the most of any pitcher in the league. Bumgarner has continued his success with a 2.49 ERA, and is tied for the most quality starts in the majors with Lester and Tigers righty Justin Verlander. Lester has bounced back from a forgettable debut season with the Cubs to a consistent 14-4 season in his second year with the club. Arrieta, through some struggles in recent portions of his season, has still managed to keep himself in the race as well.
Hendricks would certainly need to maintain his league lead in ERA and finish out his season with quality starts in nearly every game, but it's not out of the realm of possibility for the 26 year old righty to win the big trophy. With the arguably the best manager and team in the MLB behind him, Hendricks could put up numbers to finish the season that might force voters to gift wrap him the leagues highest pitching honor.
More from FanSided
This article originally appeared on