Boston Red Sox: Was Mookie Betts robbed of an MVP Award?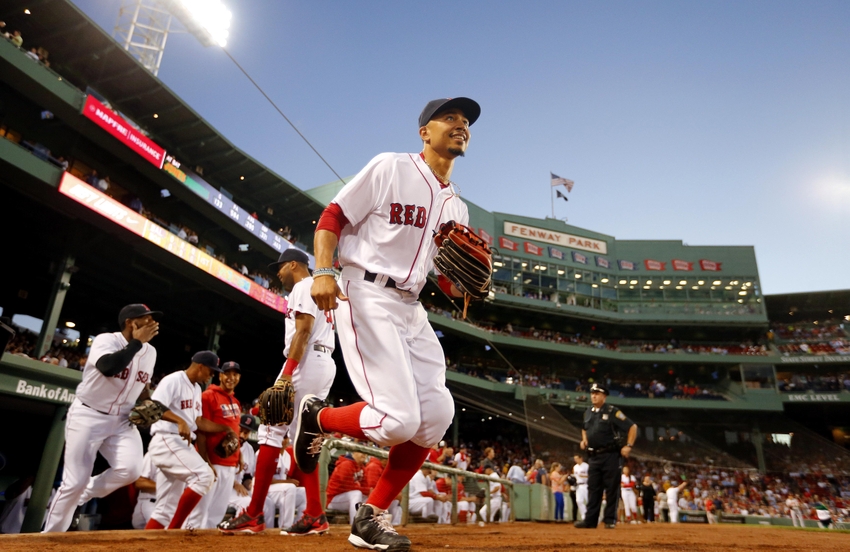 Many feel that Boston Red Sox outfielder Mookie Betts was unjustly relegated to runner-up for the MVP, but that all depends on how you define Most Valuable.
Mookie Betts should have been the MVP. In my mind the superstar outfielder for the Boston Red Sox was the most deserving candidate, yet sadly a number of writers with a vote that counts disagreed.
Los Angeles Angels outfielder Mike Trout was awarded the honor of the 2016 American League MVP. Betts would have to settle for the runner-up spot, with Houston Astros second baseman Jose Altuve finishing a distant third. Retiring Red Sox legend David Ortiz came in sixth place in his final season, receiving one first-place vote that somewhat unexpectedly came from a New York writer.
Trout received 19 of the 30 first-place votes, compared to only 9 for Betts, winning the overall tally by a score of 356 to 311. Unlike the AL Cy Young ballot, this race wasn't particularly close, but will it come with the same level of controversy from fans that believe that Betts was robbed? That all depends on how you define the term Most Valuable Player.
There is no clear-cut definition for MVP, leaving it's meaning open to the interpretation of the voters. There are some that believe that the MVP is the best player on the team with the league's best record, but if that were true then Adrian Beltre would have received more than one first-place vote.
If you believe that the MVP is solely an individual award that should be given to the player with the best overall numbers then Trout is a solid choice. He led the league in runs scored, walks, OBP, runs created and trailed only Ortiz in OPS. He also swiped 30 bases and brings a pretty good glove to center field.
Trout is a sabermetrics beast, a perfect five-tool player that could serve as the blueprint for engineering the perfect baseball player in a lab. Not everyone appreciates the value of Wins Above Replacement, but it's telling that Trout led the majors by a mile with 10.6 WAR. Trout is the best player in baseball, so if that is what you emphasize most in determining the MVP then he should essentially win the award every year until he passes his prime about a decade from now.
The case against Trout is a fairly glaring mark on his resume – his team was horrible. The Angels were 74-88 this season, finishing a distant fourth in the AL West and 15 games back of a playoff spot. Trout's team was practically out of the postseason hunt by the All-Star break, so while he continued to pile up prolific numbers down the stretch, that production was essentially meaningless in the grand scheme of things.
Meanwhile, Betts was putting up similar numbers while leading the Red Sox to a division title. He may have fallen short to Trout in a few offensive categories, but Betts was still among the elite in virtually all of them. He even had Trout beat in a few, including hits, batting average, doubles, home runs and extra-base hits. Betts drew less than half as many walks, but that was due in part to his spot in a loaded Red Sox lineup. Opposing teams couldn't pitch around him the way they often would to Trout. Betts also owned a significantly lower strikeout rate. Trout plays great defense in the outfield, but Betts was the best defensive player at any position this season.
If you go simply by the numbers, Trout does hold an edge, but not a significant one. Shouldn't Betts get some credit for producing under the pressure of a pennant race?
More from BoSox Injection
Some will argue that it's not Trout's fault that the Angels front office failed to construct a competitive roster around him. They were a losing team, but take Trout out of the lineup and they would plummet toward being one of the worst teams in the majors. Is that what makes him most valuable?
There's some truth to that argument, but if I may play Devil's Advocate for a minute, by that logic aren't we saying that we are holding it against Betts that he plays for a winning team loaded with other star players?
Sure, if you take Betts out of the lineup the Red Sox would still be one of the highest scoring teams in baseball. They would no longer have the best offense and wouldn't have won the division without Betts, but there is enough talent on this roster to prevent the team from going in the tank if they were to lose him – just as the Red Sox aren't going to suddenly implode without Ortiz in 2017. However, being on a team with other great players doesn't make Betts any less valuable.
My definition of an MVP doesn't necessarily reward the best player on the best team, the player with the highest WAR, the one with the most run production or the player whose team would be utterly lost without them. All of these factors get blended together to make the decision messy and complicated, which is ultimately why we end up with so many varying viewpoints.
And you know what? That's the way it should be.
There are a number of ways to interpret what being an MVP means, so the writers that cast a ballot for this award made their decisions based on how they perceive value. Trout winning over Betts is hardly a tragedy, as there are several factors to support his case as a deserving candidate. It's not how I would have voted, but that doesn't make those that did wrong. The simply have a different perspective.
This article originally appeared on