Boston Red Sox: Unpopular Opinion – Chris Sale Trade is not that Great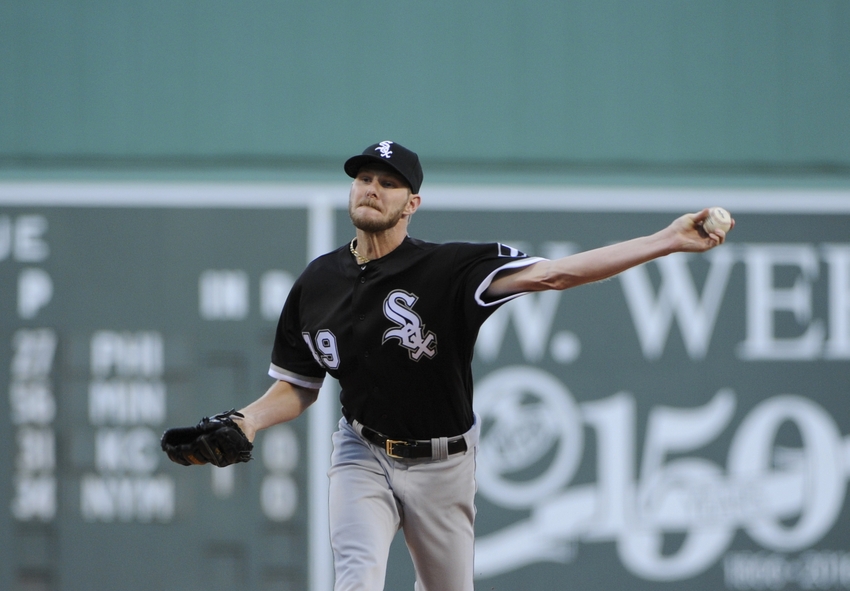 With another installment of "Unpopular Opinion" we are taking a look at the recent blockbuster deal sending Chris Sale to the Boston Red Sox.
Yesterday, December 6th 2016, the Boston Red Sox finally ended all of our Chris Sale talks. For what has seen like forever, a trade sending Chris Sale out of Chicago has seemed inevitable. Indeed it was, as the Red Sox dealt four prospects for the left-handed pitcher. Of these, the two notables were Yoan Moncada and Michael Kopech. As you may already know, Moncada was touted as one of if not the best prospects in all of baseball. Kopech on the other hand is lesser known. Kopech is a twenty year old, six-foot three right hander that consistently throws over 100 MPH. Heck, the young arm even hit 105 on the radar gun in a game during July. The Red Sox paid an arm and a leg for a stellar pitcher, the only problem is it may not have been worth it.
Before any misinterpretation occur, I am not knocking Chris Sale's ability in any way. He remains a sensational talent that certainly does boost the Red Sox World Series odds. However, with how the deal went down it just doesn't make a lot of sense to me.
Chris Sale is a very, very good pitcher. He is young, and has posted consistent excellence since 2012. The five time reigning all-star cannot be stripped of his talent, and I am not attempting to do that. However, with his recent trends, and what Boston gave up, it just doesn't seem to be as great as everyone is making it out to be.
More from Call to the Pen
First, Sale's numbers had a downhill trend last season. His ERA was slightly better, and his K/9 ratio decreased and his HR/9 ratio increased. Sale is striking out less batters, and allowing more home runs. Sure, it is not a significant amount, but with Fangraphs predicting his numbers to be even worse, it shows a sign. Now, I'm not saying he is a bad pitcher now by any stretch of the imagination, but he is showing downward trends.
My biggest point of concern for Chris Sale is how he performs when he wins, and how he performs when he loses. Common Sense would tell us the White Sox did not provide enough to put him in winning situations. However, that though is completely wrong. Chris Sale received six or more runs of support more times (12) than he did two or less (9). In fact, 71.875% of Sales starts saw the Ace receive 3 or more runs of support. When Sale lost, he did very bad. In games that Sale was the losing pitcher he had a 6.31 ERA, yikes.
While the run support won't be an issue considering Boston is the best hitting team in the AL, it just brings into question if the Sale deal was really worth it. The starting rotation is already phenomenal! Instead of padding to an already good area why not improve an area of need or hold on to your farm talents until a true need surfaces. The Red Sox still have so much young talent and I understand that, but one day Boston won't be able to pay these guys small contracts anymore. By dumping their farm the Red Sox are potentially putting themselves in a bad sport years down the road.
#WhiteSox now have 4 top 100 prospects:
1. Moncada
30. Kopech
58. Fulmer
80. Collins

Trade Q, add 2-3 to that last, Abreu 1-2 as well

— whitesoxdave (@barstoolWSD) December 7, 2016
However, this deal wasn't made with the future in mind, it was made to win a championship next season. While Sale definitely helps this cause, I can't help but think this was a bad move by Boston. They gave up baseball's best prospect, and a young arm with the potential to become the next Noah Syndergaard (who is better than Sale by the way). Trading your future away for a guy who throws temper tantrums in the locker room doesn't seem smart to me. Yes, talent is talent, but certain things should throw up red flags for ball clubs.
At the end of the day, Sale does give the Boston Red Sox a better chance of winning the World Series. While that is the goal of every GM, I don't think the cost-reward ratio of this deal is good for the Red Sox. Sure, they have the best rotation in baseball now, there is no doubt about that. However, the White Sox completely took advantage of the Red Sox – but that's just my unpopular opinion.
This article originally appeared on