Nine times Red Sox legend Ted Williams was an evil hitting genius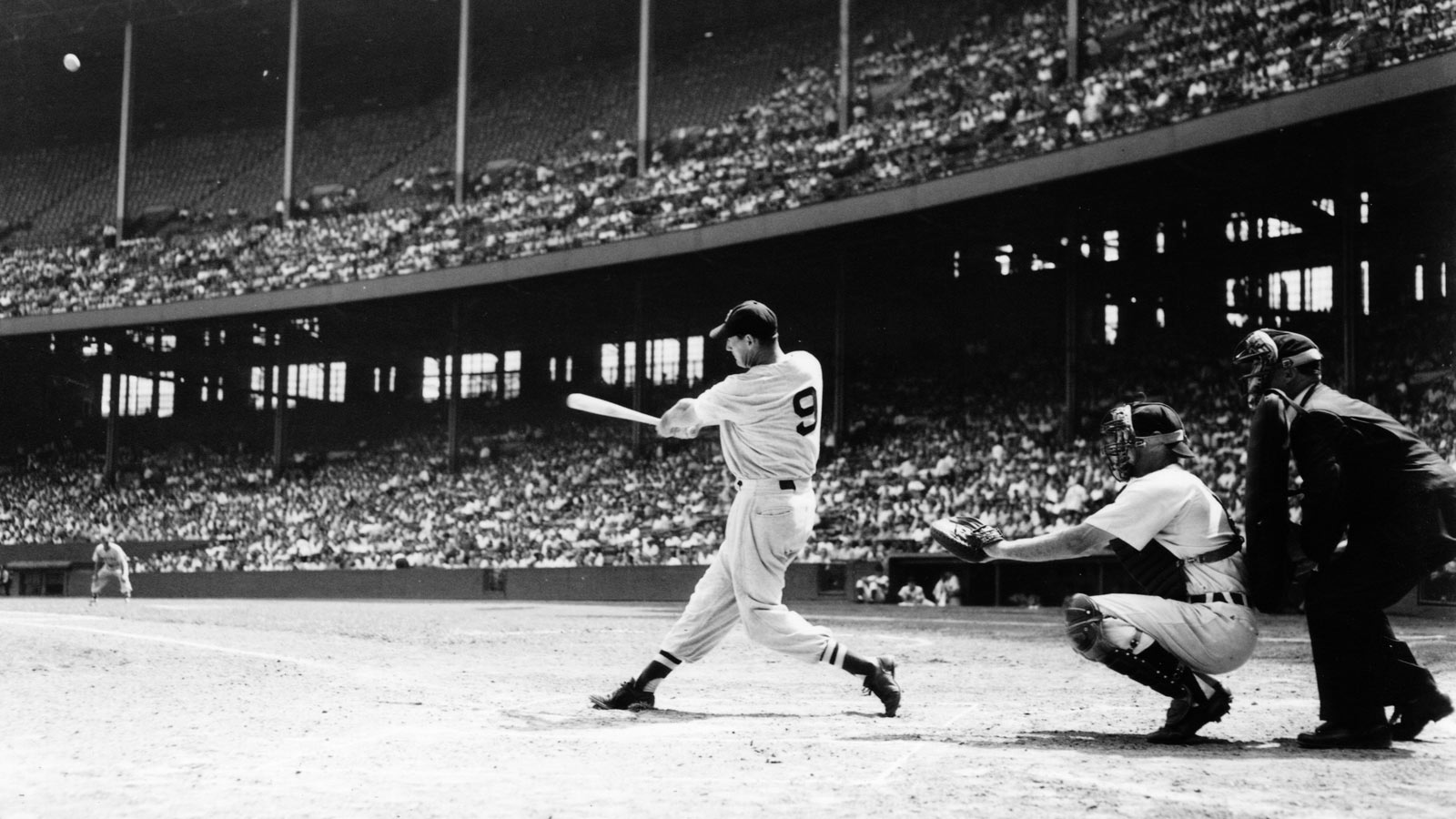 On April 7, 1969, Ted Williams began his managerial career with the Washington Senators.
He'd last only a few seasons as a manager with Washington and Texas, but in that time he did what he loved the most –€" talking hitting with anyone who loved it like he did.
Williams was one of the greatest hitters of all time, a true genius with a bat.
He'd do anything to become the best alive at his craft, and that seemingly was all he lived for.
Here are nine times Williams was a hitting genius over the course of his baseball life.
1. Williams' brilliance with the bat started young
Williams grew up in San Diego and he spent as much time as he could at a local field with his friends, swatting baseballs around the place. When a friend wasn't available, he'd grab the playground director, who would throw to Williams and tell him what pitch was coming. Williams would then tell the pitcher not to tip what was coming, and he'd continue to smack every pitch around the yard. "Listen," Williams would say. "Someday I'm going to build myself a ballpark with cardboard fences. Then I'm going to knock 'em all down, every darn one, with home runs." The legendary confidence was born.
2. He's the only one who didn't think hitting .400 was impressive
Williams is most famous for hitting .406 in 1941, of course. But Williams never thought it was that special — he just happened to do it. He believed he could have done it again (possibly in 1957, when he hit .388) if that was his goal, but he almost chose not to chase the number out of pure stubbornness (a trait he was known for). When defenses would shift entirely to the right side of the field, the left-handed hitting Williams would just become more determined to hit it through the shift, rather than taking automatic base hits to left.
On the topic of hitting .400, Williams would say years later: "It was something that required a kind of nonstop consistency. I never thought of it as going 2-for-5 every day, but that's what it adds up to. I had to maintain my focus throughout. Although I never imagined that all these years later, no one else would do it again. If I had known hitting .400 was going to be such a big deal, I would have done it again."
3. He had such incredible physical and mental gifts, like his recall
Williams was famous for the things he could recall about at-bats, pitch sequences, conversations held years ago — anything when it came to hitting. One time, comedian Billy Crystal met Williams and told him that he had video of Williams striking out against the Yankees' Bobby Shantz in a specific game 30 years earlier. Williams looked at Crystal and said, "Curveball, low and away. [The catcher] dropped the ball and tagged me, right?" Of course it was, because that was Williams.
4. Williams also set a standard for work ethic and preparation
Williams was incredibly talented, yes, but he was great because he was also incredibly possessed when it came to hitting. In 1972, he was talked into playing in a charity game in Boston, so he grabbed a bat and went to the plate, having retired a dozen years prior. "Now throw the ball hard –€" don't be throwing any s— up here," Williams yelled out to the guy on the mound. After taking one pitch, which he always did to get a look, he proceeded to swing 15 times and square up all 15 balls on the sweet spot. Tom Grieve, one of Williams' former players, looked at Nellie Fox in awe. "He has been hitting in the cage for six weeks just in case he decided to play today," Fox said. "You didn't really think he would go out there and embarrass himself?"
Williams resented the fact some people called him a "natural." He said, "When I grew up in San Diego. I played baseball every day. I hit day and night. People said, 'Look, he's a natural.' It wasn't that. You've got to practice."
5. But above all, Williams' driving ambition may have been his best attribute
It's what made Williams put in all the hours in the cage and in front of ballpark and hotel mirrors, perfecting his swing. As Tim Kurkjian writes, "Fear of failure drove Williams. That's why he never stopped hitting, never stopped striving for perfection." Williams had a habit of hitting after games, reinforcing the positives and drowning everything else, and he'd be the only guy on the field, smacking line drives around the yard and yelling, "I'm Ted Williams, the greatest f—ing hitter ever!" Depending on the story you read, Williams would also look in a mirror every day and tell himself these words. He said to anyone who would listen that his only goal when he retired was to have people look at him walking down the street and say, "There goes Ted Williams, the greatest hitter who ever lived."
6. Williams would work umpires for intel
Williams saw everything and everyone as sources for hitting information. He was known for avoiding run-ins with umpires over balls and strikes, but it obviously wasn't because of a lack of competitiveness or combativeness. Williams knew umpires could be allies. Umpires would see pitchers during their games that Williams didn't come across much, and so when Williams would get on base, he'd chat up the closest umpire and try to get any nugget that might help him, such as a new pitch or a tendency that an opposing pitcher developed. Umpires would surrender the information to a hitting God like Williams (that's against the rules today). He soaked all of it in and used that incredible recall to pull it back when he needed.
7. Williams wasn't afraid to annoy pitchers to get an advantage
He would do various things others didn't that might annoy opposing pitchers. One example: He'd intently watch pitchers warm up and get as close as possible to the plate to get more looks at their pitches. "Guys like Frank Lary would brush me back a little, letting me know they didn't appreciate that close a scrutiny," Williams wrote in his book, The Science of Hitting. "Past confrontations should be going through your mind … You are not just 'taking' pitches, you are taking specific pitches. You learn from them."
8. His most famous hitting story is the final day of the '41 season
Williams had a .3995 batting average with a double-header to play on the last day of the season against Connie Mack's Philadelphia Athletics. He was given the option to sit out and let his average round up to .400, but Williams cared far too much about the game to do that. Plus, he didn't want to just squeak by. "If I'm going to be a .400 hitter, I want more than my toenails on the line," he said. So Williams spent the previous night in his hotel room thinking about the thousands and thousands of swings he had taken and how he could not possibly be more prepared for that moment. "I went to the ballpark the next day more eager to hit than I had ever been," Williams would say later. He went 6-for-8 in the double-header and finished the season with his famous .406 average.
9. But this is his best hitting story
Nothing explains Williams more than this: During spring training in 1969, when he was managing the Washington Senators, Williams overheard a lot of arguing between a couple of players. Finally he walked over after the confrontation began to draw attention. "What the hell's going on?" Williams asked. The players told him they were arguing over the correct way to execute a rundown between infielders. Williams didn't give a damn, but he acted like he thought about it for a minute before throwing up his hands and saying, "F— it, let's hit." Defensive drills ended and batting practice begun.
Teddy Mitrosilis works in content production at FOX Sports Digital. Follow him on Twitter @TMitrosilis and email him at tmitrosilis@gmail.com.