Boston Red Sox rumors: Edwin Encarnacion seeking 5-year, $125 million deal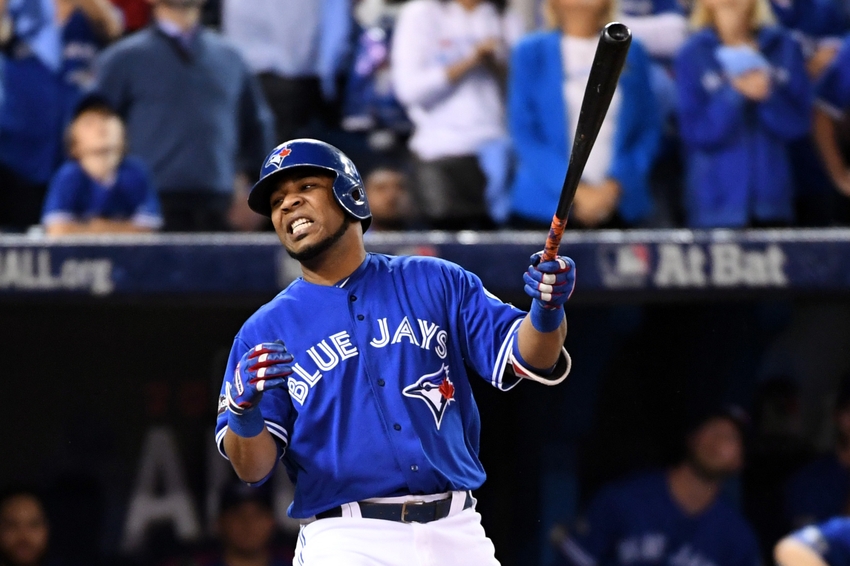 If the Boston Red Sox plan to pursue free agent slugger Edwin Encarnacion they better be willing to pay up, based on the asking price reported by his agent.
One of the biggest question marks facing the Boston Red Sox this offseason is how to fill the void left by David Ortiz's retirement. While nobody can truly replace an icon like Big Papi, the team still needs a power-hitting run producer to fill his designated hitter role.
Edwin Encarnacion is among the popular free agent options that has been linked to the Red Sox. The Toronto Blue Jays slugger finished third in the American League with 42 home runs and tied Ortiz for the league lead in RBI. From a production standpoint, there doesn't appear to be another available option that can replicate Ortiz's middle of the order presence as well as Encaracion.
As simple as it may seem to turn Encarnacion into Ortiz 2.0, at some point we have to ask if doing so is worth the price. Based on what he's reportedly asking for, the answer is a resounding, "No."
TSN's Rick Westland spoke recently with Encarnacion's agent, Paul Kinzer, who shed some light on how his client views his value on the open market. Encarnacion is seeking a 5-year, $125 million deal that would make him one of the highest paid hitters in the game based on average annual value. Detroit Tigers superstar Miguel Cabrera ($31 million AAV) is the only hitter in baseball that makes more than the $25 million AAV that Encarnacion believes he is worth.
Perhaps if you were to look only at the home run and RBI numbers you could be convinced that Encarnacion is worthy of being paid that kind of money, but one would hope the Red Sox front office has the intelligence to weigh other factors.
Kinzer pointed to the 7-year, $161 million contract the Baltimore Orioles gave Chris Davis last winter as a benchmark for what Encarnacion should earn. He expects a shorter contract given that Encarnacion is older than Davis, but at a slightly higher AAV. Given that Davis dropped off dramatically in virtually every offensive category, hitting a meager .221 with a .792 OPS while leading the league in strikeouts, perhaps that wasn't the best example for Kinzer to use.
Encarnacion will be 34 years old by the time the 2017 season rolls around, so a five-year deal would take him through his age 38 season. The uncanny final chapter of Ortiz's career may have convinced us otherwise, but typically hitters start to decline at this stage and we've already seen signs of that with Encarnacion.
More from BoSox Injection
His .263 batting average was a tick below his career level, but it was still the lowest he has produced since 2010. While fluctuation in batting average can be partially attributed to luck, Encarnacion's .270 BABIP was actually the highest it has been in five years. The real culprit was a career-high 138 strikeouts, which resulted in a 19.7 strikeout percentage that was his highest since 2009.
Any team looking to sign Encarnacion isn't doing so expecting him to win a batting title, but there are also some concerns with his his declining power. Clearly he's still a home run threat, but his .529 slugging and .886 OPS were his lowest since 2011, while his .266 ISO was a significant drop from the previous two seasons.
Kinzer claims that as many as 11 teams have shown serious interest in his client, which would be baffling if that were actually true. There can't be that many teams that have both the need at a position Encarnacion could fill and the financial resources to afford him.
The 12-year veteran has never been known for his defense, which will only decline with age. Kinzer claims that Encarnacion "proved" this year that he is a solid first baseman, yet it's unclear what evidence he's basing that on considering just about every defensive metric has him rated as below-average or worse. Most suitors will view him primarily as a DH, which should eliminate NL teams from consideration.
It's clear that his agent is attempting to convince teams that Encarnacion is a viable first base option not only to increase the number of suitors, but also to create the mirage of increased value. There's a reason that Ortiz never made more than $16 million per year. Sure, he may have given the Red Sox a bit of a discount at the tail end of his career, but the fact remains that players that serve primarily as a DH make less on the open market because they don't provide defensive value. His agent wants teams to believe that Encarnacion is still capable of playing first base, but if he plays the position poorly then he's providing negative value, which isn't helping his case.
If the Red Sox were to sign Encarnacion it would be with the intention of using him as a DH. He could periodically spell Hanley Ramirez at first base, but he doesn't provide enough of a defensive upgrade to warrant pushing Han-Ram out of that role.
Encarnacion produced a 3.7 oWAR last season, per Baseball-Reference, and has averaged 4.3 oWAR over the past four seasons. His poor defense has dragged down his overall WAR, but if he were to become a full-time DH then we should expect him to produce a WAR of around 4.0 early in his next contract with a gradual decline. For comparison sake, a 4.0 WAR would have put him outside the top 40 hitters in the majors in 2016.
Clearly his home run power and ability to drive in runs fills a need for the Red Sox, which makes Encarnacion an attractive target. They will certainly show interest, but if he does indeed draw anywhere near the salary he is commanding he will prove to be a poor value that the team should avoid.
This article originally appeared on