Boston Red Sox Reportedly Refused to Trade Blake Swihart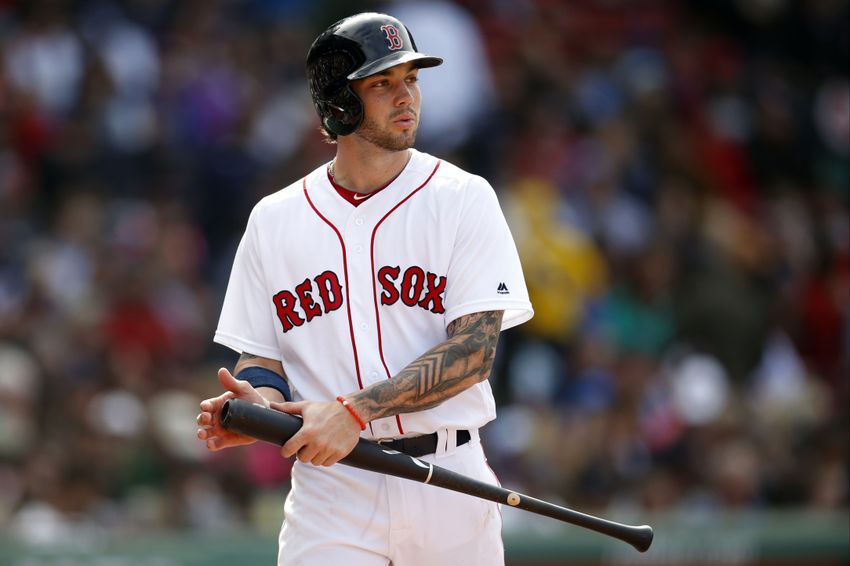 Boston Red Sox president of baseball operations Dave Dombrowski refused to trade catcher Blake Swihart at the Winter Meetings.
The emergence of Sandy Leon seemingly changed the future of the catching position for the Boston Red Sox, but questions remain regarding his long-term capabilities as a hitter.
With Christian Vazquez and his smooth glove waiting in the wings, Leon played spectacular baseball for the entire second half of 2016 – which ultimately stuck Vazquez in the dugout for most games.  Leon hit .310 with a .845 OPS and seven home runs in 78 games, which was a far cry from his putrid batting lines in season's past.
But Leon's emergence also impacted the future of Blake Swihart, who was seen as the pinnacle of what a catching prospect could be.  Sure, his glove wasn't up to part with Vazquez – but he hit and played well enough behind the plate to warrant a call-up earlier than expected.  In 2015, Swihart, after playing less than 50 games at Triple-A, received the call to the majors and found his groove within due time.
Swihart hit .274/.319/.392 with five home runs and 31 RBI in 84 games, and showed solid fundamentals at and behind the plate.  2016 looked to be his full-on breakout, but an ankle injury in June kept Swihart on the disabled list.  With Vazquez also injured around the same time, the Sox had no choice but to call up Leon – who hit .185 a season prior.
From his first game upon joining the Sox, Leon hit and hit and hit.  And then kept hitting.  A .467 average in June and .355 average in July pushed him into the everyday catcher role, and subsequently forced the Sox to reevaluate Swihart's future at the position.
More from Call to the Pen
Swihart then began rehabbing in left field in Triple-A, but was ultimately shut down for the rest of the season.  The experiment in left field looked to be promising, but the emergence of Andrew Benintendi in at the position all but left Swihart without a future in the outfield.
With the Red Sox depth chart shored up entering the Winter Meetings, Swihart seemed to be the perfect candidate to be included in a, say, trade for Chris Sale.  Instead, however, Dombrowski refused to include Swihart in the eventual trade for Sale, and then opted to send Moncada.
Moncada was seen as a transcendent prospect, while Swihart has the potential to be an All-Star level catcher.  Dombrowski apparently saw Moncada's lack of a position and health concerns as big enough issues to warrant trading him away, which arguably brought the Sox their best acquisition in recent memory in Sale.
Leon also tapered off toward the end of the season, which could be an indication that his dominance could be nothing more than a summer fling.  Swihart, unlike Leon, has the potential to be something more.  With a lack of impact catchers around the league, Swihart is a special asset worthy of holding on to.
At just 24, Swihart hasn't reached his full potential – and likely won't for another season or two.  If the Red Sox are wise, they'll let Swihart play out most of next season at Triple-A while they see what Leon and Vazquez can do for a full season.
Swihart's potential is still immense, and may now be understated.  But for Dombrowski, Swihart's potential is within striking distance.
This article originally appeared on