Boston Red Sox Report Cards: Heath Hembree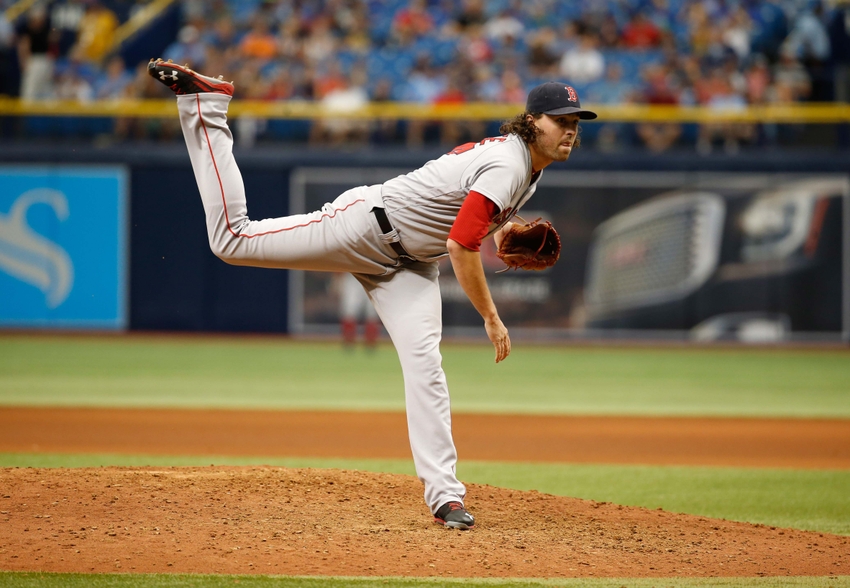 The BoSox Injection staff reflects on the 2016 season by grading each member of the Boston Red Sox based on expectations for them entering the season.
Heath Hembree was acquired when the Red Sox were dumping all their 2013 heroes the following year to see what they could get. Hembree was a fifth round draft choice in 2010 for the San Francisco Giants. Hembree has been groomed as a reliever his entire professional career. In his first full year in the minors, he notched 38 saves, recording 115 saves in his four-plus years in the Giants organization.
Hembree debuted impressively with 7.2 scoreless innings in 2013, striking out 12 batters. In 2014, he was back closing at AAA Fresno (31 saves in late July) when he was swapped for ex-ace and duckboat lover Jake Peavy, along with fellow prospect Edwin Escobar.
Examining Hembree's career, his biggest flaw as a reliever has been present throughout his professional career. He is far more effective against right-handed batters than left-handed ones. This fact could be due to his development as a reliever, as he did not need to develop a third pitch which might make him more effective against lefties. He is a fastball-slider guy. In 2015, the Red Sox used him for 25 innings, giving them a longer look at those bad splits. He allowed a .741 OPS to righties but an .862 OPS to lefties.
Hembree's 2016 brought his split issues into even more stark contrast, which could be due to two factors. The first is that he pitched twice as many innings in the majors (51) as the year before. This would allow teams to get better scouting on him and hitters more of a look at him.
The second factor is that lefties had a startling .386 batting average on balls in play (BABIP) when .295 or so is the league average. Righties had a BABIP of just .240, accounting for the overall numbers of .591 OPS allowed to righties and .890 OPS allowed to righties.
Hembree had a minor league option remaining last season which allowed the team to shuttle him back and forth to AAA Pawtucket four times during the season after his first call up on April 19. Hembree became frustrated because he was pitching well. His ERA at the time of his demotions was 2.14, 2.41, and 2.46. The big righty ended the season with a 2.65 ERA in 51 innings, striking out 47 batters and walking just 17.
Hembree is out of options now, so he doesn't have to worry about this happening to him next season. If he pitches well, he will stay in the majors.

Looking Forward
Hembree should certainly try to develop a third pitch. As the Red Sox have their eye out for a lockdown eighth inning option, Hembree's terrible splits don't inspire confidence that he can handle eighth inning duties on a regular basis. There might be occasions when he could handle it against right handed heavy lineups but that won't always be the case. One can see from his splits that he can be a force against righties. Hembree did very well at Fenway, posting a 2.03 ERA over 31 innings. This might be because teams try to stack their lineups with righty hitters that he dominates.
Hembree has two more years before he hits arbitration. While the splits are scary, working on a third pitch and a reasonable BABIP for lefties should lessen that split somewhat. He should be part of the Red Sox bullpen for at least the five years they have him under control. Red Sox fans hope he can continue last year's success.
Grade: B+
More from BoSox Injection
This article originally appeared on