Boston Red Sox pitching staff is American League's best since All-Star break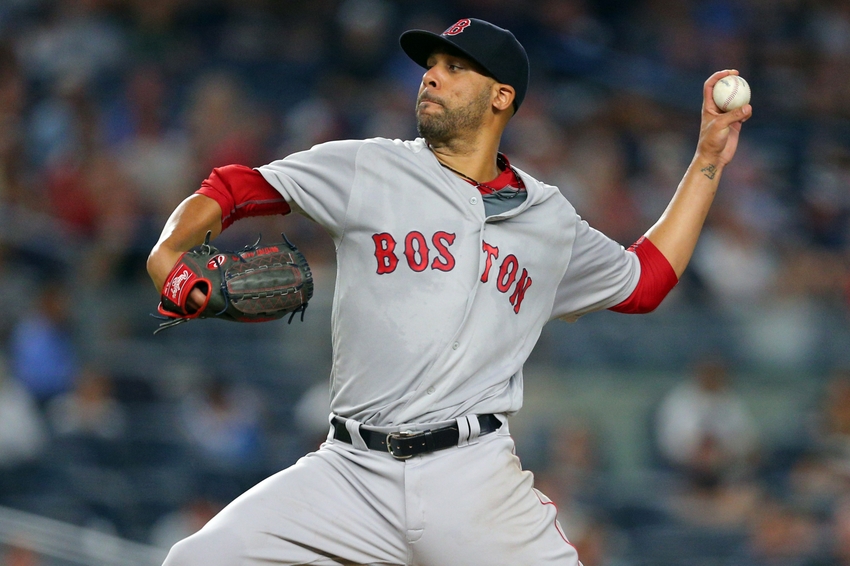 The Boston Red Sox have turned a weakness into a strength, boasting the best ERA in the American League in the second half of the season.
It wasn't long ago that we viewed the Boston Red Sox as a team that needed to rely on their explosive offense to carry them to victory. Pitching had long been the team's Achilles heel, but not anymore.
You wouldn't know it from looking at last night, but the Red Sox have had the American League's best pitching staff since the break. Boston leads the league with a 3.57 ERA and .236 batting average against in the second half, while ranking fifth with 455 strikeouts over 501 innings.
Tuesday night serves as a poor example, as starter Drew Pomeranz was rocked for five runs before getting knocked out in the third inning. The 27-year old was working on seven days of rest, as the Red Sox attempt to limit his innings now that he's blown by his career high. The effects of a long layoff were evident early on, as Pomeranz struggled to locate his pitches, walking two and giving up a pair of home runs.
More from BoSox Injection
Pomeranz may have been a bit rusty after getting a couple of extra days off, but prior to that he put together a solid stretch following a rocky adjustment period to the American League. The lefty posted a 2.70 ERA in August and allowed three runs or less in seven straight starts.
Red Sox Nation was ready to panic when David Price failed to resemble the $217 million ace he was expected to be through his first seven inconsistent starts to begin his tenure in Boston. Fans were ready to turn on Price when his ERA stood at a horrendous 6.75 in mid-May, but he has quickly turned his season around.
Since May 12, Price owns a 3.06 ERA and has lasted at least seven innings in 15 of his last 23 starts. The veteran lefty leads the league in innings pitched this season, he's third in strikeouts and fifth in strikeout-to-walk ratio. With a strong finish, it's not out of the question for Price to emerge as a potential Cy Young candidate, proving he's been every bit the ace we expected following a troubling start to his Red Sox career.
Speaking of Cy Young candidates, is it a stretch to say that Rick Porcello is the front-runner? The first pitcher in the majors to reach 20 wins this season has an outside shot of recording the most wins in a season by a Red Sox pitcher since Pedro Martinez went 23-4 during a 1999 season that was arguably the most dominant of his prolific career.
Run support obviously plays a part in his sparkling record, but Porcello is having an outstanding season even if you ignore the win total. His 3.21 ERA is 7th in the league, he's tied for first with a 1.02 WHIP and leads the league with a 5.55 K/BB ratio. As is the case with most of his rotation mates, Porcello has been even better in the second half, sporting a 2.57 ERA since the break.
It's been a frustrating season for Eduardo Rodriguez, hindered by injury. The 23-year old got on a roll after returning to the rotation in the second half of the season, only for another injury to cut his outing short on August 16 after four no-hit innings against the Baltimore Orioles. E-Rod was roughed up in his next start nearly two weeks later, but is back on track with a pair of quality starts this month. He owns a 2.76 ERA over his last 10 starts, providing the Red Sox with a solid fourth option in the rotation.
Having four pitchers dealing at a high level eases the concerns over the uncertainty of Steven Wright's status. Teams only need four starters in the postseason and typically can get by with only three in the ALDS.
Even the much maligned bullpen has pitched well of late. Sure, there are a few relievers lurking in Boston's 'pen that can make your stomach churn as they trot out to the mound, but none of them are likely to be relied on in a playoff game. The Red Sox have a handful of trusted options boasting sub-2.00 ERA's since the break, led by fire-breathing closer Craig Kimbrel, who has allowed only one run in his last 12.1 innings to go along with 21 strikeouts.
With the way this staff is pitching over the last two months, the Red Sox are in good shape heading toward October. They've always had the hitting to strike fear into the hearts of opponents, but now they finally have the pitching to match.
This article originally appeared on