Boston Red Sox: Joe Kelly Gifts ALDS Tickets to Debate Attendee Ken Bone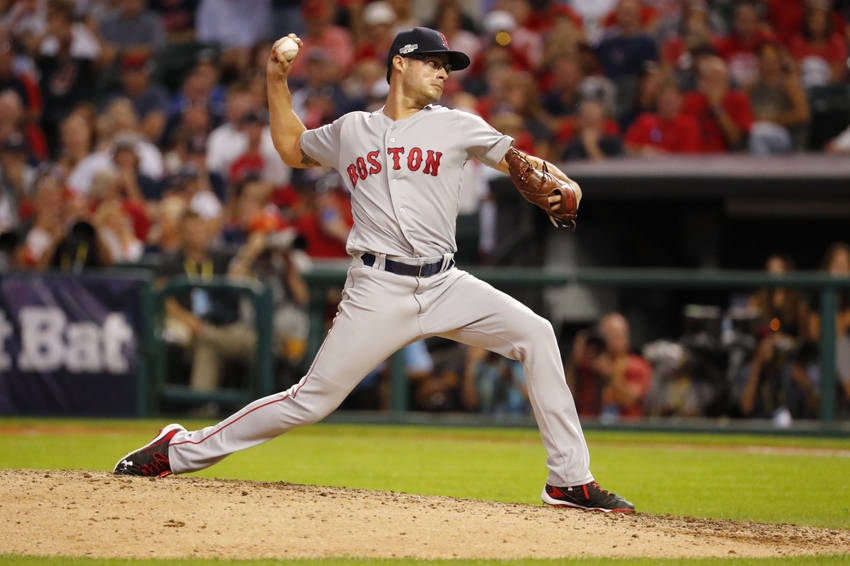 Sports and politics crossed paths yesterday when Boston Red Sox pitcher Joe Kelly gifted tickets to Game 3 of the ALDS to Ken Bone.
Pitcher Joe Kelly of the Boston Red Sox made news yesterday when he gave away tickets to Game 3 of the American League Division Series against the Cleveland Indians. As Matt Monagan of MLB.com reported, Kelly gave these tickets away in a rather strange fashion. The recipient of this gift came in the form of undecided voter Ken Bone, the man who took the Internet by storm after asking the presidential candidates about their plans to create environmentally friendly energy while minimizing job losses during Sunday night's debate.
Bone became famous during this last presidential debate for not only his excellent question but also his red sweater and mustache. These items became popular almost right away on Twitter, and one user even tweeted a Ken Bone Halloween costume kit in the aftermath. Certainly, Joe Kelly only further enhanced his fame by offering him seats at a high-stakes ballgame.
More from Call to the Pen
The Boston Globe added that the Red Sox confirmed that Kelly did indeed give Bone the tickets, but it remained unclear whether or not he actually attended the game. Given the last-minute nature of the gift, it seemed unlikely that he would make the trek to Boston to watch the matchup – especially since the debate took place in St. Louis, Missouri. Regardless of whether or not he traveled the roughly 1,200 miles separating the two cities, this became an amusing interaction between a player and a spectator.
Should he have made the journey, he would have witnessed a thrilling game. The Cleveland Indians, who entered only needing one more win to advance to the American League Championship Series, struck first in the fourth inning to establish a 2-0 lead. The Boston Red Sox scored one of their own, but the Tribe added another two runs to their lead in the following half inning. Despite the Sox's best attempts, the Indians would ultimately win the game to advance to the ALCS for the first time since 2007.
Kelly only briefly appeared in the game himself, pitching 1.2 flawless innings of work. He struck out one batter while allowing no base runners. This comes after a fairly disappointing season for the right-hander, who allowed a 5.18 earned run average across 14 relief appearances and six starts. His time as a reliever, however, was much more successful. He allowed just two runs in 17.2 innings out of the bullpen, which included an impressive 21 strikeouts.
This article originally appeared on