Boston Red Sox first-time nominees for Baseball Hall of Fame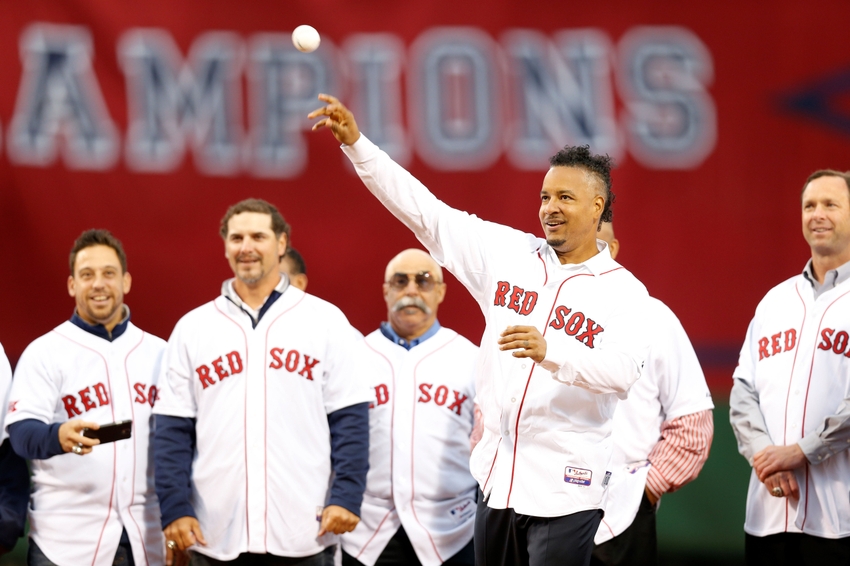 The upcoming Baseball Hall of Fame election will include a number of former Boston Red Sox players making their first appearance on the ballot.
Now that David Ortiz has officially retired we can start the countdown to when his name will be eligible to appear on the ballot for the Baseball Hall of Fame. While the Boston Red Sox will waste little time retiring his number at Fenway Park and enshrining him into the franchise Hall of Fame, Big Papi will need to wait five years before he gets the chance to be called to Cooperstown.
Candidates must have ceased to be an active Major League player at least five calendar years preceding the election. Ballots sent to members of the Baseball Writer's Association must be submitted by December 31, with the results to be announced in January.
Ortiz isn't eligible yet, but a number his former Red Sox teammates are among the first-time nominees on this year's ballot.
Enshrinement into the Hall of Fame requires a vote on at least 75 percent of the ballots cast by writers that are limited to voting for no more than 10 players. Nominees that fall short of that threshold can remain on the ballot for up to 10 years as long as they receive at least 5 percent of the vote.
Former Red Sox pitchers Roger Clemens and Curt Schilling remain on the ballot after falling short in previous years.
Will any of the new names on the ballot receive enough votes to get in? Let's take a look at some of these former Red Sox players that are now eligible.
Going strictly by the numbers, Manny Ramirez should be able to coast into the Hall of Fame. The former Red Sox left fielder was a career .312/.411/.585 hitter who ranks 15th on the all-time home runs list with 555.
Ramirez made 12 All-Star appearances, including all eight seasons that he played in Boston. He never won an MVP Award, but he finished in the top 10 nine times in his career, including two seasons that he finished as high as third.
He was also a postseason hero, winning a pair of championship rings with the Red Sox and earning the World Series MVP in 2004. Manny has more playoff home runs than anyone in major league history (29), while ranking second with 78 RBI and third with 117 hits.
That certainly seems like the resume of a sure-fire Hall of Famer, but with Manny it's never that simple. His legacy has been tainted by two failed tests for performance enhancing drugs. There are some players on the ballot that haven't been voted in based on mere suspicion of alleged PED use, but with Ramirez there is no grey area given than he served a pair of suspensions after getting caught.
The affable Ramirez had a mixed relationship with fans and the media. For the most part we were willing to put up with his goofy antics and indifference to playing defense because of the staggering numbers he put up at the plate, but eventually the "Manny being Manny" routine wears thin. You have to wonder if some voters may hold that against him even if they are able to overlook the steroid issue.
Regardless of his connection to PEDs, I believe Ramirez deserves to be in Cooperstown, but he's unlikely to be a first ballot Hall of Famer.
The value that Varitek provided to the Red Sox can't be found by looking at the numbers, which unfortunately is why we won't likely see him on many Hall of Fame ballots.
Varitek hit a modest .256 with a .776 OPS and 193 home runs over a 15-year career spent entirely in Boston. Those are decent numbers for a catcher, but hardly enough to consider him among the all-time greats.
The three-time All-star had a few seasons where he was among the best at his position at the plate, but most of what he brought to this team came behind the dish.
Varitek's value transcended the numbers. He received the rare honor of being named captain of the Red Sox because of his leadership qualities. Most defensive metrics rate him as slightly below average as a catcher, but his rapport with his pitching staff was unmatched, giving him a well deserved reputation as one of the best game-calling backstops of his time.
He has caught a record four no-hitters and was the primary battery mate to Pedro Martinez during his Cy Young seasons in 1999 and 2000. Varitek was also the starting catcher for the World Series Champion Red Sox in 2004 and 2007.
Varitek was inducted into the Red Sox Hall of Fame in 2016, but will be a long shot to make it to Cooperstown.
Wakefield joined Varitek in being enshrined in the Red Sox Hall of Fame this year, but similar to his former teammate, his value to the Red Sox was far beyond what his numbers indicate.
A 200-180 career record and 4.41 ERA doesn't pop out as Hall of Fame worthy, but the 186 wins he piled up in a Red Sox uniform are the third most in franchise history. The 26.5 WAR he produced in Boston puts him 10th among Red Sox pitchers, per FanGraphs. Those career accomplishments are a credit to his impressive longevity, as the effortless release of his knuckleball allowed him to stay on the mound until he was 44 years old. He spent 19 seasons in the big leagues, 17 of which came with the Red Sox.
Wakefield finished third in Cy Young voting in his first season in Boston back in 1995, but never earned another vote after that. He made his lone All-Star appearance in 2009, which was more of a lifetime achievement award than a sign that he was among the league's top pitchers that year.
The nature of the knuckleball invited inconsistency, skewing his overall numbers, but fans will remember that when Wakefield had a feel for the pitch he could be as unhittable as any pitcher in baseball. He was also invaluable for his durability and versatility, a pitcher who was unique for his ability to bounce between the rotation and the bullpen to fill any role the team required of him. He could toss nine innings or be used for only one. He could pitch in long relief and even temporarily severed as Boston's closer.
Wake was a true team player, which earned him the respect of his teammates and Red Sox Nation. Unfortunately it's unlikely to earn him many Hall of Fame votes.
Other first-time nominees
There are nine players being added to the ballot this year with ties to the Red Sox. The aforementioned players are the most prominent, but there are several others worth mentioning even if they have little chance of remaining on the ballot beyond this year.
Orlando Cabrera never made an All-Star team or finished in the top 10 in MVP voting, but Red Sox fans will fondly remember him for his contributions to the 2004 curse-breaking World Series team. Boston acquired O-Cab in a franchise altering move that shipped star shortstop Nomar Garciaparra out of town. Cabrera only played 58 regular season games in a Red Sox uniform, but he brought much needed energy to the team to help fuel their championship run.
J.D. Drew was known for his robotic personality and lucrative contract more than his production. He never lived up to the expectations fans had when the Red Sox signed him, but he was an underrated talent for his penchant for getting on base and solid defense. Fans saw the amount of zeros attached to his salary and assumed the Red Sox were getting a 30-homer slugger, but that's not who Drew was. He did hit what is fondly remembered as the "$70 million grand slam" against Cleveland in the 2007 ALCS, which earned him that contract with one swing in the minds of many.
Mike Cameron had a solid career, but his value was based mostly on his defensive skills in center field. He possessed a rare combination of power and speed, producing four seasons with 25+ home runs and five with 25+ steals. His time in Boston came at the tail end of his career when he was no longer able to provide much in either category.
Edgar Renteria was a multi-time All-Star that once looked to be on a path to at least get the attention of some Hall of Fame voters. Then he came to Boston, couldn't handle the pressure in this market and his reputation went in the tank. Renteria's production at the plate dropped off and he led the league with 30 errors in 2005, convincing the Red Sox to give up on him after only one season and agree to pay a significant portion of his remaining contract to play elsewhere.
Freddy Sanchez was part of one of the worst trades in franchise history. In 2003 the Red Sox traded him to the Pittsburgh Pirates for Jeff Suppan, who was an immediate disaster in 10 starts to finish the season before bolting back to the National League. Meanwhile, Sanchez would go on to win a batting title and make three All-Star appearances in Pittsburgh.
Matt Stairs played for 13 different teams in 19 seasons, only one of which was spent in Boston. His bat had some power and he knew how to take a walk, but he was mostly a part-time, one-dimensional player for the bulk of his career.
This article originally appeared on