Boston Red Sox end of the line players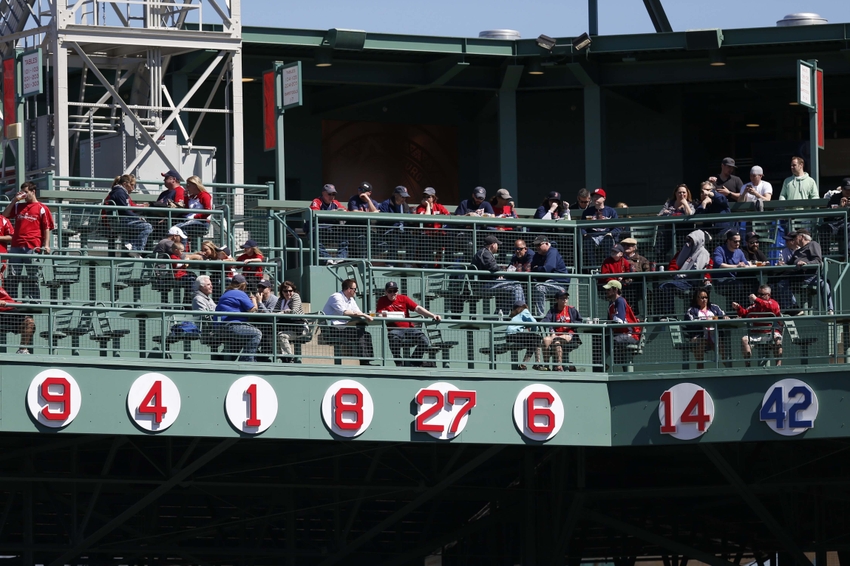 The Boston Red Sox have been the last destination of players with varying degrees of skills. A few became members of the Baseball Hall of Fame and others may stir a memory. Here are a few.
The Red Sox are not that unusual from other major league teams as being the end of the line for a good, mediocre or even a great career. I recently read an article about Mickey Vernon, who was an outstanding first baseball in the 1940's and 1950's. Vernon also won two batting titles so the man could flat out hit when he joined the Red Sox as a 38-year-old in 1956 and made the All-Star team, hitting .310.
Vernon's last stop was not Boston so he would not be added to my list. Stars such as Tony Perez, Don Baylor, Vic Wertz and Orlando Cepeda did not have "last call" in Boston and moved to playing out the inevitable string elsewhere as talent degrades. There are also others that made a second call to Boston and Bill Buckner stands out as he finished off his career woth a return visit in 1990.
Just who to add to the list? I had no specific criteria except that the player must have had some degree of talent, a decent MLB resume, or some possible contribution to Red Sox history.
Just how much could I remember? A few, but forgot more than a few, so I put in a demarcation line and imposed upon myself an arbitrary cutoff date of 1990. From when Vernon came to town to when Buckner left. Here are a few with some selected memories of their accomplishments.
The Managers
Would a slash line of .224/.301/.376 in 140 games over two seasons impress you? Would a career average of .260 and a grand total of 768 hits in 13 seasons impress you? They would not impress me, but a Hall of Fame membership would.
Dick Williams spent his entire career as a player shipped from team to team and occasionally playing as a regular until his deficiencies relegated him to part-time status. Williams' last season was in Boston in 1964 and he left an impression on a young Carl Yastrzemski and Red Sox management.
More from BoSox Injection
The Red Sox hired Williams as a minor league coach and eventually manager of their Triple-A farm club in Toronto. Promoted to manager in Boston the rest is well known as Williams was as instrumental as anyone in resurrecting the franchise. Williams finished his career managing six teams and winning four pennants and two World Series.
Eddie Kasko replaced Williams in 1970 and followed a similar path by ending his career in Boston and becoming a manager in their system. As a player Kasko finished off his final MLB season by hitting an anemic .213 for the Red Sox. Prior to that, the slick fielder was a regular with the Cardinals and Reds even making the All-Star team one season.
When Kasko was dismissed as manager he remained with the organization as a scout, scouting director and vice president of baseball operations. Kasko became a member of the Red Sox Hall of Fame in 2010.
Tommy Helms – a former National League Rookie of the Year – joined the manager pipeline after finishing his career in Boston in 1977. That, however, was not Boston, but eventually in Cincinnati, where he enjoyed his best days as a player.
Helms hit .271 mostly as a designated hitter. The right-handed hitting Helms was not your prototypical DH since his power was limited and he was Dustin Pedroia like in physical appearance.
The Stars
The 1967 season brought a pillar of stability behind the plate in 38-year-old Elston Howard, who had been an integral part of numerous New York Yankee championship teams. The fading Howard was a former Most Valuable Player, a nine-time All-Star, and recipient of two Gold Gloves. The consummate professional.
With Boston, Howard did little slashing a paltry .207/.279/.285 in two seasons. In 1967 Howard hit a dismal .147, but it was not his bat that made the difference. Howard was a force of stability on a young team that had no experience in the elevated atmosphere of a pennant race. Howard knew the league and knew pitchers.
I'll remember Howard for the key hit of game five of the 1967 World Series when he delivered bases loaded single in the ninth to put Boston up 3-0. Howard had only two hits in the series for a .111 batting average.
Ellie moved back to the Yankees as a coach and remained with New York until his premature death in 1980.
You would expect a player who led the league in steals nine consecutive seasons to be adept at running the bases, but this is the Red Sox before 2004. The home of pain, misery and disasters. Luis Aparicio tripped over third base contributing to a Boston loss and eventually losing to the Tigers by a one-half game in 1972.
Aparicio joined Boston for the last three years of his Hall of Fame career and made two All-Star teams. Aparicio's first season – 1971 – saw a strange occurrence when Luis went 0-44 before ending the streak with a grand slam home run. Little Louie slashed .253/.303/.320 for Boston before retiring in 1973.
In 1986 the Red Sox acquired a future Hall of Fame pitcher to help solidify their staff – a pitcher who had already won 300 games – Tom Seaver. Seaver was 41-years-old and clearly done, but still managed to go 5-7 with a respectable 3.80 ERA in 16 starts.
Seaver joined Boston from the Chicago White Sox for current Boston TV analyst Steve Lyons. Seaver attempted a comeback with the Mets the following season, but put that on hold. As another side note Roger Clemens said that Seaver was instrumental in refining Clemens pitching approach in 1986.
Gary Peters once led the American League in wins and finished off his career with three seasons in Boston. The left-handed Peters went 16-11 in his first Boston year – 1970. Peters followed with a 14-11 mark before (sorry) petering out with a 3-3 in 1972.
What attracted me to watch Peters was not his pitching, but his hitting. Peters was often used as a pinch-hitter in his career. In three years Peters slashed .250/.290/.361 with four home runs and 31 RBI. I have no idea if he was as good as a pinch runner.
A Sad Finish
Bob Veale was huge before it became the standard for pitchers. Veale – a left-hander – stood 6'6" and had some bulk in his years with Boston. Veale would be a perfect addition to today's Red Sox over his propensity to issue walks – leading the National League four times.
By the time Veale arrived in Boston he was relegated to bullpen duty and in three seasons never started a game. Veale did manage 15 saves in his Boston years and compiled a 4-4 record and 3.45 ERA. In his Pittsburgh years, Veale reeled off seven seasons on ten or more wins while being a two-time All-Star.
Deron Johnson had two shots with Boston late in his career. Johnson was what the Red Sox always are in need of – a power right-hand hitter and that was Johnson, but those days were gone when he arrived in Boston late in 1974 and hit a staggering .120.
Johnson signed with the other Sox and hit 18 home runs before being shipped to Boston in late September for the pennant push after Jim Rice went down. Johnson played in only three games, but hit .600 (6/10).
In 1976 it was back to Boston 1974 form as Johnson hit .132 with no home runs before being released.
The last dying embers of Dick McAuliffe's career came to a skidding halt in Boston in 1975. McAuliffe had joined Boston in 1974 and provided infield stability and depth. That, however, stopped when it came to hitting as McAuliffe hit only .210. For 13 seasons McAuliffe was a mainstay in the Detroit Tigers infield and a three-time All-Star.
The 1975 season started with McAuliffe as manager – of the Bristol, Connecticut Red Sox where his team was in first place when the call went out from Boston. McAuliffe should have hung up. The skills were totally shot and McAuliffe hit .133 and made three errors in 13 chances before being released in early September. There is another connection and that goes back to 1967.
The Red Sox needed the Tigers to lose before they could claim a championship. The game finished with McAuliffe hit into a double-play for the Red Sox to be in. That was only the second DP McAuliffe hitting into all season in 675 plate appearances.
Bob Bailey came to Boston at the end of the 177 season and stayed for part of 1978. Again – a big right-handed bat that had lost its luster. Bailey hit only .191 and was soon gone.
Ted Sizemore was another ROY who came to Boston for two seasons (1979-80) and did little. A versatile infielder who hit .252 in his Boston stay. Sizemore now heads up the Baseball Assist Team to help former players, scouts, coaches and Negro League players.
Bad karma brought back
The close out is Buckner, who returned to Boston in 1990 in a move that made no sense. The bitterness of 1986 still lingered strongly and Buckner – through no fault of his own – would be a constant reminder of that miserable moment. Thankfully, Buckner was greeted with a standing ovation for his first Boston game.
Buckner hit only .186 but did manage an inside the park home run – his only home run of the season. I was at that game and had tickets in Section Ten in right field and that homer deserves an asterisk. The right fielder fell into the grandstand in front of us and by the time he'd recovered Buckner – gimpy wheels and all – had his home run.
There are some others who returned but didn't play such as Nomar Garciaparra, who signed a one-day contract to retire as a member of the Red Sox. Nomar – like Pedro Martinez – left Boston with a certain degree of negativity on the part of player and management, but as time passes on the negativity is reduced and the positive accentuated.
This article originally appeared on