Boston Red Sox Cy Young Award winners before it existed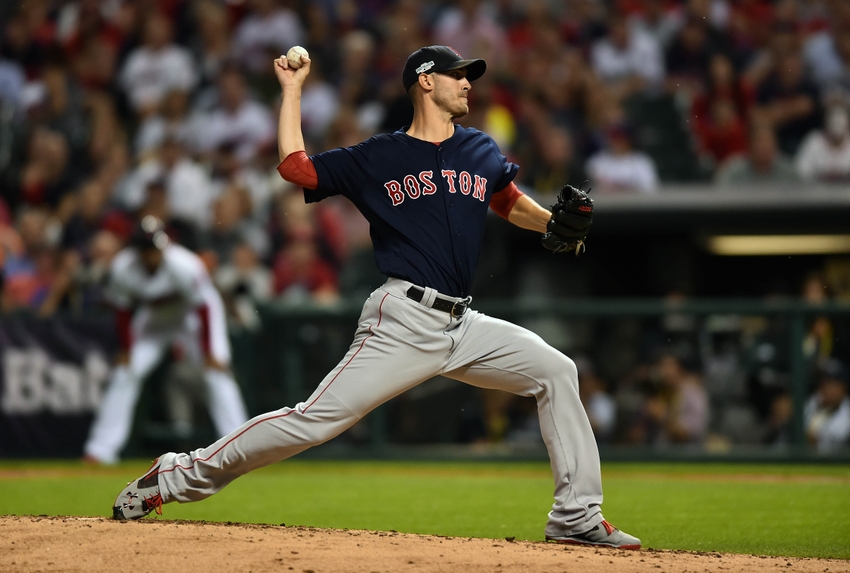 The Boston Red Sox may have had several Cy Young Award winners before there was an award. Take a look back at who may have won the award or come close.
Rick Porcello has joined an elite group of pitchers who have won the prestigious Cy Young Award. The last Red Sox player to win the coveted honor was Pedro Martinez, who should eventually wander into the ranks of the Hall of Fame.
The award itself was implemented in 1956 to honor the recently deceased Cy Young, who retired as the all-time leader in several pitching categories, including a mind-boggling 511 wins. Young also is the Boston Red Sox co-leader in wins with 191.
Initially, the award was issued for just baseball and not an award for an American and National League pitcher. That process started in 1967 and Jim Lonborg won in the American League with a 22-9 record for the league champion Red Sox.
Baseball has had a spotty record in honoring players, as even the Most Valuable Player Award has drifted through the years. Pitchers could certainly win the MVP before you had one set aside for pitchers and they occasionally did. Pitchers have also won an MVP and a Cy Young Award the same season, but what about the years before a Cy Young Award was implemented?
Looking back in Red Sox history with special emphasis on 1901-1920 era just how would the Red Sox pitchers have done if there was such an award? Who would have been able to post the type of numbers that would generate the votes necessary? Here is a look at few probable winners.
Back-to-back for the original
The first season of the American League was also the first season of the Boston Red Sox. The Red Sox of 1901 finished second in the American League, but they had one of the great pitching performances in baseball history thanks to a 34-year old right-hander named Cy Young.
Young won the triple crown of pitching by leading the league in wins with 33, strikeouts with 158 and an earned run average that checked in at 1.62. Young also had a remarkable 0.972 WHIP and a BB/9 of 0.9 – both led the league. Young also had a league leading rWAR of 12.5 if you wish to use that statistic. This type of performance was far above all others and the award may have been unanimous.
A case can certainly be made for Young going back-to-back with the award in 1902. Young led in wins with 32, complete games at 41 and innings pitched with 384.1. Young's rWAR was a league best 10.2 and Young also chipped in with a .230 batting average.
The closest competitor to Young would be the enigmatic left-hand flame thrower, Rube Waddell. Rube went 24-7, posted a 2.05 ERA and led the league in strikeouts. However, Waddell tossed "only" 276.1 innings while edging Young in winning percentage .774 to .744. In the early days, a winning percentage was often considered more important than wins.
In 1902 the ballot would have been closer than 1901, but the result would have been the same – another award for Young.
1903 Three in a row for Cy
Would the old Cyclone make it a triple award? The 1903 season saw a league and World Series flag flutter above the Huntington Avenue ballpark. The first World Series was a Boston one, but Young was not the star. In keeping with the award, postseason play means nothing as the votes are tabulated before the postseason.
Young led the league in wins once again (28), complete games (34) and innings pitched 341.2. Young also led in shutouts (7) and in saves with just two. Where Young would stand out above the competition is his league-leading winning percentage of .757.
Waddell would once again give Young a decent run in any voting with a league-best 302 strikeouts and a league-leading 34 complete games. Where it breaks down for Waddell is his 21-16 record that translates to a .568 winning percentage. Waddell's earned run average was 2.44 and his rWAR of 8.8 topped the American League.
The other significant competition would be Philadelphia left-hander Eddie Plank. Plank tossed 336 innings and delivered a 2.38 earned run average. Like Waddell, where it brings down for early century voters, would be a .590 winning percentage on a 23-16 record. That, however, does not impact an rWAR of 7.2 to Young's 7.1.
The last significant competitor would be Young's teammate Bill Dinneen, who went 21-13 with a 2.26 earned run average. Dinneen's rWAR was 6.6 and the big righty tossed 299 innings for the Red Sox. Dinneen went 3-1 in the World Series to Young's 2-1 – Young's only World Series appearance.
The American League award would have to be favored for Young based on performance and the fact that his resume was extensive. The league didn't have the firepower in pitching that the National League had, but that occasionally happens. Award to Cy – his last.
1912 No smoky
The first season of the new ballpark – Fenway Park – saw a championship and a pitching performance among the best in Red Sox history. Smoky Joe Wood led the American League in wins with a 34-5 record that also topped the league in percentage at .872. Wood posted a 1.91 earned run average, led the league in both complete games (35) and shutouts (10). Wood – who became a position player when his arm went dead – hit .290 for the year.
Wood also finished fifth in the MVP voting since there was such an award for a few years and it was the Chalmers Award named after the car company that gave the winner a new car. Tris Speaker won the award that season.
So would Smoky Joe win a vote on pitching? There was a competition that season and it was incredibly strong competition in the form of Walter Johnson and Ed Walsh.
Big Train led the league in rWAR at 13.5 – Wood was 10.4 – and compiled a 33-12 record (.733), led in earned run average (1.39), strikeouts (303) and tossed 369 innings for the second place Senators. Johnson's pitching earned him a third-place finish in the MVP race – a trophy he would win in 1913.
Walsh was known as "Big Ed" had a remarkable season for the fourth-place Chicago White Sox with a 27-17 (.614) record. Walsh led the league in games pitched at 62, games started with 41 and saves with 10. Walsh tossed 393 innings and finished second in the MVP race just as he had in 1911. Walsh posted an rWAR of 11.4 to finish second in that category to Johnson.
Three worthy candidates and if I had a vote I may just try to squeeze all three into first place, but the deciding factor is the award is not based on how your team does. Taking that into consideration, I would look at that second place Chalmers vote and ten saves. I'd pick Walsh.
1916 The Babe
Babe Ruth was considered in his short pitching span as possibly the best left-hander in the league and maybe all of baseball. In 1916 the young Ruth was a key pitcher for another Red Sox championship and certainly could be considered worthy of a pitching award.
The two best in the league if you use rWAR were Johnson at 9.7 and Ruth at 8.7, but Ruth held his own or surpassed Johnson in several categories. Start with Ruth's record of 23-12 and a .657 winning percentage – still considered an important indicator. Johnson finished 25-20 (.556).
More from BoSox Injection
Ruth topped the charts with a 1.75 earned run average and Johnson was close behind at 1.90. Neither allowed a home run for the entire season – dead ball era or not that is an achievement especially considering innings pitched. Johnson led the league in frames tossed with 369.2 and Ruth totaled 323.2.
Ruth also led the league in shutouts with nine and games started with 40. Johnson posted a WHIP of 1.006 to Ruth's 1.075. The Senators were also a sub .500 team so the argument that Johnson was being punished for the failure of teammates could be applied and is certainly reflected in rWAR.
When you think Ruth the first thought is towering home runs and Ruth hit three that season and had 16 RBI to go along with a .272 average. Johnson could also hit and slammed 24 home runs in his long major league career. For 1916 it was one home run, seven RBI, and a .225 average.
Ruth had the advantage of a better team, but if I had a vote I'd go Ruth and then Johnson.
The 1920s The Lean Years
The Red Sox soon went from the premier team in the American League to a laughingstock. A franchise that consistently did nothing but roll over and play dead. The history is quite clear as the team traded away star players and players who would blossom elsewhere and elsewhere was the New York Yankees.
The Yankees finally broke through in 1923 with their first World Series title and the team resembled the one that was once in Boston and that certainly applied best to pitching. Bullet Joe Bush, Herb Pennock, Carl Mays, Waite Hoyt. and Sad Sam Jones all pitched for the Red Sox before ending up in New York.
How good would they have been in Boston?
Pennock is in the Baseball Hall of Fame and so is Hoyt. Bush won 62 games in his three seasons with the Yankees. Jones chipped in with 67 wins in four years. Mays had 80 wins in five seasons, including back-to-back years of 26 and 27 wins. All were among the best in the league at one point in their New York careers.
Meanwhile, in Boston, there was Red Ruffing. Ruffing suffered pitching for two awful Red Sox teams. In 1928 Ruffing went 10-25 and followed up in 1929 with a 9-22 record. As a reward for his suffered, the Red Sox shipped Ruffing to the Yankees where he finished with 231 New York wins and a Hall of Fame induction.
That string of failure was about to change with a perfect storm of baseball circumstance that may well have saved the franchise. The first was The Great Depression and many owners were going broke, but the Red Sox had a new owner in the very wealthy Tom Yawkey. Yawkey was in a buy mode and that brought to town a pitcher who many recognize as the best ever.
The 1930s – a Lefty comes to Boston
Lefty Grove arrived via a "trade" that consisted mostly of money. That was for the 1934 season and it was a 100% disaster for Grove. Grove finished the season at 8-8 with an ailing arm the main culprit. So when 1935 season opens it may spell the end for Grove. It didn't.
Grove went 20-12 (.625) and led the American League in earned run average with 2.70 and WHIP at 1.223. Grove led the league in ERA nine times in his career and four times with Boston. Grove's arm was healthy with 273 innings pitched and an rWAR of 9.5. Grove would also post the best rWAR in 1936 and 1937.
This would also be a season where the best competition for Grove would be a teammate – Wes Ferrell. Ferrell led the league in wins by posting a 25-14 record but didn't stop there. The right-handed Farrell led the league in innings pitched (322.1), games started (38), complete games (31) and most hits allowed (336).
Farrell – whose brother Rick Ferrell caught him – had a 3.52 earned run average and a WHIP of 1.38. Ferrell finished second on the MVP ballot and had an rWAR of 8.4. Where Ferrell shines is with his bat slashing .347/.427/.533 with seven home runs and 32 RBI. Ferrell finished his MLB career with a .280 average and is considered one of the baseball's best hitting pitchers. Grove? Lefty was a notoriously poor hitter who actually managed to hit .162 for the season versus a career average of .148.
Despite the 45 combined wins of Grove and Ferrell Boston still finished a disappointing fourth and won just 79 games for a team that had been picked by some to possibly win the pennant.
So who gets my vote?
I go with Ferrell despite his ERA. In the 1930s ERA was a bit inflated due to hitting, but Ferrell's hitting gives him – at least to me – the edge. Award to Ferrell.
The 1940s
The 1942 season saw players leaving for war as the MLB ranks started to thin out. For Boston Ted Williams won the Triple Crown and finished second in the MVP ballot – then went into the service for three seasons. The Red Sox finished second that season, but had the best pitcher in the American League – Tex Hughson.
Hughson led the league in wins posting a 22-6 (.786) record while also leading the league in innings pitched (281) and complete games (22). Hughson posted a 2.59 earned run average and had by far the best rWAR in the league – 6.2. An easy pick.
In 1946 Dave Ferriss went 25-6 (.806) for Boston and Hughson checked in with 20 wins as Boston ran away with the pennant, but both Bob Feller and Hal Newhouser had seasons that were superior. Boston pitching would have to wait until 1949.
Mel Parnell and Ellis Kinder led the staff for the second place, Red Sox. Kinder had a great season with a 23-6 record and a league-best six shutouts and 252 innings pitched. The right-hander also added four saves and eventually would become a bullpen specialist. Kinder finished fifth in MVP voting.
Parnell – a lefty – led the league in wins with a 25-7 record and a league-best rWAR of 7.9. Parnell topped the league with a 2.77 earned run average, 27 complete games and 295.1 innings pitched and finished fourth on the MVP ballot. Kinder was excellent all season and if there was a vote would certainly be second on my ballot. Award to Parnell.
Sources: Baseball-reference
This article originally appeared on