Boston Red Sox: Could Pablo Sandoval be on the move?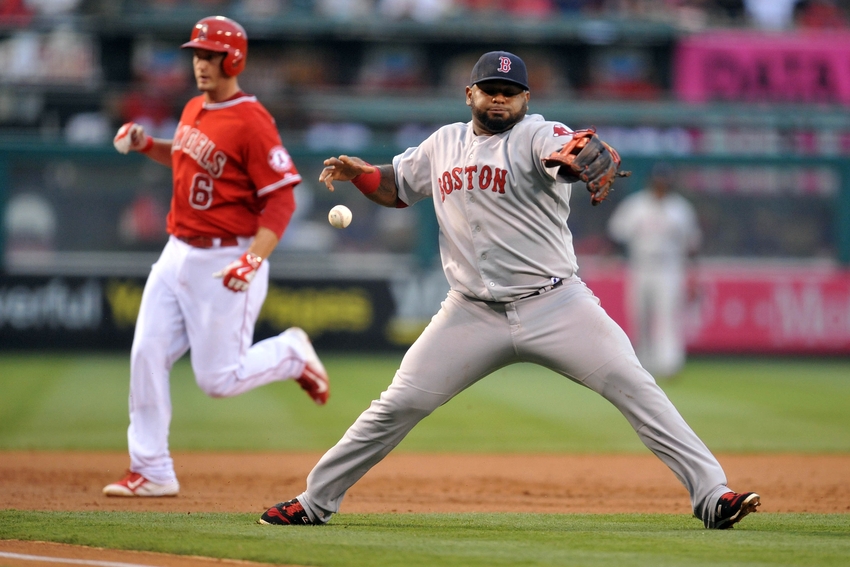 The San Francisco Giants are in need of a third baseman and they may look for the services of a former player. Reports have circulated that they are interested in a reunion with Pablo Sandoval, currently with the Boston Red Sox.
Thanksgiving isn't usually a day associated with miracles, but Boston Red Sox fans had their prayers answered on Turkey Day. Pablo Sandoval has interest brewing from his former team.
According to Evan Drellich of the Boston Herald, the Giants' front office has had internal conversations to trade for their former World Champion third baseman. The Giants once had a viable option at third in Matt Duffy before trading him to the Tampa Bay Rays.
The question is whether or not the Red Sox are willing to deal a player who was given a contract the size of his stomach, large. Boston will most likely have to eat (there are so many jokes to be made with this one, but I'll resist) most of Sandoval's contract.
More from Call to the Pen
The Red Sox still owe Sandoval over $70 million, but Dave Dombrowski is a man who isn't afraid to deal. Dombrowski may actually prefer to pay for Pablo to play for another team, still paying most of his contract. Dombrowski didn't recruit him to Boston, and the offense didn't struggle without him.
The Red Sox will really have to ponder their options if they trade Sandoval. And one must remember, any deal they are offered will be about the worst low-ball option they will get for him. With that being said, there are a couple of prospects who are a year or so away from playing the position.
Their first and third best prospects, Yoan Moncada and Rafael Devers, can both play third base, and the Red Sox most definitely prefer to keep them both in their system. In the meantime, the Red Sox could rely on the services of Travis Shaw and Brock Holt to hold them over until the time comes for those two to battle it out.
Both the front office and the fans have been unhappy with Sandoval's two years in Boston. In year one, he put up the lowest offensive numbers in his career and played just three games in year two.
It's been the weight issues and off-field distractions that Pablo has caused that's garnered the most attention from his critics. He's shown up overweight twice now, broke a belt mid-swing, been caught on Instagram during a game, and has been sidelined for an unimaginable injury in just two years.
It seems like a Sandoval-San Francisco reunion could best suit him. His popularity was known worldwide there when Panda-mania was at its height. Although he said some unflattering things about the team on his way out, it shouldn't take long to welcome home the three-time World Series champ.
The Boston Red Sox don't have many positional needs this offseason, and clearing some payroll could make it a very successful winter.  If Pablo contributes what he did in year one, Boston doesn't need to keep him around.
Whether it is a low-tier prospect or just getting him off the payroll, a trade could benefit a team that could do without Sandoval and one that needs his offensive services. Rumors fly rampant this time of year, but it would certainly make for an interesting turn of events.
This article originally appeared on