Boston Red Sox: Cleaning out the prospect closet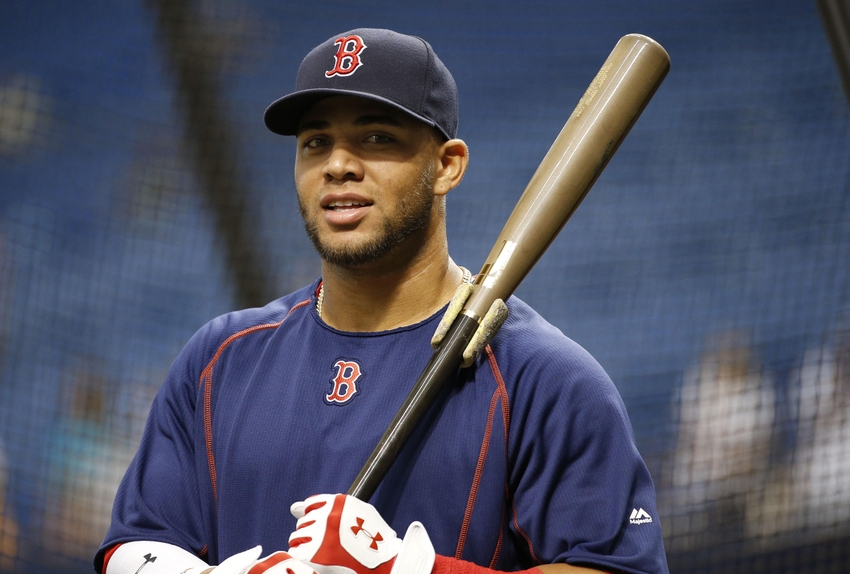 The Boston Red Sox will make offseason trades and prospects will be part of any deal. Just who may go and stay?
Prospects is a term that is difficult to define in baseball terminology since for every "Can't miss" I  can present one that has missed. The Boston Red Sox saga is often defined by assessment failures and third base is a classic example. Will Middlebrooks was supposed to be the anchor into the next decade and now Middlebrooks is attempting another "comeback" only with the Texas Rangers.
Boston is rich in prospects and that was demonstrated last season when Dave Dombrowski – majordomo of everything regarding baseball operations – acquired Craig Kimbrel. Dombrowski shipped out the talent of varying degrees of promise and the reasoning was what departed was merely a duplication of what existed or was in the developmental pipeline.
Mention of offseason trades usually included a prized pony or two that now reside within the Red Sox system. If Boston wishes to deal with – and I toss out a team and name – the Chicago White Sox for Chris Sale, then expect prospects to be included.
Boston's system is rich and deep with an excellent performance record when sent elsewhere. A prospect can mature with a more patient organization and an organization that simply views the bottom line – you save payroll. So as the trading season begins in earnest just who is possibly headed elsewhere?
The most exciting of all possibilities is Yoan Moncada for whom Boston paid out somewhere in the vicinity of $62 million. By all accounts, Moncada has five-tool potential and is generally ranked in the top three on the depth chart of all prospects in baseball. If you are dangling a player on the line hoping to hook a deal with Boston then Moncada would be on your required list.
I simply do not see Moncada leaving Boston despite his propensity to accumulate strikeouts at a Dave Kingman type rate. Moncada is raw and may be a few years away, but his talent is evident as is his potential to play just about anywhere. A keeper.
Sam Travis was on the fast track. A big right-hand hitter who is a line drive machine. Travis, despite his size, is not your traditional big time power guy, as in home run production. A beautiful swing that rewards bad pitching with line drives to all fields. Travis is a potential first baseman/designated hitter who may offer an enticing target for a trade.
More from BoSox Injection
I expect Travis to be traded, but not now since he is in the recuperative process of a dastardly knee injury. Expect Travis to start with Pawtucket and if the hits keep on coming it will be decision time and I would expect the promising Travis to go.
Rafael Devers is a name that is high on both the prospect list and coveted by other teams. A young left-hand hitter with potential that is compared to Gregory Polanco – at least by me. Does Devers go? If it is Sale you better believe it. Then again, the internal working of baseball operations may view Moncada a better future option at third than Devers or the other way around.
The fast rising Mauricio Dubon has a certain appeal since his hitting and fielding have steadily improved. The left-hand hitting shortstop will start at Pawtucket and if the hitting continues in the .300 plus range his departure papers could be validated.
There are some other prospects of note who may find employment elsewhere, such as the once promising Brian Johnson. Johnson, a left-hand pitcher, had personal issues, an injury and some less than steady control put him into a questionable range.
Johnson and fellow lefty Henry Owens are both what is referred to as "trade filler" in that their promise is now stained and that impacts value. They become part of packages with either a legitimate up on lights prospect or coupled with a major league player such as Jackie Bradley. Neither Johnson nor Owens appears part of Boston's future.
The Red Sox are certainly willing to shuffle a top pitching prospect elsewhere and that was demonstrated with Anderson Espinoza being sent elsewhere. That left hard-throwing or should I say extremely hard throwing Michael Kopech as the arm du jour of note.
Kopech isn't going anywhere. This is not only a power arm but one that is far from just a one trick pony tossing heat. The kid has a few other toys in the pitching tool box along with the attitude of a viper. Kopech still has a case of the walks to deal with, but he is a keeper.
Several others in the system you may see as part of packages or lesser deals. Michael Chavis, Trey Ball, and Nick Longhi still are works in progress who have value and may be sent elsewhere. That is what happens when progress stalls or there is a glut at a certain position.
I expect the Red Sox to do some dealing this offseason and I also expect to see the names I have placed out to be part of the movement. Just who is depending upon the needs of others, internal evaluations and what potential returns may be.
This article originally appeared on