Boston Red Sox can build a better bullpen and it will cost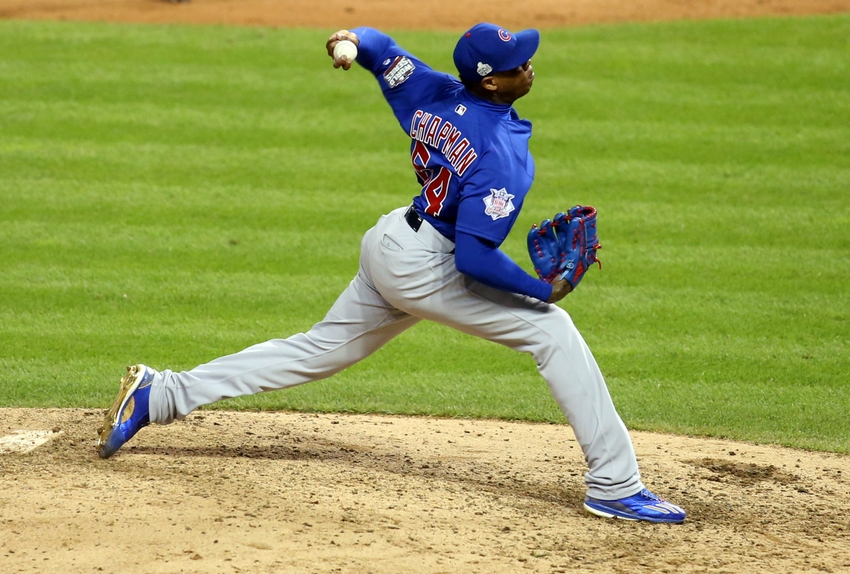 The Boston Red Sox are faced with the new baseball dynamic of building a better bullpen. Good or very good is no longer enough.
The recently concluded World Series had some notable pitching facts tossed out that show a systematic change in the way pitching is evolving. The starters simply didn't venture beyond six innings and the bullpens pitched roughly 40 percent of the innings.
The erodes into this have been years in development with the various definitions of bullpen pitching roles. Closers, bridge, and bridge to bridge or however else one wishes to define it. Kansas City brought it full circle in 2015 with a starting rotation that was just awful and a bullpen just the opposite. Get a lead or keep it close and have the relievers seal the deal.
Baseball is certainly copycat and what works is quickly absorbed and imitated by other teams. The New York Yankees were supposed to have the penultimate bullpen in 2016 but traded off pieces to resurrect their depleted farm system. A measure that may or may not pay dividends. One pitcher, in particular, shined and that was Andrew Miller – formerly of the Boston Red Sox and now a Cleveland Indian star.
The champion Chicago Cubs also had another Yankee exile and free agent in waiting – Aroldis Chapman – stabilize their bullpen during the season and bring his consistently 100+ MPH fastball into the fray. Both the Indians and Cubs had deep bullpens and that is the new mentality.
What will the Red Sox do?
Boston does have a power arm with Craig Kimbrel who also had the second highest BB/9 (5.09) among qualified American League relievers. Was it a blip? Make the assumption it was not – since Kimbrel also proved virtually unhittable (.151) – and you have a solid anchor and a way to build backward.
The Red Sox bullpen performed with some positive precision in the second half. The entire season resulted in a 'pen that – at least with Fangraphs – was ranked sixth in the AL. The overall staff was fourth and the starters were second so the Red Sox had some decent pitching – most notably in the second half. What I noted was 470.1 bullpen innings pitched which were the third-fewest in the AL. There is, however, certain room for improvement.
Boston has Koji Uehara, who performed like the "Old" Koji into the pennant push. Old is a quaint term since that is what Koji is in baseball years – 42 to be exact when the new season commences. Uehara is not a 60 game pitcher and may no longer be even a 50 game pitcher, but he is when healthy – an issue, for sure – a solid addition.
The real question mark is Carson Smith, who is recovering from surgery. Smith just may be an optimum piece of the pitching puzzle, but coming off surgery is not where one wishes tp place all their pitching eggs in a basket.
More from BoSox Injection
Matt Barnes and Heath Hembree performed reasonably well, albeit a bit less consistent for my tastes. Neither is what you would consider lights out addition at this juncture. To that mix, you can add the other pitching dough faces who were part of the 2016 bullpen. Nothing there, folks – move along.
Both Drew Pomeranz and Clay Buchholz are set for 2017. What their role will be is not yet defined and may not be until June. Start? Long or short out of the bullpen? Traded? All up to the whims of management.
If the Red Sox wish to really take the risk it is quite clear and that is an established bullpen artist with an impeccable pedigree. That narrows it down to Chapman and free agent in waiting Kenley Jansen of the Dodgers. Both will enjoy the riches of the new baseball mentality that will put a premium on their talent.
The Red Sox will certainly face stiff competition for their services and the smart money would bet against Boston (1) making an offer or (2) outbidding others. What would happen is just about a guarantee lockdown in the late innings when Boston had a lead. Unless, of course, John Farrell chooses to use either as a pinch runner.
The advantage Boston does have is a rotation that has the ability to go deep into games as shown by Rick Porcello, Steven Wright, David Price and occasionally others deemed starters. This is a solid group that is among the best in the league. A bullpen rotation that could have the addition of a Chapman or Jansen would be equal to the starters or possibly the best in either league.
What may also be of concern is the fragile psyche of pitchers. The closer is somewhat of the designated alpha male in the bullpen, but money does have a way of soothing a ruffled psyche.
Dave Dombrowski is a baseball gambler – a noted risk taken who has been burned or enjoyed excellent success. The ownership has demonstrated the ability to spend and may just take that chance this offseason and pay the price tag for a Chapman or Jansen. That happens you may see a Cubs-Red Sox World Series in 2017.
Sources: Fangraphs
This article originally appeared on