Boston Red Sox Arizona Fall League Preview Part 2: The Hitters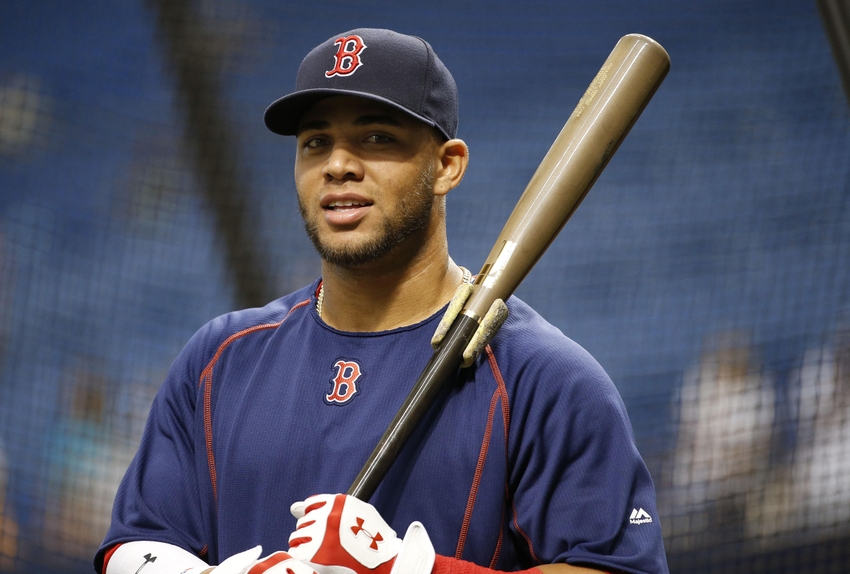 The Boston Red Sox hitters playing in Arizona are led by the organization's number one prospect, Yoan Moncada.
In the second half of this year's Arizona Fall League preview, we will be focusing on the hitters that are gaining some valuable experience against the best of minor league talent in baseball. In the first part of this preview we talked about the pitching prospects, led by fireballer Michael Kopech, who is trying to show the Red Sox made a good move in drafting him in the first round as he tries to distance himself from his recent setbacks.
The hitters are undoubtedly led by "bonus baby" (to borrow a term from the 20th century ) Yoan Moncada, who impressed scouts and the organization this season with his raw tools but showed his limitations when he made his major league debut in September.
Mauricio Dubon is a name likely familiar to more devoted fans of the Red Sox minor league talent as he put up some surprising numbers this year. Lesser known outfielder Danny Mars rounds out the Red Sox contingent for their Arizona squad, the Surprise Saguaros.
In case you didn't read the first half of this preview, this is going to follow the format of that one.  We will look at a scouting report, pedigree in terms of how player was acquired, age and height and weight, a general outlook for the player and what he hopes to achieve in the AFL
Let's get started.
Yoan Moncada
Acquired:  International free agent, 2015 ($31.5 million signing bonus)
DOB:  5-27-95
Bats: Both Throws:  Right
Ht:  6-0  Wt. 210
Scouting Report:  Prototypical five tool player.  No. 1 rated player at SoxProspects.com. Better hitter from the left side. All-star in the making. Can sometimes be overly flashy on defense and lose focus on routine plays. Learning third base after playing second base exclusively before this season. Still in need of continued reps since his departure from Cuba. Nothing on the field he cannot do.
Outlook:  The Red Sox were willing to pay a $31.5 million fine to MLB to get Moncada. Stock fell somewhat when he struggled at the major league level this year, struggling mightily to hit breaking pitches. After starting four for 10, he struck out the last nine at-bats in Boston then blundered when he forgot how many outs there were as a pinch runner. After stealing 85 bases in his first 142 pro games, he stole only nine in 45 games at Double A Portland. In fairness he was hampered by a sprained ankle late in the season.
AFL Goals:  He will play exclusively at third base, since he has had only 14 career starts there, all in 2016. After his terrible ending this September in Boston, he is going to try to reset and regain some confidence. He has started fast in Arizona, going three for five in his first game Tuesday with a homer and a double. It is likely that he will start 2017 in the minors but act as very valuable insurance for the Red Sox third baseman to stay on top of their games. If he starts out strongly next season, he could be in the majors by mid-season.
Mauricio Dubon
DOB:  7/19/94
Acquired:  2013 26th round draft choice out of high school in California
Bats:  Right  Throws:  Right
Ht:  6-0  Wt.  160
Scouting Report:  Quick hands on both sides of the ball. Makes frequent contact but sometimes would be better served to take pitches rather than make weak contact. Gaining confidence fielding ball at shortstop. Strong arm that can make all throws required of his position. Developing base stealing instincts with above average speed (23 swipes in 2016). Defensive skills could allow development as super-utility player in majors
Outlook:  A .306 hitter over 330 professional games, Dubon exploded in the second half of last season at Salem, posting a .362/.384/.580 batting line in 188 at-bats after the All-Star break.  Splitting time between High A Salem and Double A Portland, Dubon's hitting improved after the promotion, improving from a .766 OPS in Salem to .909 in Portland. While not a power hitter, he showed some pop at Portland with his .538 slugging percentage there. Though he is blocked at shortstop, if you can hit, they will always find a place for you.
AFL Goals:  Continued success against a high level of competition is the immediate goal. It wouldn't surprise this observer if he tried to get some reps at second base in addition to shortstop which he played exclusively this season. He has also seen action at third base which is another possibility. If he excels in Arizona, he will cement a promotion to Triple A Pawtucket next season, if not at the outset of the season, soon after.
Danny Mars
Acquired:  2014 sixth round draft choice out of Chipola College (FL)
DOB:  1-22-94
Bats: Both Throws: Right
Ht: 6-0 Wt: 195
Scouting Report: Line drive hitter with little power potential. Plus speed, gets out of the box rapidly. Plus defensive outfielder who can play all three slots but best suited for center field for ability to cover ground and below average throwing arm.
Outlook: Developing prospect out of the same junior college that produced Russell Martin and Jose Bautista, Mars has shown steady improvement from a .667 OPS in 2015 at Low A Greenville to a .754 OPS in 2016 at High A Salem. He might have trouble breaking into the Red Sox outfield in the near future due to the success of the current group. Should try to develop base stealing ability as he swiped 31 in just 108 games in 2016. Still a year away from Rule 5 eligibility so there is time to evaluate is value to the organization. Like Dubon, Mars had a blistering second half posting a .331/.383/.461 batting line.
AFL Goals: Missed some time in his development in 2015 with a hand injury, so his AFL slot is a way for Mars to get more reps to further his development. Adding on to his strong second half would be well-received by the team. 212 games in four pro seasons is not a lot, so surely an increase to his workload will be part of how the team evaluates him going forward. Players need to show they can handle the rigors of a full season so a good showing in Arizona will surely help his stock in the organization.
Stay tuned to BoSoxInjection.com as we head into an offseason from a strong Red Sox season, spoiled by a quick playoff exit.
This article originally appeared on