Big Surprise LA Angels Mike Trout Finalist In MVP Race.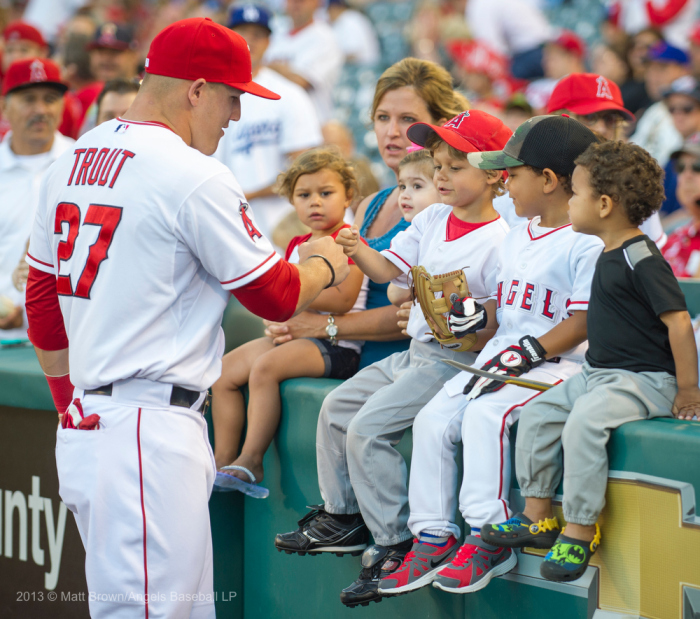 It is no big surprise that LA Angels outfielder Mike Trout was named Monday as a finalist for the AL Most Valuable Player Award.  Trout along with Houston's Jose Altuve, and Boston's Mookie Betts were named as finalists.
This is becoming old hat for LA Angels star Mike Trout as he has been a finalist in each of his first five major league seasons.  Trout has finished second place three times and won the award in 2014.  This year may have been the finest of Trout's career overall as improved greatly in certain areas of his game, while staying consistently good in others.
Trout finished the season just one homer shy of 30 which would have given him at least 30 homers in four of his first five seasons in the majors.  Trout would have also made the 30-30 club for the second time in his career if he could have hit one more dinger.  Trout did reach the 100 RBI mark for the second time in his career and also reached the 100 walk plateau for the second time in five seasons.
Trout finished with 29 homers, 100 RBI's, 116 walks, scored 123 runs, and stole 30 bases while batting .315.  Trout's most impressive stats may be his .441 OBP and .550 slugging percentage that combined gave him an OPS of .991.  He also had a 10.6 WAR (Wins above replacement).  Trout also had the second lowest strikeout total of his career at 137 (136 in 2013 was his lowest total).
The only knock on Trout was that he played for a sub-.500 team as the Angels finished only 74-88 this season.  However, that should not matter. Just imagine the Angels without Trout this season. The Angels would probably have had 100 plus losses.
Of the other MVP candidates Mookie Betts has the most comparable numbers.  Betts batted .318 with 31 homers and 118 RBI's and stole 26 bases.  Betts scored 122 runs as well.  Where Trout surpasses him is Betts only drew 49 walks and had a .363 OBP.  His WAR was 9.5 as well.
Want your voice heard? Join the Halo Hangout team!
As for Jose Altuve he had a good year as well. Altuve hit .338 avg. with 24 homers and 96 RBI's stealing 30 bases.  In addition he had a .396 OBP and .928 OPS which is good but both are lower than Trout's numbers and he only walked 60 times compared to Trout's 116.
Overall the numbers are clear that Trout should win his second MVP award, but he will likely be shafted again due to his team's record which is unfortunate.  Hopefully the voters were overlook that and do the right thing. We will no soon.
This article originally appeared on