Best pitching duels of the day: July 9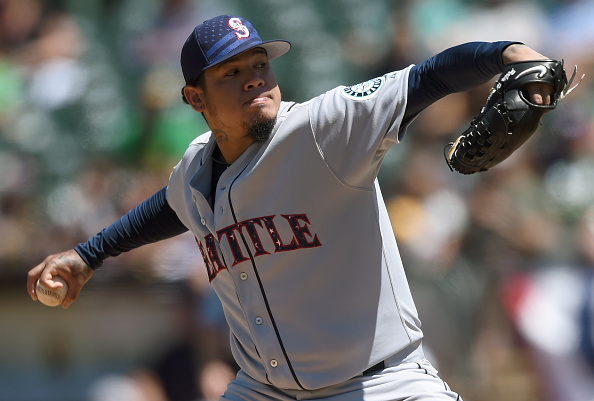 It's a short slate of action across MLB with just 20 of 30 teams in action, but there's still more than enough pitching to go around. Check 'em out:
Garrett Richards (LAA) vs. Felix Hernandez (SEA)
10:10 p.m. ET
Richards' ride back from a catastrophic leg injury has been somewhat smooth, with his bumpiest month being June with a 4.19 ERA. Grounders are up for the right-hander—54.7 percent to rank among the AL's elite—but he's lost nearly two strikeouts per nine and seen an increase in walks by about a half of a free pass per nine. Add in a few more home runs and it's easy to see why he's merely solid instead of last year's amazing. He's down about a full tick velocity-wise, but that doesn't necessarily equate to anything leg related. Guys simply don't throw 96 forever, so there could be a number of reasons for it.
Bumps in the road have been a little more frequent for Hernandez this year, as his 3.02 ERA is nearly a run higher than last year's mark. Hernandez is pitching to a 58.1 percent groundball rate—a career high—so that means he and Richards will have worms ducking for cover, but he has seen some decrease with his strikeout and walk rate, which might be a reason why he's ever so slightly off his pace from previous seasons. As with Richards, it's not like this makes either pitcher bad. Just slightly off what they were before.
Warm-Up Tosses
Here's a look at today's "aces in isolation:" Carlos Martinez (opposed by Pittsburgh's Jeff Locke), Jose Fernandez (Cincinnati's Michael Lorenzen), David Price (Minnesota's Mike Pelfrey), Alex Wood (Colorado's Kyle Kendrick), and Zack Greinke (Philadelphia's Severino Gonzalez). Martinez continues to state his case for inclusion in the All Star Game, as he's slashed his ERA by over two full runs over his last 10 starts. In that span he's got a 1.52 ERA, 70 strikeouts, 23 walks, and .606 OPS against. That run has more than halved his 4.89 ERA at the time, as Martinez continues to state his case as the ace of the Cardinals post-Wainwright rotation.
Fernandez's much-anticipated return went rather well, with the only real blemish in the 5–4 win being a home run allowed to Gregor Blanco. Fernandez completed six innings, fanned six batters and induced 10 grounders while throwing 89 pitches—all respectable marks for a young man returning from injury.
Price has lowered his ERA by nearly a full run over his last 10 starts, as his present 2.54 mark would represent a career best if his season were to end today. The eight-year veteran has a lot riding on this season, and he's made it count over that stretch: 2.04 ERA, .654 OPS against, 74 strikeoutes, and 12 walks in 70.2 innings. His July through the rest of the season will be fascinating to monitor.
Wood is kind of a quiet ace for the Braves, quietly putting together a 3.34 ERA with commensurate peripherals. Ideally his strikeout rate would be a bit higher, and it's odd that a groundball guy had a .340 BABIP on the Braves—hello Andrelton Simmons!—but for now he'll continue to lie in the weeds.
Greinke has the best ERA in the free world at 1.48, and has been downright unconscious all season long. He hasn't allowed an earned run since June 13, and has only one start all season in which he's allowed more than three. His month-by-month ERAs are the stuff of legends: 1.93, 1.05, 1.74, as well as a scoreless start in his first July outing. With a scoreless performance today, he can head into the All-Star Game—likely a start for him—without having allowed a run in over a month. Crazy.
Jesse Chavez versus Masahiro Tanaka doesn't exactly jump off the screen as a crazy good pitching matchup, but Chavez has quietly been very solid, and Tanaka is an ace when he's right—which is more often than not. June (4.85 ERA) and July (four earned in 6.1 innings) have been a bit rough for Chavez, but he built some really good equity in April (2.55) and May (1.93) to lean upon down the stretch. Everyone talks about Scott Kazmir as a trade candidate for the A's, but it wouldn't be shocking to see them move Chavez—a 31-year-old righty—in the right trade, too. He can help a lot of teams, and the A's basically got him out of nowhere. That's the mark of good player development. This marks Tanaka's seventh start since coming off the DL, and the results have been iffy: 4.38 ERA, .276/.296/.524 opponents' line, 37 strikeouts, five walks, and eight home runs allowed in 37 innings. To me, that reads like a guy that is prone to blowups, despite showing some really good things otherwise. Assuming he's healthy, it seems to me his best is right around the corner.
Short Hops
This is Fernandez's second start after coming back from Tommy John surgery. He missed nearly 14 months with the injury.
Statistics courtesy of Baseball Reference, Brooks Baseball, and Fangraphs.
More from The Sports Post: