Best pitching duels of the day: July 8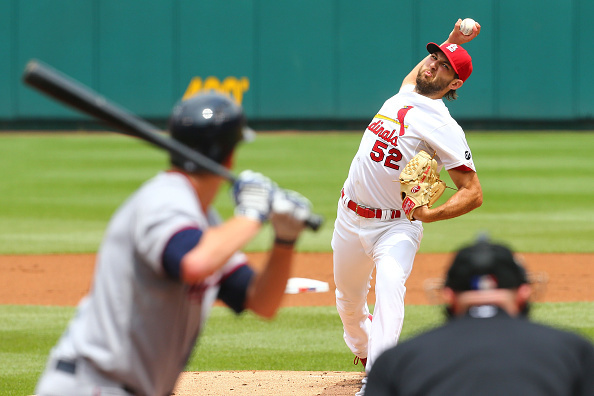 by Brandon Warne
It's a short but sweet day of pitching matchups on this baseball Wednesday. Check 'em out:
Michael Wacha (STL) vs. Jason Hammel (CHC)
8:00 p.m. ET
Wacha's resurgent strikeout rate continued into his last start, as he fanned six San Diego Padres in seven innings in a tough-luck, 2–1 Cardinals loss. Wacha allowed just one run—a Jedd Gyorko solo shot in the seventh inning—on five hits with 13 groundballs induced. That start marked the first time Wacha had induced double-digit grounders since May 8, when he was stuck in the throes of his strikeout void and needing to find alternative outs. For the season however, Wacha has done a nice job mixing the two—7.1 K/9; 47.8 percent groundball rate—and finds himself on the cusp of exceeding last year's innings total already. Should Wacha complete six innings—something he's done in five of his last six starts—he'll be at 107.1 innings, or one more out than he recorded in all of 2014 as he battled shoulder issues down the stretch.
Hammel has quite likely been the best pitcher in the National League that no one is talking about. Or maybe I'm just not hanging with the right crowd, but this is a guy whose raw numbers are vastly exceeding Jon Lester, his higher profile rotation mate. He's fanning a batter an inning, walking no one (1.6 BB/9) and relying more on his outfield than his infield defensively (37.6 percent groundball rate). That's not such a bad move, as the Cubs are among the 10 or so best defensive outfields. Hammel has also been steady month-by-month, with ERAs of 3.55, 2.57, and 2.80 so far in full months, and a 2.57 mark (two earned runs in seven innings) in his first July start. In a rotation that features Lester and Jake Arrieta, Hammel has done far more than hold his own.
Warm-Up Tosses
Here's a look at today's "aces in isolation:" Scott Kazmir (opposed by New York's C.C. Sabathia), Chris Archer (Kansas City's Jeremy Guthrie), Clayton Kershaw (Philadelphia's Adam Morgan,) and Jacob deGrom (San Francisco's Jake Peavy). Kazmir is coming off his best start of the season—eight innings of two-hit shutout ball against the Mariners with seven strikeouts and no walks—and it couldn't come at a better time for the A's, who are most likely shopping him for a trade in the near future. No matter where Kazmir lands, he's a good fit, and it's amazing how far he's come back from control issues. Not only does he have a 2.56 ERA and nearly a strikeout per inning, but he also has a solid 92-33 K/BB ratio and is allowing opponents to hit just .216 off him. That's incredible.
Archer's name has been in the mix with Sonny Gray and Dallas Keuchel all season long atop the AL ERA leaderboard, and it presently sits at No. 2, a mere four points behind the Astros lefty for supremacy in the junior circuit.
A strong start from Kershaw can push his ERA under 3.00 for the first time all season. And while he's looked oddly human all season long, that's simply just because of the standard he's put forward for himself. After all, this is a guy coming off back-to-back seasons of sub-2.00 ERA marks. There's a lot of time left, don't bet against it happening again.
The only way deGrom versus Peavy could be more of a "Jake" matchup is if it were held in Cleveland a few seasons ago. deGrom has been rolling, fending off the advances of the likes of Noah Syndergaard, Steven Matz, and of course Matt Harvey to retain his role as Mets ace. That's a battle he's likely to lose, but it's absolutely not a war of attrition. If that team can get any offensive help, it's going to be a force in that division for years to come. deGrom's groundball rate is down a bit from last year, but he's still striking out nearly a batter per inning and has slashed his walk rate by a full tick, down to a minuscule 1.7 per nine innings.
Statistics courtesy of Baseball Reference, Brooks Baseball and Fangraphs.
More from The Sports Post: