Best pitching duels of the day: July 6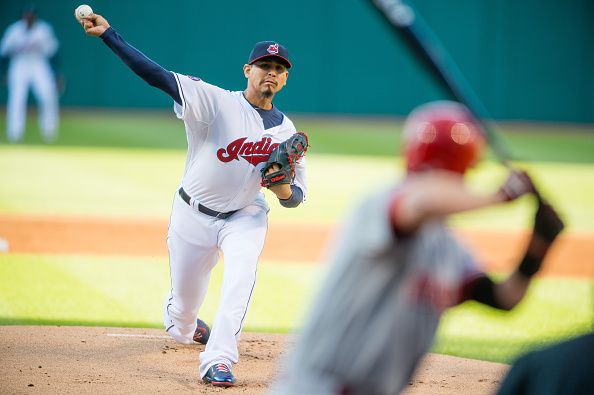 Another baseball week rolls along with a solid day on a short slate. Check 'em out:
Dallas Keuchel (HOU) vs. Carlos Carrasco (CLE)
7:10 p.m. ET
Keuchel boasts the third-best ERA in baseball, and the top spot in the American League at 2.03. His mixture of grounders (an AL-best 64.3 percent) and strikeouts (7.4 K/9) has rendered him virtually unhittable. No seriously, opposing batters are hitting just .196/.248/.270 against the 27-year-old lefty, who was never a big time prospect and only fanned 5.9 batters per nine innings in his five minor league seasons. Aces really can come out of nowhere, it appears.
Carrasco has been steadily improving over his last 10 starts, as he's sliced nearly a full run off his ERA—from 4.84 to today's 3.88 mark—while quietly contributing to arguably the best rotation in the AL. Like Keuchel, Carrasco mixes strikeouts and grounders, but he's reversed the roles with a ridiculous 10.2 K/9 mark and 48.4 percent groundball rate. Not working in Carrasco's favor in that respect is the .323 BABIP that has been a huge byproduct of a tough Indians defense, but the additions of Giovanny Urshela and more specifically Francisco Lindor at short should help that improve over time. Until that defense is on lockdown, this rotation will continue to tease.
Warm-Up Tosses
Chris Sale (opposed by Toronto's Mark Buehrle) is today's sole "ace in isolation" as he faces a former teammate at U.S. Cellular Field. There'll be considerable dissonance between the two lefties, as Buehrle's hardest fastball this year has gone 87.3 mph; Sale's slowest is 87.2 mph. Sale is on an absolute warpath, striking out 10 or more batters in nine of his last 10 starts. He struck out an unconscionable 75 batters in 44.1 June innings (15.2 K/9). That's the ninth-most strikeouts in any month in baseball history, and the most ever by someone who made six or fewer starts in a month.
James Shields versus A.J. Burnett came very close to being today's preferred duel, with Keuchel and Carrasco just getting the slight nod. Shields has been pretty solid all season in his first year with the Padres, and finally seems to have the home run issue under wraps. Shields allowed 11 long balls in June, but just two so far in six starts since. June was a bit on the rougher side for Shields however, as he had a 5.52 ERA and saw his strikeouts tumble just a bit. Still, he fanned a batter an inning, and had one clunker at the end of the month against the Giants (seven earned in four innings). Burnett has been steady all season long, with his highest by-month ERA coming in June with a 2.41 mark. He's induced double-digit grounders in 13 of 16 starts, and he's thrown 90 strikeouts against only 27 walks as well. We say it every time we mention the 38-year-old, but he wants to retire at season's end? Really?
John Lackey versus Jon Lester is a really nice, and perhaps even underappreciated matchup on this Monday. Both pitchers have ERA marks well under 4.00, and are coming off strong starts in their most recent outings. Lackey's been rolling well in his last four starts, dating back to an eight-run blowup against the Rockies. He's allowed two or fewer earned runs in each start since, bringing his ERA down to 3.30 after it peaked at 3.74. Lester has allowed one or zero earned runs in three of his last four starts, but that pesky other start was four earned runs in as many innings against the Dodgers in his penultimate start. Lester has been very good this year, even if he's perhaps a bit more prone to struggle for short stretches than in the recent past. He's still striking out a batter an inning, so his best is still yet to come with the Cubs, most likely.
Short Hops
Hisashi Iwakuma is making his first start since April 20. He was sidelined with a strained lat.
Just 22 of 30 big league teams are in action today, and there are no day games.
Statistics courtesy of Baseball Reference, Brooks Baseball, and Fangraphs.
More from The Sports Post: